COVID-19 News: BA.2.86 Sequences Rising Along With Infections And Hospitalizations In United Kingdom!
COVID-19 News
: Not only is the United Kingdom witnessing a prolonged and continuous COVID-19 surge but recently COVID-19 hospitalizations are also increasing despite claims by many of their own experts that there is no COVID-19 surge or that the current SARS-CoV-2 sub-lineages are mild! Maybe the given reason there is an increase in COVID-19 hospitalizations is because the Brits love the teas spread there and not due to the logical reason that there are signs of disease severity caused by the new SARS-CoV-2 variants in circulation!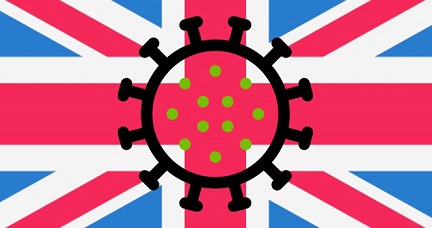 The United Kingdom has witnessed an increase in the reported cases and fatalities related to COVID-19, as per the most recent statistics. This upswing has sparked concerns due to the emergence of the new BA.2.86 variant.
The COVID-19 disease's momentum remains relentless, with 16,030 individuals testing positive during the week ending on September 30th. This marks an increase of 3,645 cases compared to the previous week. During the same period, government data indicates 225 deaths, marking an 80-death increase from the preceding week.
https://coronavirus.data.gov.uk/
COVID-19 Hospitalizations have also been increasing, adding further strain to one of the worse healthcare systems in the world! (Imagine having to wait for months for a cancer screening test!)
https://www.england.nhs.uk/statistics/statistical-work-areas/covid-19-hospital-activity/
https://twitter.com/chrischirp/status/1709865471820861635
Data from the Zoe app platform shows that there were about 97,904 new Daily symptomatic COVID-19 infections for the 9
th
of October. The data from the platform also shows that there are about 1.28 million people with symptomatic COVID-19 infections currently in the UK! (Not sure to laugh or cry!)
https://twitter.com/chrischirp/status/1709865471820861635
Some local
COVID-19 News
outlets are mentioning about the shortage of rapid test kits at various pharmacies and drug stores and also about the shortage of basic drugs for various respiratory infections including NSAIDs, cough mixtures, antihistamines etc.
A cluster of different SARS-CoV-2 variants and sub-lineages are currently causing the surge in the United Kingdom including EG.5.1, HK.3, BA.2.3.3 and even the BA.2.86 variant is rising in the UK
UK- The Soon To Be Hub For The BA.2.86 Variant
Almost 120 sequences of the BA.2.86 variant has been detected in just the United Kingdom so far and it is believed that the spread the BA.2.86 could be more extensive than thought.
https://twitter.com/RajlabN/status/1711446906184892417/photo/1
C">https://twitter.com/HNimanFC
As of September 18, the UK Health Security Agency (UKHSA) confirmed 54 cases of the BA.2.86 strain in the UK, with 48 cases in England and six in Scotland. Notably, no cases have been reported in Wales or Northern Ireland. In England, 10 cases required hospitalization, but there were no recorded deaths. Within England, 30 of the cases were linked to an outbreak in a Norfolk care home.
The most recent government data reveals a concerning increase of 1,472 positive COVID-19 cases in England in the week leading up to September 23, 2023. The UKHSA has identified hotspots for cases in the West Midlands, North West, North East, and parts of southern Scotland.
As of October 10, 2023, cases of the BA.2.86 variant have now been detected in Northern Ireland, with the Public Health Agency (PHA) confirming their presence.
'Experts' are still claiming that there is no evidence that the BA.2.86 variant is more likely to cause severe illness compared to other circulating variants and insist that vaccination remains a crucial tool in ongoing protection.
The PHA brought forward the autumn coronavirus and flu vaccination programs as a precaution against the BA.2.86 variant, which was first identified in the UK in August. Health experts maintain that vaccination is likely to provide continued protection.
Regarding COVID-19 outbreaks, the PHA reported an increase in new outbreaks in care homes and a slight decrease in community-acquired emergency COVID-19 hospital admissions. The majority of such admissions were among individuals aged 80 and over.
In the week ending September 29, Northern Ireland recorded 10 COVID-related deaths. As the BA.2.86 variant rapidly spreads throughout the UK, it's essential to be aware of its symptoms, which include sneezing, sore throat, headache, runny nose, and mild or severe fatigue. Interestingly, many infected report persistent coughs and also sore throats along with slight breathing difficulties. For those that do get access to proper healthcare screening, X-rays are showing many having pulmonary edema and also enlarged hearts! (Interesting many of those infected with the BA.2.86 variant typically have negative COVID-19 test results in the first few days of infection despite having symptoms!)
The BA.2.86 variant, with over 30 different mutations, presents challenges for analysis. It is currently on the World Health Organization's watch list. The UK's Health and Security Agency has confirmed its presence in most parts of the UK.
For the latest
COVID-19 News
, keep on logging to Thailand Medical News.