COVID-19 News: Canadian Study Finds That Omicron is Causing More Health Issues In Children Contrary To The Fallacy That Omicron Is Mild
COVID-19 News
: A new study involving 14 Canadian pediatric Emergency Departments (ED) in hospitals across the country has found that the SARS-CoV-2 Omicron is causing more health issues in children that previously thought.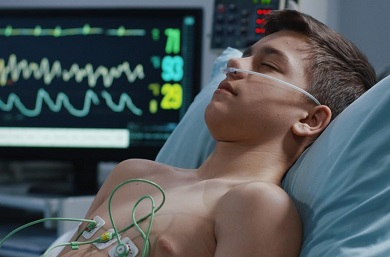 Pic Credit: Evgeniy Shkolenko / iStock
The stud team aimed to investigate the differences in symptoms, chest X-ray results, treatments, and outcomes among children infected with various SARS-CoV-2 variants.
The study included children and adolescents under 18 years old tested for SARS-CoV-2 infection between August 2020 and February 2022.
The study analyzed 7,272 participants, of which 1,440 (19.8%) tested positive for SARS-CoV-2. Among the infected children, 801 (55.6%) were boys, and the median age was 2.0 years. The Alpha variant was associated with the fewest core COVID-19 symptoms (82.3%), while the Omicron variant had the highest prevalence of core symptoms (92.7%).
When compared to the original virus, the Omicron and Delta variants were linked to increased occurrences of fever and cough. The Delta variant was also associated with upper respiratory tract symptoms, while the Omicron variant correlated with lower respiratory tract and systemic symptoms.
Children infected with the Omicron variant were more likely to have chest X-rays, receive treatments such as intravenous fluids and corticosteroids, and revisit the ED. However, there were no significant differences in hospitalization or intensive care unit admission rates between the different variants.
The Omicron and Delta variants were more likely to cause fever and cough than the original virus and the Alpha variant. Furthermore, the Omicron variant was associated with more severe symptoms, increased chest X-ray utilization, and more interventions.
The study findings were published in the peer reviewed journal: JAMA Network Open.
https://jamanetwork.com/journals/jamanetworkopen/fullarticle/2802161
Weeks after the Omicron variant made its debut, certain so-called 'experts' from the African continent especially from South Africa was quick to make statements that the Omicron was mild and it will mark the end of the COVID-19 pandemic and these unstudied claims were covered in certain
COVID-19 News
coverages. Some of these garbage had the audacity to make accusations that media or other international experts were ignoring their claims that Omicron is mild just because of racial issues or that because African medical 'experts' were making these statements!
https://www.bbc.com/news/world-africa-60039138
https://www.dw.com/en/covid-19-african-scientists-say-mild-omicron-could-end-pandemic/a-60502713
&nbs p;
https://www.reuters.com/world/africa/safrican-doctor-says-patients-with-omicron-variant-have-very-mild-symptoms-2021-11-28/
https://www.bbc.com/news/av/uk-59450988
(Note that is always the members of the BBC's Trusted news initiative that is frequently disseminating fake and unverified medical news with the support of American tech companies like Facebook and Google!)
The Canadian study team warned that the findings from the study that showed rates of hospitalization and being moved to the intensive care unit remained stable even with later variants could be a sign that when it comes to children, the virus is not getting milder.
The study team stressed, "Unlike in adults, it does not appear that children are being less severely affected by emerging variants, and understanding the clinical presentation of COVID-19 in children is needed to design therapeutic trials on this population."
The key question of how severe different variants are, and how they present differently across populations, is one that researchers have been posing for the entire pandemic.
So far it is already known that different SARS-Cov-2 variants tend to affect the body differently, with previous research noting that Omicron variants have a tendency to infect the upper airways easier than other variants.
However, not many studies have observed this impact in children.
The study findings showed that compared to the original strain of COVID-19, both Delta and Omicron came with a higher level of fever and cough.
The study findings showed that children infected with Omicron were more likely to have more systemic symptoms outside of merely respiratory symptoms while children infected with the Alpha variant had the fewest number of individual COVID-19 symptoms.
It was noted however that despite the difference in symptoms produced by individual variants, there was no clear difference in the proportion of children hospitalized or admitted to the intensive care unit.
Worryingly, the study findings showed that children infected with Omicron were more likely to have additional emergency department visits compared to those infected with Delta.
The study findings also showed that the pediatric patients with Omicron were also more likely to have a chest radiography performed, to be put on an IV during their hospital stay and to receive corticosteroid treatment.
The study team commented, "While several reports described Omicron as being responsible for less severe disease than prior variants, particularly among adults, our study findings showed that children with Omicron infection received more interventions and were more likely to experience ED revisits."
The study team further commented, "Our study findings are not unique, as they align with other pediatric studies that report higher pediatric hospitalization rates during the Omicron period."
For the study that involved 1,440 COVID-19 positive children, all of the 14 Canadian pediatric emergency departments that data was pulled from are part of the Pediatric Emergency Research Canada network.
All parents of the pediatric patients included in the study were then contacted by phone a median of two days after their emergency department visit to gather demographic, clinical or epidemiological data, as well as data on any comorbidities.
The study team also performed a follow-up two weeks later for 1,224 participants to see how cases developed.
In all, a total of 998 participants provided data on whether the child in question was vaccinated or not, with just eight per cent of them having received at least one dose.
The study findings also revealed that in terms of the most common individual symptoms, 75 per cent of the cohort experienced fever, 56 per cent had a cough, and 53 per cent had a runny nose.
Interestingly, infection with the Alpha variant came with the fewest number of symptoms considered "core" COVID-19 symptoms ie fever, cough and loss of taste/smell. Out of all participants, 89 per cent of children experienced at least one of these three symptoms, and they were most common among those with Omicron.
Also, infections with the Alpha variant also came with the lowest percentage of patients with drowsiness, pink eye, oral changes, a runny nose or a sore throat as a symptom.
However, the Delta infection came with the highest percentage of patients with pink eye and cough as symptoms, with 61 per cent of Delta patients experiencing a cough.
The study team noted that the proportion of children experiencing severe disease was lower than has been measured in previous research, stating that this could be because some emergency department visits included in this study were for the purposes of obtaining a COVID-19 test, and were not spurred by serious illness.
It was noted that the study is also limited by the fact that only one third of the cohort got variant testing to be sure of which variant patients had. All other variant designations were decided by which variant was dominant in that region at the time the patient contracted the virus, meaning there could be errors in the data. The majority of Alpha and Delta patients had their variants confirmed with testing.
For the latest
COVID-19 News
, keep on logging to Thailand Medical News.