BREAKING! Scientists Discover That Two Forms Of Omicron: BA.1 And The New BA.2 Which Is A 'Stealth' Version That Cannot Be Detected By PCR Tests!
Omicron Updates
: British and Australian scientists have alarmingly discovered that there are two versions of the Omicron variant with a newer one that is harder to track as it lacks feature that allows probable cases to be distinguished among positive PCR tests.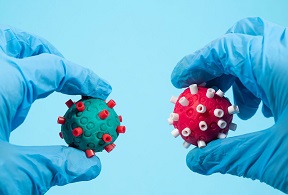 The researchers say they have identified a "stealth" version of Omicron that cannot be distinguished from other variants using the PCR tests that public health officials deploy to gain a quick picture of its spread around the world.
This new discovery is alarming as possibly many cases are not being detected and the new Omicron lineage could be spreading silently.
As Thailand
Medical News
had previously reported, the Omicron is also still evolving and this could be more worrying as it could be spawning newer sub-variants that could really be more virulent and potent considering that it already has a phenomenal amount of mutations of it and is stable and is ever gaining viral fitness.
The new stealth variant has many mutations in common with standard Omicron, but it lacks a particular genetic change that allows lab-based PCR tests to be used as a rough and ready means of flagging up probable cases.
The new BA.2 variant is still detected as coronavirus by all the usual tests, and can be identified as the Omicron variant through genomic testing, but probable cases are not flagged up by routine PCR tests that give quicker results.
Scientists say it is too early to know whether the new form of Omicron will spread in the same way as the standard Omicron variant, but that the "stealthy" version is genetically distinct and so may behave differently.
The BA.2 variant was first spotted among COVID virus genomes submitted in recent days from South Africa, Australia and Canada, but it may already have spread more widely. Among the seven cases identified so far, none are in the UK.
According to
Omicron Updates
, most were in Australia and a few in Canada. A few cases were found in Queensland, Australia among previously detected COVID-19 transmissions.
One of them in a traveler who recently arrived from South Africa.
Australian Health Minister Yvette D'Ath said the case revealed a second "lineage" of the variant.
Acting Chief Health Officer Peter Aitken said the lineage has about half the genetic changes of the first Omicron variant. Unlike the conventional Omicron variant, it doesn't have the "S-gene drop out" feature, he said.
The alarming discovery of the new form of Omicron prompted scientists to split the B.1.1.529 lineage into standard Omicron, known as BA.1, and the newer variant, known as BA.2.
Professor Dr Francois Balloux, the director of the University College London Genetics Institute told Thailand
Medical News
, "There are two lineages within Omicron, B A.1 and BA.2, that are quite differentiated genetically. The two lineages may behave differently."
Researchers used whole genome analysis to confirm which variant has caused a COVID infection, but PCR tests can sometimes give an indication. About half of the PCR machines in the UK and around the world look for three genes in the virus, but Omicron (and the Alpha variant before it) test positive on only two of them. This is because Omicron, like Alpha, has a genetic change called a deletion in the "S" or spike gene. The glitch means that PCR tests that display so-called "S gene target failure" are highly suggestive of Omicron infections.
Unofficially, some researchers and scientists are calling the new variant "stealth Omicron" because it lacks the deletion that allows PCR tests to spot it.
Worryingly one major unknown is how the new variant emerged. While it falls under Omicron, it is so genetically distinct that it may qualify as a new "variant of concern" if it spreads rapidly.
Worse of all, to have two variants, BA.1 and BA.2, arise in quick succession with shared mutations is "worrying" according to one researcher, and suggests public health surveillance "is missing a big piece of the puzzle".
As of press time, there are new speculations that 2 other forms of the Omicron have also been found in two other countries with substantial genetic changes and Thailand Medical News will be providing more updates on these.
The discovery came as the number of cases of the original Omicron variant detected in the UK rose by 101 to 437 in a single day and more cases are being recorded around the world. New corrected data is also emerging that the variant is not as mild as though and a new study on that will be shortly be coming out in a preprint format.
Please help to sustain this site and also all our research and community initiatives by making a donation. Your help means a lot and helps saves lives directly and indirectly and we desperately also need financial help now.
https://www.thailandmedical.news/p/sponsorship
For the latest
Omicron Updates
, keep on logging to Thailand Medical News.