Number Of COVID-19 Patients In Intensive Care Units Across Finland Rising. Local Intensive Care Specialist Warns Of Potential Crisis!
COVID-19 News
: While most of the lower life forms across the globe have been brainwashed into assuming that COVID-19 is over and is now merely endemic and mild….COVID-19 caseloads are increasing around the world along with disease severity and increasing mortality. Those in control of the COVID-19 narratives have found ways to prevent the reporting of daily COVID-19 infections, hospitalizations and deaths and now even excess death rate figures! Along the support of unscrupulous mainstream media, news/wire agencies and social media platforms, the lower live forms whose lives are actually not even worth saving are being led to believe that the current new XBB sub-lineages circulating around are merely mild and that the current boosters will prevent disease severity and risk of death from SARS-CoV-2 despite data from many countries showing that many who have dying from the current onslaught have received the boosters and in some cases even were suppose to have so called hybrid immunity!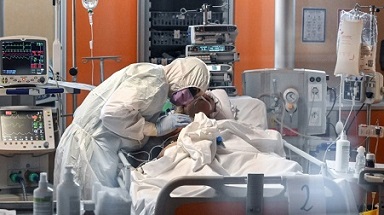 Finland is one such country that has not been spared from the onslaught caused by the new XBB sub-lineages although majority of its population have abandoned all COVID-19 safety and preventive measures.
The number of COVID-19 patients in intensive care units across Finland has been on a clear upward trajectory for the past three weeks, after a long period of relative calm. According to Dr Matti Reinikainen, a Professor of anesthesiology and intensive care at Turku University Central Hospital there are now around 20 patients in intensive care units across the country. This marks a significant change compared to the situation in February and March 2023 when the need for intensive care related to COVID-19 was minimal.
https://www.hs.fi/kotimaa/art-2000009537283.html
Dr Reinikainen notes that the current figures are reminiscent of the brief spikes in patient numbers seen in December 2022, October 2022, and a year ago. Although the current patient numbers are not yet substantial, the growth rate is steep, indicating that a new phase of the epidemic is upon Finland. Dr Reinikainen emphasizes that it is impossible to predict how the situation will develop, but a clear shift has been visible in recent weeks.
Testing for the virus has been minimal, and it remains unclear which strain of the virus is causing the new surge as there is literally very little or no genomic sequencings being done!
Dr Reinikainen explains that the disease profile remains unchanged, with older individuals and those with chronic illnesses still at the highest risk. Severe cases of viral pneumonia and respiratory failure have been observed in intensive care units.
Finland currently has around 270 available intensive care beds, but the country's capacity to handle a potential increase in patients is weaker than it was in spring 2020 due to a shortage of personnel. In spring 2020, there were a maximum of 80 COVID-19 patients in intensive care simultaneously, forcing hospitals to increase capacity by cutting back on other activities. Dr Reinikainen warns that if the current upward trend continues, Finland may soon face challenges in providing adequate intensive care.
According to local
COVID-19 News t;
coverages, a recent public survey reveals that Finnish citizens have largely abandoned COVID-19 precautions, with almost no one wearing face masks anymore.
https://yle.fi/a/74-20025560
The Finnish Institute for Health and Welfare (THL) last updated its guidelines on how to manage COVID-19 in March, but it appears that the virus has been largely relegated to the status of a common disease in the minds of many Finns. While some respondents still acknowledge the need for maintaining social distance in specific situations, the era of strict COVID-19 restrictions seems distant and left behind for most.
Vaccinations being touted as the primary source of protection against the virus for the Finnish population. In late March, the THL updated its guidelines for long-term care and care units, focusing on hand hygiene, cough etiquette, and preventing sick staff from coming to work. Surgical masks are recommended during periods of high COVID-19 infection rates in the area.
As Finland faces a new surge in COVID-19 cases amid citizens abandoning precautions, experts warn that the country is entering a new phase of the epidemic. With a weaker capacity to handle an increase in patients compared to spring 2020, Finland must brace itself for potential challenges in providing adequate intensive care. The current situation highlights the need for continued vigilance and adherence to public health guidelines to prevent further spread of the virus and mitigate the impact on the nation's healthcare system.
For the latest
COVID-19 News
, keep on logging to Thailand Medical News.