German Study Finds That The Interleukin-1 Beta, Interleukin-6 And Tumor Necrosis Factor Alpha Cytokine Triad Is Associated With Long COVID
Long COVID
: A new study by researchers from Martin Luther University Halle-Wittenberg-Germany has found that the IL-1ß, IL-6 and TNF-α cytokine triad is associated with post-acute sequelae of COVID-19 (PASC) or
Long COVID
.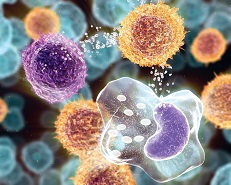 The study involved the detailed analysis on the first 318 DigiHero participants, 258 thereof on average eight months after mostly mild infection. Post-acute sequelae of COVID-19 or PASC were reported in 67.8% of cases and consisted predominantly in fatigue, dyspnea and concentration deficit. The recovery from PASC was not associated with post-infection vaccination suggesting that it may not be driven by a cryptic SARS-CoV-2 reservoir.
The study findings confirmed the high percentage of individuals with autoantibodies after COVID-19, but found no association with PASC.
While the study data show that a broad range of cytokines remain deregulated long after infection, IL-1ß, IL-6 and TNF-α represented a triad that was associated with PASC. Blood profiling and single-cell data from early infection indicated that these cytokines are induced in COVID-19 lung pro-inflammatory macrophages creating a feedback loop that may trigger their long-term activation.
The study findings provided evidence for a long-lasting cytokine signature potentially underlying many of the clinical symptoms of PASC that may be driven by macrophage primed during acute infection. This study demonstrates how the combination of digital epidemiology with selective biobanking can rapidly generate hints towards disease mechanisms.
The study findings were published on a preprint server of the Lancet and are currently being peer reviewed.
https://papers.ssrn.com/sol3/papers.cfm?abstract_id=3963839
It has been reported that a sizeable number of people who recover from coronavirus disease 2019 (COVID-19) experience long COVID ie persistent symptoms that range from neurological issues to fatigue.
The underlying cause behind long COVID remains poorly understood, but this new study findings suggests a trio of cytokines ie IL-1ß, IL-6, and TNF-α are associated with long COVID symptoms.
All three IL-1ß, IL-6, and TNF-α are cytokines released from monocytes and macrophages in response to an immune response.
The research findings suggest long COVID can persist months after recovery from severe acute respiratory syndrome coronavirus 2 (SARS-CoV-2) and is more likely among individuals who had mild SARS-CoV-2 infection.
Corresponding author Dr Edith Willscher from the Department of Internal Medicine IV, Oncology/Hematology at Martin Luther University Halle-Wittenberg told Thailand
Medical News
, "Identification of the molecular underpinnings of PASC will help to design molecular targeted treatment approaches for an increasing global public health problem. The digital epidemiology and biobanking approach used here may serve as a blueprint for other urgent research questions."
In all, a total of 8,077 individuals were invited to participate in a digital health survey known as DigiHero. About 919 had previously recovered from a COVID-19 infection, and about 80% reported their illness as mild or moderate. About 80% of participants had at least one COVID-19 vaccine dose.
Individuals with previous illness completed a questionnaire focused on symptoms of long COVID. They also donated blood samples to allow the researchers to measure cytokine and autoantibody levels.
Cytokine profiles were validated with a separate cohort who had early COVID-19 infection.
The study findings are based on 318 participants, with 258 recovering from COVID-19 eight months prior. About 67.8% of participants reported symptoms four weeks after recovering from COVID-19 and were considered to have long COVID.
Interestingly of the individuals with long COVID, 20% had symptoms for three months, and 60% continued to exhibit symptoms at the time of the study.
Also, about 50% of long COVID patients stated they had one severe symptom at least four weeks after COVID-19 illness. The most severe symptoms included fatigue and trouble breathing.
Importantly women more than men were more likely to experience long COVID. There was no difference by age.
Significantly, Individuals with mild COVID-19 symptoms were more likely to develop long COVID. More specifically, people who reported lymph node swelling, brain fog, and trouble breathing during COVID-19 infection had more instances of long COVID.
Although not verified with clinical studies, some individuals have reported vaccination helping with long COVID symptoms.
However, in the current study, the risk of long COVID was similar in people who got infected before or after vaccination. Additionally, vaccinated individuals reported similar long COVID symptoms as those that were not.
The study findings however indicate that vaccinating after infection does not resolve long COVID.
Also, it was noted that blood sampling data showed that individuals who recovered from COVID-19 had high systemic cytokine deregulation, including elevated levels of TNF-α, TNF-β, IL-1β, IL-6, IL-8, and IL-12p70.
Importantly of all the cytokines studied, IL-1ß, IL-6, and TNF-α were associated the most with long COVID.
Dr Willscher explained, "Interestingly, the levels of these three cytokines were positively correlated with each other in individual participants indicating that they do not identify separate subsets of patients with PASC. These data suggest that persistently elevated levels of IL-1ß, IL-6, and TNF-α may be a hallmark of PASC or Long COVID."
In order to understand how these cytokines move from acute COVID-19 infection to promoting long COVID, the study team took plasma cytokine samples from a separate cohort who were currently infected with SARS-CoV-2 or had earlier recovered from COVID-19 illness.
The study findings showed that the three cytokines levels rose at different stages of infection. An increase in IL-1ß and TNF-α levels, exceeding amounts seen in patients with bacterial pneumonia was observed during mild COVID-19 infection. IL-6 and TNF-α levels remained constant during and after infection. But IL-1ß had a late peak two to three months after infection.
The study team concluded, "Our cytokine profiling revealed a significant association of a well-known triad of cytokines - IL-1ß, IL-6 and TNF-α - with PASC. Due to their functional role in pain perception, anxiety, depression and inflammatory symptoms, they are well compatible with the spectrum of symptoms in PASC. Analysis of macrophages from the bronchoalveolar lavage fluid in patients with severe COVID-19 showed that a specific pro-inflammatory macrophage subset produced high levels of these cytokines in acute disease. Mining of this single-cell sequencing dataset for cytokine response pathways revealed that such macrophages may not only be primed in the lung to produce the cytokine triad, but may also respond to it. The nature of response genes involved suggested chronic cytokine exposure. Based on this data, one may speculate that acute pro-inflammatory reprogramming of long-lived lung macrophages or their precursors may result in a vicious circle of IL-1ß, IL-6 and TNF-α production that self-maintains this cellular compartment. This hypothesis may be supported by recent evidence showing epigenetic reprogramming of the monocyte/macrophage compartment in COVID-19 that results in pathological inflammasome engagement in these cells. Yet, to definitively prove the causal relationship between the cytokine triad and self-sustained, chronic activation of reprogrammed macrophage in patients with PASC, matched tissue and blood analyzes at the PASC stage would be instrumental."
For the latest
Long COVID
Research, keep on logging to Thailand Medical News.