"Vaccines Alone Can't Save Us!" - Shocking New U.S. Study Reveals the Chilling Truth About COVID-19 Variants
COVID-19 News
: As the SARS-CoV-2 pandemic continues to wreak havoc worldwide, a groundbreaking new study by American researchers suggests that relying solely on vaccination efforts may not be enough to slow the rapid emergence of immune-evading SARS-CoV-2 variants. This bombshell report could turn the world's entire approach to managing the ongoing COVID-19 crisis on its head!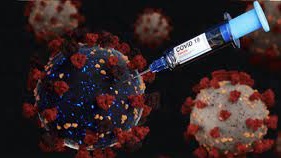 The research, conducted using sophisticated stochastic computational models of viral transmission and mutation, uncovered a terrifying truth: a vaccine-only public health strategy may not be sufficient to prevent the emergence of novel, immune-evading strains. While vaccination is crucial for reducing the risk of severe disease and hospitalization, it alone may not be able to halt the relentless evolution of the virus.
The global community has pinned its hopes on vaccines, as evident in daily
COVID-19 News
coverages with country leaders, health authorities across the world and medical 'expert's daily advocating people to get the vaccines especially the mRNA boosters, believing that they will protect against severe outcomes and reduce transmission. However, this latest study could shatter those hopes, showing that even if the entire population is vaccinated multiple times a year, it may not be enough to slow the pace of the virus's evolution.
The report uncovers a chilling reality, suggesting that the rate of viral evolution could render vaccines less useful in combating COVID-19. As each new variant appears, it brings with it a slew of unknowns regarding transmissibility, immune evasion, superspreading potential, and infection fatality rate.
Consequently, the world may be facing repeated waves of infection driven by the emergence of new variants, complicating public health strategies and undermining vaccine efficacy.
The study's authors highlight the need for a multi-faceted approach to slow SARS-CoV-2 evolution, emphasizing the importance of both behavioral and technical nonpharmaceutical interventions (NPIs) to support vaccines in slowing viral evolution. These NPIs include air quality improvement, testing-and-tracing, and masking, which can limit the transmission of novel vaccine-evading mutants.
The study also reveals the pressing need for better prophylaxis, including vaccines and antiviral prophylactics that prevent infection and transmission. Rapid viral evolution could continue to complicate public health responses, undermining new biomedical interventions as they become available and possibly leading to unpredictable outcomes if left unchecked.
At this critical juncture in the pandemic, a clear-eyed understanding of the limitations of our tools is crucial for formulating effective public health strategies.
This earth-shattering study forces us to confront the sobering reality that vaccines alone may not be enough to save us from the relentless march of SARS-CoV-2 evolution.
So, what does this mean for the future of the COVID-19 pandemic? One thing is clear: we can't afford to rely solely on vaccines. We must adopt a "stewardship" mindset, incorporating NPIs alongside vaccination efforts, to truly curb viral transmission and slow down the evolution of the virus. Only then can we hope to bring the pandemic under control and prevent further devastation.
This shocking report is a wake-up call for the world, reminding us that we must not be complacent in our fight against COVID-19. It's time to face the harsh truth: vaccines alone can't save us. We must employ a multi-pronged approach to tackle the pandemic and safeguard our future.
The study comprised of researchers from: Weill Cornell Medicine-New York, New York Genome Center, Fractal Therapeutics-Lexington, Boston University School of Public Health, Novartis Institutes for Biomedical Research-Cambridge, Boston University School of Medicine, Harvard Medical School, Boston Children's Hospital and the Department of Biomedical Engineering-Boston University.
The Study Abstract
:
The rapid emergence of immune-evading viral variants of SARS-CoV-2 calls into question the practicality of a vaccine-only public-health strategy for managing the ongoing COVID-19 pandemic. It has been suggested that widespread vaccination is necessary to prevent the emergence of future immune-evading mutants. Here, the study team examined that proposition using stochastic computational models of viral transmission and mutation. Specifically, the researchers looked at the likelihood of emergence of immune escape variants requiring multiple mutations and the impact of vaccination on this process. The study findings suggest that the transmission rate of intermediate SARS-CoV-2 mutants will impact the rate at which novel immune-evading variants appear. While vaccination can lower the rate at which new variants appear, other interventions that reduce transmission can also have the same effect. Crucially, relying solely on widespread and repeated vaccination (vaccinating the entire population multiple times a year) is not sufficient to prevent the emergence of novel immune-evading strains, if transmission rates remain high within the population. Thus, vaccines alone are incapable of slowing the pace of evolution of immune evasion, and vaccinal protection against severe and fatal outcomes for COVID-19 patients is therefore not assured.
The study findings were published in the peer reviewed journal: Vaccines
https://www.mdpi.com/2076-393X/11/4/853
For the latest
COVID-19 News
, keep on logging to Thailand Medical News.