COVID-19 News: Resurgence Of COVID-19 Infections And Hospitalizations In France Is Putting The Healthcare System Under Strain Once Again!
COVID-19 News
: The battle against the COVID-19 pandemic has been marked by waves of infections and the relentless struggle of healthcare systems worldwide to cope with the demands imposed by the virus. France, a nation that has weathered the storm of the pandemic, is once again grappling with rising COVID-19 cases, causing stress and strain on its healthcare sector.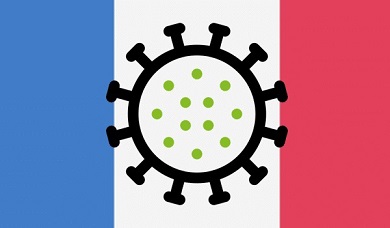 A Soaring Tide of Cases
A new graph, compiled using official health service figures, paints a stark picture of the situation in France. It demonstrates the unwelcome trend of escalating COVID-19 cases diagnosed by general practitioners (GPs) since July 2023. This data is derived from the GP reporting and health monitoring network, Sentinelles.
In the week of September 4-10, France reported a concerning 54,699 new COVID-19 cases, equivalent to 82 cases per 100,000 people. This marks a significant increase from the previous week (August 28 to September 3), when there were 53 cases per 100,000 population, translating to 35,420 new cases. These statistics indicate that cases diagnosed by GPs are now approaching levels last seen in early 2022.
https://www.connexionfrance.com/article/French-news/Covid-19/Graph-shows-ongoing-rises-in-Covid-cases-in-France
The rising numbers can be attributed, in large part, to the emergence of new variants, EG.5.1 and its various spawns. These variants have spread beyond France's borders, affecting several countries, including Spain, Denmark, the UK, and the US.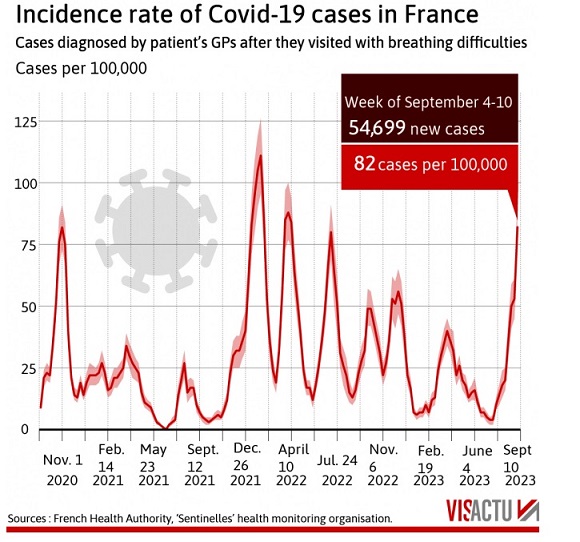 The new BA.2.86 variant has also been discovered in France and many local experts suspect that this new variant could be spreading silently while causing disease severity.
Most independent French
COVID-19 News
outlets are reporting that across various geolocations in France, people are getting sick from a variety of respiratory infections including COVID-19 and hospitalizations are rising! There is very little COVID-19 testing and local health authorities are actually trying to downplay the situation while mainstream media are in 'cahoots' with the French authorities in not reporting the actual COVID-19 situation and healthcare crisis the country is facing!
French health authorities are closely monitoring the situation and stand ready to advance the seasonal flu and COVID vaccination campaigns if cases surge. While this action has not been confirmed yet, the urgency is clear.
Dr Brigitte Autran, the president of the Comité de veille et d'anticipation des risques sanitaires (Covars), has emphasized the importance of self-isolation in case of infection. She has also highlighted the need to understand the new variants and prepare for a vaccination campaign that targets both EG.5.1 and the BA.2.86 strain. (Interestingly, updated from Japan and China shows that the new vaccines containing the spike protein of the XBB.1.5 are unlikely to offer any protection aga inst both these strains!)
Strained Healthcare System
The surge in COVID-19 cases has placed immense pressure on France's healthcare system. The shortage of medical and nursing staff has led to bed closures and adjustments in the operation of several hospital services. Notably, rising COVID-19 infections and hospitalizations are most evident in Moselle, where even emergency services are affected.
Recognizing the critical situation, the Grand Est Regional Health Agency (ARS) has activated the "territorial white plan." This plan involves mobilizing all available resources in response to an influx of patients or an exceptional health crisis.
Importantly, it ensures that necessary care continues to be provided.
The activation of the white plan does not imply the abandonment of care; rather, it aims to optimize resource utilization. The ARS has called for the mobilization of all healthcare professionals and has urged the population, especially those in areas like Metz and Thionville, to contact emergency services by dialing 15 before traveling to hospitals.
https://www.republicain-lorrain.fr/sante/2023/09/16/tensions-hospitalieres-le-plan-blanc-active-par-l-ars
The Accelerated Vaccination Campaign
The rise of new variants and increasing infection numbers have prompted the French government to reconsider its vaccination strategy. Originally planned for October 17, the launch date of the new vaccination campaign has been moved forward to October 2, 2023, in response to recommendations from the Committee for Monitoring and Anticipation of Health Risks (Covars).
https://www.20minutes.fr/sante/4053286-20230915-covid-19-campagne-vaccination-avancee-2-octobre-raison-reprise-epidemie
This decision reflects the urgency of "boosting" protection for vulnerable populations, including those over 65, individuals with comorbidities, and pregnant women. It entails a call for these groups to come forward for vaccination, even if it means separating COVID-19 and influenza vaccination.
The SARS-CoV-2 virus has continued to circulate widely in recent weeks, as evidenced by surges in emergency room visits and consultations with SOS Doctors. Infectious disease specialists, including Dr Odile Launay, are advocating for an accelerated timetable, primarily due to concerns about the potential emergence of new variants in the coming weeks.
https://www.jeanmarcmorandini.com/article-547646-covid-19-la-montee-en-puissance-du-nouveau-variant-en-france-et-le-nombre-de-personnes-infectees-pousse-le-gouvernement-a-avancer-la-date-de-lancement-de-la-nouvelle-campagne-de-vaccination.html
As healthcare systems worldwide navigate the ongoing challenges posed by COVID-19, France finds itself once again at a critical juncture. The rise in COVID-19 cases, driven by new variants, necessitates swift action to protect vulnerable populations and prevent further strain on the healthcare system. As the nation grapples with this resurgence, the world watches, hoping for a successful containment of the virus and a return to a semblance of normalcy.
For the latest
COVID-19 News
, keep on logging to Thailand Medical News.