STD News: Pfizer's Penicillin Shortage Fuels Concerns Over Rising Syphilis Cases In the United States - A Deliberate Move to Inflate Prices?
The Syphilis Epidemic In America And Europe Faces New Challenges As Antibiotic Suppliers Struggles To Keep Pace
STD News
: A growing number of syphilis cases in America and Europe have caught the attention of experts, who warn that a shortage of a key antibiotic used to combat the sexually transmitted disease (STD) could exacerbate the epidemic.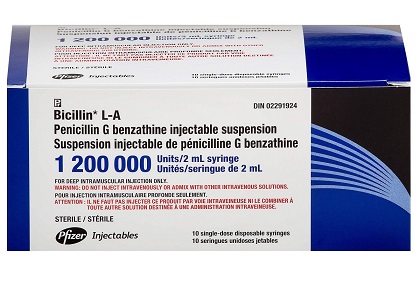 Pfizer, one of the leading pharmaceutical giants, recently issued a warning about the scarcity of its Bicillin L-A (penicillin G benzathine), which may persist well into the following year. The dire consequences of this shortage raise questions about the motives behind the supply issues, with some suggesting that Pfizer could be intentionally driving up prices.
Syphilis Cases Surge
Syphilis has been a mounting concern in the United States for over two decades, with cases steadily increasing according to latest
STD News
updates. The U.S. Centers for Disease Control and Prevention (CDC) reported a staggering 75% rise in syphilis cases between 2017 and 2021, totaling more than 176,000 cases in 2021 alone. The sexually transmitted infection, if left untreated, can have severe implications, including fatal outcomes, birth defects, and preterm births.
Syphilis is also rising in various parts of in Canada and in Europe especially in the United Kingdom, Poland and Romania where just like in the United States, people are becoming to be lax and are not practicing safe sex anymore or are not undergoing proper health screenings prior to sexual relationships. Sexual promiscuity in the West is driving not only increases in syphilis but also various other STDs.
Pfizer's Warning
In response to the rising demand for antibiotics due to the surge in syphilis infections, Pfizer issued an alert regarding the shortage of Bicillin L-A. The antibiotic, also utilized as a substitute for treating infections such as strep throat, has witnessed increased usage, further complicating the supply chain. Pfizer estimates that it will take approximately a year to augment production by 50% at its Rochester, Michigan plant, potentially meeting demand and replenishing reserves.
Pregnant Women at Risk
Of particular concern is the risk faced by infected pregnant women and their unborn children. Bicillin L-A is the sole recommended treatment for expectant mothers with syphilis, as it effectively prevents transmission to the fetus if administered promptly. The shortage jeopardizes access to this lifesaving medication, eliciting worries from medical professionals. Alternative treatments for pregnant women are still years away from becoming available, leaving a critical gap in healthcare provision.
Public Health Crisis
The scarcity of Bicillin L-A is not an isolated incident but rather part of a broader drug shortage crisis plaguing the healthcare system. Chemotherapy treatments and other vital medications are being rationed, exacerbating the strain on healthcare providers. Concerns have been raised about the pharmaceutical industry's reluctance to invest in antibiotic development, as the profit margins for such drugs are often lower comp ared to blockbuster drugs. This shortage crisis has even been identified as a national security threat in a recent Senate report.
The Pricing Predicament
Criticism has been directed towards Pfizer's pricing practices, particularly given the long-standing trajectory of syphilis infections. Since 2013, the price of Bicillin L-A has skyrocketed by a staggering 275%. Advocacy groups have questioned the consequences of leaving public health to the free market, highlighting the disastrous effects of rising medication costs. Despite potential discounts for healthcare organizations, independent clinics are often forced to pay exorbitant prices, straining their budgets and compromising patient care.
For readers to be aware, a pack of ten shot dose of Bicillin in the United States cost about US$6,500 to US$7,200 while in India it is about US$37 and in Thailand it is about US$95.
Antibiotic Shortage Crisis In The West
As syphilis cases surge in the United States and Europe, the shortage of Bicillin L-A raises concerns about the ability to combat this sexually transmitted infection effectively. With Pfizer warning of ongoing scarcity and potential price inflation, infectious disease experts and healthcare providers urge immediate action to address this critical public health issue. The long-lasting effects of untreated syphilis are severe and far-reaching, underscoring the importance of ensuring access to lifesaving antibiotics. The urgent need to address the drug shortage crisis and regulate drug pricing practices is vital for safeguarding public health and preventing future epidemics from spiraling out of control.
For the latest
STD News
keep on logging to Thailand Medical News.