GREAT NEWS! COVID-19 Cases Starting To Rise In United Kingdom, United States, Gautemala, Romania And Singapore! But.. But COVID-19 Is Over!
COVID-19 News
: While countries like Japan, South Korea, China, Brazil, Honduras, Bolivia and Australia are facing a bad COVID-19 surge at the moment and some countries like New Zealand, Russia, Vietnam and Philippines are still seeing moderate but worrisome number of infections each week, latest data shows that COVID-19 cases are starting to rise again in various other countries.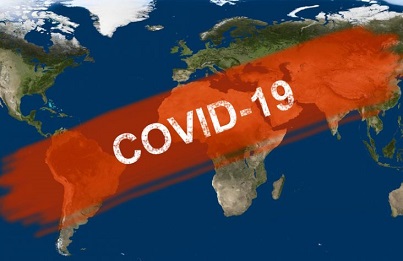 Fear not, as despite the rise in cases, immediate fatality rates will not be high except for Japan, South Korea and China at the moment where crematorium owners and undertakers are experiencing a good fortune in brisk trade!
However, if you are in the vulnerable groups (i.e. those that are aged with existing comorbidities, the obese, the immunocompromised, and those with certain genetic polymorphisms) you risk of dying is unfortunately high upon getting infected and you are one of the few unlucky ones that have contracted the newer spawns of EG.5.1 (not EG5.1 itself..I repeat but any of its newer spawns that numbers into hundreds at the moment) or any of the spawns of the XBB.2.3.1), then your risk of also dying is high if not certain!
For the rest, Summer in the Northern hemisphere will be just like in the new norm..COVID-19 deaths that range between 10 to 100 per day but lots of interesting sudden deaths in otherwise seemingly healthy people! Excess deaths will be rising as usual.
Individuals should focus more on the coming Fall and Winter, where things are really going to be fun this year.
Coming back to the rise in COVID-19 cases, in the United Kingdom, the Zoe App platform is showing about 55,286 possible symptomatic COVID-19 infections for the 17th of July, reflecting a new increase in daily COVID-19 cases.
https://health-study.joinzoe.com/data
Besides COVID-19, any other disease that you can possibly think off is also rising strangely in the United Kingdom and the dying Brits are being replaced by Muslim and African migrants so as to ensure that there is no shortfall in the population.
In the United States, a report by CIDRAP indicated that COVID-19 hospitalizations were rising in the states of Alaska, Florida and Hawaii while COVID-19 positivity test rates were increasing in Arizona, Arkansas, Idaho, Louisiana, Oklahoma, Oregon, Texas, and Washington.
Waste water surveillance is also indicating that COVID-19 infections are on the rise.
https://twitter.com/JPWeiland/status/1679995613423755265
Certain parts of New York States are also witnessing a rise in COVID-19 positivity test rates.
https://coronavirus.health.ny.gov/positive-tests-over-time-region-and-county
In the previous week, according to local
COVID-19 News
reports, the United States saw 52,413 new confirmed COVID-19 infections based on data submitted by 32 out of 50 states with 7,938 COVID-19 hospitalizations and 632 COVID-19 deaths. (Actual figures could be mu ch higher but due to the Biden's administration systematic strategies to conceal actual COVID-19 statistics, no one will actual know how many Americans are dying each day due to COVID-19 but fear not about population decreases as Biden and Obama is actively replacing those missing Americans with migrants and Trans from elsewhere!)
In Singapore that always have everything in control and where they have individuals who with no training in medical sciences able to accurately predict about the SARS-CoV-2 variants and the effectiveness of the COVID-19 jabs and where a 'few COVID-19 deaths' are but the expected norm, COVID-19 cases are rising again.
https://www.moh.gov.sg/covid-19/statistics
In Guatemala and Romania cases are also starting to rise once again. Guatemala saw 504 new COVID-19 infections in the last 24 hours and 2 COVID-19 deaths but actual numbers could be far higher as there was very little testing done and 'fever clinics' are seeing a rise in patients.
https://tableros.mspas.gob.gt/covid/
In Romania, COVID-19 cases are also starting to rise and hospitals are starting to be under pressure.
https://www.ms.ro/media/documents/Buletin_de_presa_10.07-16.07.2023.pdf
We will be giving more updates on the COVID-19 situation in various countries with accompanying details in the next few hours. Please bear with me as this site is only handled by one person and with no funding from anywhere!
For the latest
COVID-19 News
, keep on logging to Thailand Medical News.