SARS-CoV-2 Research: Analysis Of Gibbs Energy Potential In Newly Emerged BA.5.2 And BF.7 Sub-lineages In China Suggest That They Are More Infective!
SARS-CoV-2 Research

:
While the old school of virologist (some are young too but have a very backward mentality!) are only looking at the mutations on the newly emerging SARS-CoV-2 sub-lineages and recombinant variants to roughly predict their viral fitness, immune evasiveness, infectivity, transmissibility along with certain aspects of pathogenicity, they have completely failed to also assess the structural conformations and their changes or adaptations involving their folding patterns and also their bio-thermodynamics aspects including the Gibbs energy potential in them.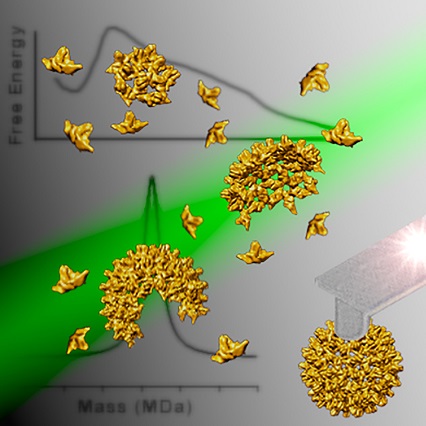 The driving force of all processes in nature, including growth of organisms is a thermodynamic property called Gibbs energy..
https://www.scirp.org/(S(351jmbntvnsjt1aadkozje))/reference/referencespapers.aspx?referenceid=1686157
https://www.taylorfrancis.com/books/mono/10.1201/b15428/biothermodynamics-luuk-van-der-wielen-urs-von-stockar
Thermodynamics has played a fundamental role in development of science, allowing us to understand a wide range of natural phenomena and design new technologies. The potential of thermodynamics in life sciences was first noticed by Boltzmann [1974], whose ideas were extended by Schrödinger [1944].
https://aacrjournals.org/cancerres/article/5/11/670/495005/What-is-Life-The-Physical-Aspect-of-the-Living
https://books.google.co.th/books?hl=en&lr=&id=cIC4BgAAQBAJ&oi=fnd&pg=PT16&ots=7NFhJmbdnb&sig=tuJca_60nGoU7UDrJyuTI2bKrrA&redir_esc=y#v=onepage&q&f=false
However, its use in life sciences and bioengineering is hindered by lack of data for thermodynamic analysis.
Thus, to fundamentally understand life and interactions between organisms (e.g. parasitism, infections, immune answer etc.), we need to chemically and thermodynamically characterize them, specify their driving forces, and develop formalisms do describe all physical, information and chemical processes united in one phenomenon – life.
To date, a few partial chemical characterization (empirical formula) has been reported for just a few virus species.
https://pubmed.ncbi.nlm.nih.gov/24931044/
A complete empirical formula was made for only one ie the poliovirus.
https://pubmed.ncbi.nlm.nih.gov/1661029/
So far, thermodynamic parameters of entire virus particles have never been determined. The parameter of particular interest is Gibbs energy, which represents the driving fo rce of all processes in nature, including processes performed by organisms.
A leading international scientist from the School of Life Sciences, Technical University of Munich-Germany. Professor Dr Marko Popovic who has in the past decade been researching the role of Gibbs energy in viruses has in his analysis of the Gibbs energy potential in newly emerged BA.5.2 and BF.7 Sub-lineages in China found that they are more infective than previous versions of other earlier variants or even themselves that was in circulation earlier!
Professor Popoviv says that newer SARS-CoV-2 variants are usually more infective, which can be observed as time evolution of the virus at hand, which occurs through acquisition of mutations during time. The appearance of new variants is followed by appearance of new COVID-19 pandemic waves. With the appearance of new pandemic waves and determining of sequences, in the scientific community and general public the question is always raised of whether the new variant will be more virulent and more pathogenic.
The two variants characterized in his study, BA.5.2 and BF.7, have caused a pandemic wave during the late 2022 especially in East Asia.
His study findings give full chemical and thermodynamic characterization of the BA.5.2 and BF.7 variants of SARS-CoV-2. Having in mind that Gibbs energy of binding and biosynthesis represent the driving forces for the viral life cycle, based on the calculated thermodynamic properties we can conclude that the newer variants are more infective than earlier ones, but that their pathogenicity has not changed.
His study findings were published in the peer reviewed journal: Microbial Risk Analysis.
https://www.sciencedirect.com/science/article/pii/S235235222300004X
Thailand Medical News has already been warning for a long time about these new BA.5.2 and BF.7 sub-lineages that are emerging in our various
SARS-CoV-2 Research
coverages while the world and virologist are more engrossed in the various recombinant variants and their sub-lineages including the XBBs such as XBB.1.5, XBB.1.9.1 and the also the XBCs, XBFs, XAYs etc and also some of the newer BA.2.75 sub-lineages such as CH.1.1
https://www.thailandmedical.news/news/covid-19-news-variant-hunters-say-that-the-ba-5-sub-lineages-are-receding,-being-replaced-by-ba-2-sub-lineages-and-various-recombinants-we-say-no
https://www.thailandmedical.news/news/covid-19-news-stupids-saying-that-china-variants-have-been-circulating-before-bf-7-14,-ba-5-2-48,-ba-5-2-49-are-new,-past-exposure-to-ba-5-will-not-he
https://www.thailandmedical.news/news/covid-19-news-new-ba-5-sublineages-continue-to-emerge-globally-as-virus-evolves-rapidly--new-dy-1-variant-emerges-in-china-ba-5-2-48-with-sa570s
Each time a new variant appears, a question is raised about its infectivity and pathogenicity. Thus, with appearance of new BA.5.2 and BF.7 variants, the question was raised of whether they will be able to cause a new pandemic wave.
The new variants compete with the old variants, if they appear at the same time in the same place.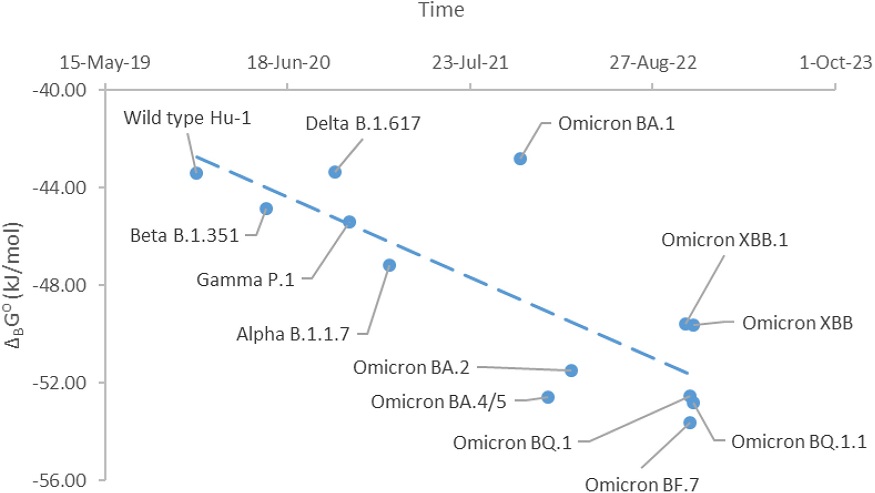 Gibbs energies of binding through evolution of SARS-CoV-2. This graph shows standard Gibbs energies of binding, ΔBG⁰, of SARS-CoV-2 variants during their evolution. The graph starts from the Hu-1 variant (Wild type) that appeared in late 2019 and ends with the newest BF.7 variant. The blue dots represent Gibbs energies of binding of the SARS-CoV-2 variants. The blue dashed line represents the direction of evolution of the ΔBG⁰ values.
Interestingly, in that competition, one variant will win and suppress and weaker one.
In order to predict the outcome of the competition, it is necessary to know the Gibbs energy of binding and Gibbs energy of biosynthesis.
In this study, for the first time, standard Gibbs energy of binding was determined for the BF.7 variant. It is -53.64 kJ/C-mol, at 25°C.
It is possible to see the trend of evolution of SARS-CoV-2 towards more negative Gibbs energy of binding. More negative Gibbs energy of binding leads to greater antigen-receptor binding rate, which in turn leads to increased infectivity.
The Gibbs energy of antigen-receptor binding of Omicron BF.7 is more negative than that of the other variants. Thus, the rate of antigen-receptor binding of Omicron BF.7 is greater than that of other variants present in the population. This leads to an increased infectivity of BF.7 and probable domination in the next wave of the COVID-19 pandemic.
However, it was found that the Gibbs energy of biosynthesis of BA.5.2 and BF.7 is not significantly different than the Gibbs energy of biosynthesis of other Omicron variants. The rate of biosynthesis of BF.7 and BA.5.2 is approximately equal to the biosynthesis rate of other Omicron variants. The pathogenicity of BF.7 and BA.5.2 variants should not be greater than those of other Omicron variants.
The field of bio-thermodynamics should be explored by more researchers and also more studies in detail with regards to the various emerging variants are warranted.
It should also be noted that while two samples might have the same identity, name and mutations, but should there be any slight modifications in their structural conformations, certain Gibbs energy potential in them might vary…making them actually different in terms of characteristics!
For the latest
SARS-CoV-2 Research
, keep on logging to Thailand Medical News.
Read Also:
https://encyclopedia.pub/entry/39911
https://bpspubs.onlinelibrary.wiley.com/doi/pdf/10.1002/prp2.922
https://www.preprints.org/manuscript/202209.0318/v1
https://www.mdpi.com/2673-6284/11/4/45
https://mediatum.ub.tum.de/doc/1600503/1600503.pdf
https://www.pnas.org/doi/10.1073/pnas.2120042119