Drug News: Canadian Health Authorities Reviewing Safety Of Domperidone, A Drug That Causes Lactation And Often Misused By Breastfeeding Mothers!
Drug News
: Health Canada has reported that is reviewing the safety of the drug Domperidone, a pharmaceutical compound that blocks dopamine to the brain and is often prescribed to aid with speeding up digestion.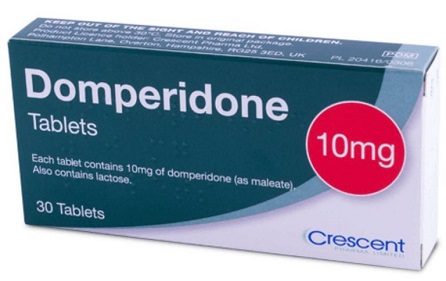 Domperidone (Motilium) is basically a medicine that increases the movements or contractions of the stomach and bowel. Domperidone is also used to treat nausea and vomiting caused by other drugs used to treat Parkinson's Disease. It can only be given by or under the immediate supervision of a doctor in Canada and the United States. It is only approved for use for gastrointestinal purposes and not as a lactation aid in Canada.
However, as a result of it side effect of being able to stimulate lactation, it is often misused by breast feeding mothers and also by 'lazy' and 'greedy; doctors who are keen to give quick solutions to female patients complaining of breastfeeding issues!
https://pubmed.ncbi.nlm.nih.gov/11202662/
Health Canada said although the agency is aware the drug is routinely prescribed to stimulate lactation, it is not approved for that purpose. Many western
Drug News
and health sites have been promoting its use for lactation and breastfeeding.
Midwives and doctors routinely prescribe it off-label to improve lactation and according to Health Canada, more than 1.7 million prescriptions for domperidone were filled in 2020 alone!
However, as a result of numerous psychological side effects arising of as a result of women trying to get off the drug including debilitating psychological side effects, anxiety, panic attacks, insomnia, intrusive thoughts and feeling suicidal, the Canadian health authorities have decided to review its safety profile.
Sadly, a growing number of cases have involved mothers who became too psychologically damaged to care for their babies and also a number of cases ended in fatal outcomes involving suicides.
Unknown to many, including doctors, domperidone also acts as an antipsychotic, hence its capability to exhibit withdrawal symptoms weaning of its uses should not come as a surprise.
https://www.ncbi.nlm.nih.gov/pmc/articles/PMC3962062/
According to Health Canada, the safety review, which started in December 2022, was prompted by domestic and foreign case reports of withdrawal symptoms after stopping or reducing the dose of domperidone used to stimulate lactation.
It was also shockingly found that in Canada, domperidone is being prescribed by some physicians to stimulate lactation at doses three to five times higher than what is recommended by Health Canada, the drug manufacturer and also other drug regulatory agencies in other countries!
This are high doses that have never been approved for use anywhere in the world, there are no large-scale clinical trials that shed any light the side effects occur that may occur!
Hence, this even makes it difficult and complicated for drug regulators like Health Canada to evaluate the safety of a drug for an off-label purpose.
The pharma company, Janssen Pharmaceuticals have never intended its use for that, so the original safety clinical trials were not designed for that.
Hence, Health Canada will have to look at different mechanisms to be able to evaluate the safety of these drugs.
So far there has been numerous cases studies documenting the withdrawal effects of domperidone one study published late last year in the peer-reviewed journal: Breastfeeding Medicine.
https://www.liebertpub.com/doi/10.1089/bfm.2022.0190
Some of the most recent case studies are from the United States, where domperidone is not approved by the Food and Drug Administration (FDA) for any purpose but American mothers are getting it either from doctors in Canada or from illegal online sites selling pharmaceuticals and medications based in Mexico or India.
Health Canada said that it will review all relevant domestic and foreign case reports.
Drug safety reviews can result in Health Canada requesting more information, studies or monitoring by the manufacturer. They can also result in warnings to patients and health-care providers, changes to how a drug is labelled or, if necessary, the withdrawal of a drug from the market if the benefits no longer outweigh the risks of the product.
Health Canada said that the decision to take action, including issuing a warning, is not based solely on the number of case reports, but on a comprehensive assessment of the information contained in these case reports.
Health Canada further said that if new safety risks are confirmed, it will take appropriate action and continue to keep Canadians informed.
The agency expects the drug safety review to be completed by summer 2023.
It the meanwhile, new mothers planning to take the drug should avoid it at all costs and those already on the drug but are wanting to wean off the drug should seek a clinical psychologists or doctor to help them with the process.
It should also be noted that past studies have showed that the drug was also associated with causing serious abnormal heart rhythms and sudden cardiac deaths!
Worse, in this current COVID-19 era where many especially females are also susceptible to a wide array of heart and cardiovascular issues, taking the drug can only aggravate the situation.
To date, as a result of past reviews, Health Canada had introduced a maximum daily dose recommendation of 30 milligrams and restricted its use in patients with certain cardiac conditions or taking other drugs. However, many ignorant Canadian doctors are still prescribing the drug at high doses to breast feeding mothers!
It should also be noted that studies have shown that the drug can also end up in the breast milk that babies are consuming!
https://www.ncbi.nlm.nih.gov/books/NBK501371/
For the latest
Drug News
, keep on logging to Thailand Medical News.