BREAKING! New Delta Sub-Variant AY.25.1 That Is Possibly More Transmissible And Replicates Faster Now Causing Surges In Alberta And Saskatchewan In Canada!
More good news! The SARS-CoV-2 coronavirus fortunately is still evolving and mutating, spawning more variants and sub-variants as its evolutionary behaviour attempts to contest the antibodies induced by the COVID-19 vaccines and also find ways to get around new antivirals entering the ecosystem.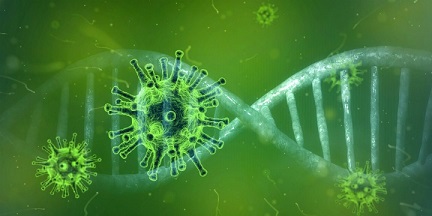 Health authorities in the provinces of Alberta And Saskatchewan in Canada are reporting that the new Delta sub-variant
AY.25.1
is causing a new surge and also sub-variants from another sub-lineage ie AY.27 are also being detected in random genomic sequencings but not as much as the AY.25.1 sub-variant.
The AY.25 sub-lineage was already found to be able to cause breakthrough infections among the fully vaccinated in Massachusetts according to a study by Harvard University and the MADPH (Massachusetts Department Of Public Health).
https://www.thailandmedical.news/news/harvard-and-madph-study-shows-that-delta-sub-variant-ay-25-is-transmitted-by-fully-vaccinated-individuals-and-causes-breakthrough-infections
This new AY.25.1 sub-lineage supposedly carries one deletion and numerous substitutions on its spike proteins. (Thailand Medical News is experiencing difficulties obtaining data on the specific mutations as there is a concerted effort by the Biden and Boris administrations and the US.CDC to block any release of data with regards to mutations that are able to cause breakthrough infections and also on details of emerging sub-variants that can also decrease vaccine efficacy!)
During a Saskatchewan physician town hall meeting last week, researchers talked about the AY.25.1 subtype of the delta variant, which has become the most dominant form of the virus in the province and also in Alberta and many also admitted that data on the new sub-variant by being withheld by the U.S. authorities and even on public sharing genomic platforms.
Dr Angela Rasmussen, a virologist at Saskatoon's Vaccine and Infectious Disease Organization told Thailand
Medical News
, "We do not at the moment have any data suggesting as to whether nor not this new sub-variant is more virulent or causes more disease severity. Of course, the delta variant itself is bad enough. So it's definitely something to watch, and it's clearly something that has really taken over the province."
Dr Rasmussen told media last week during a press conference that it's believed the AY.25.1 subtype started in Idaho and eventually migrated into the Canadian Prairies.
Dr Rasmussen said as a coronavirus spreads through a population, it will continue to mutate. Eventually, a new sub-lineage may be created.
Dr Rasmussen said the sub-lineage's dominance is a direct result of unchecked transmission.
The new AY.25.1 sub-variant is not only infecting the unvaccinated but also the fully vaccinated as well and, in both cases, a large proportion of those infected are ending up being hospitalized due to disease severity and deaths have also been recorded among both the vaccinated and unvaccinated.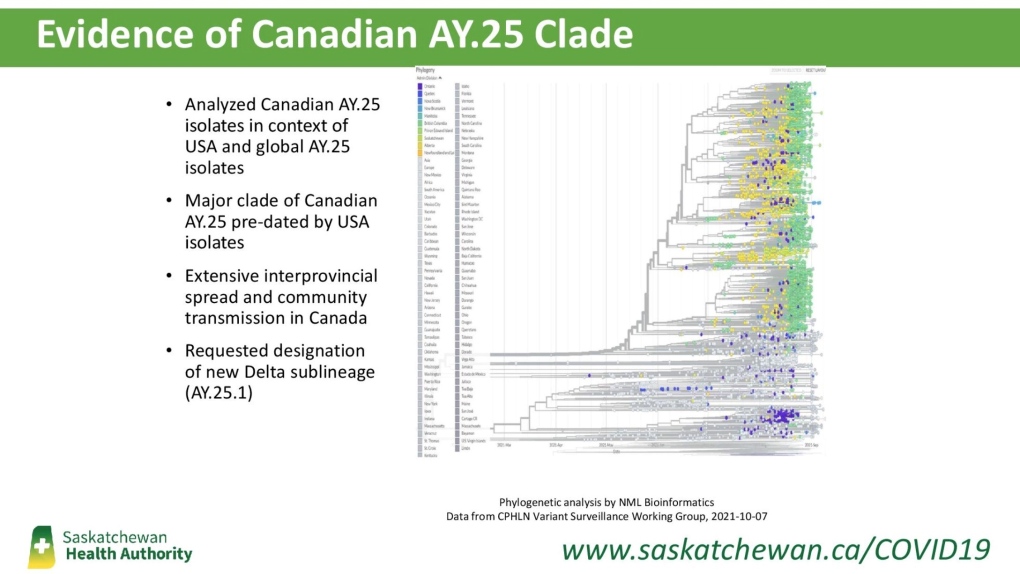 It is believed that due to its ability to replicate much faster and result in higher viral loads in the human host, the AY.25.1 is able to cause more disease severity compared to earlier sub-lineages. This however needs to be verified through detailed research.
Dr Rasmussen added, "We did have a huge surge, as did Alberta. So, it's not tremendously surprising that we would see the emergence of a new variant sub-lineage."
Numerous Delta and Alpha sub-lineages have emerged over the last few months and the SARS-CoV-2 coronavirus is still evolving.
Many countries with high vaccination rates even are witnessing new surges propelled that newer subvariants that are able to cause breakthrough infections like the AY.4.2 in UK, AY.23 and AY23.1 in Singapore.
Dr Saqib Shahab, the Saskatchewan's chief medical health officer said he's closely watching the new sub-variants of COVID-19 in the province.
Attention is being paid to both derivatives of the Delta variant, called AY.25 and AY.27 and their emerging sub-variants including the AY.25.1 which have been detected in Saskatchewan and also in Alberta.
Dr Saqib Shahab admitted that at the moment there is not much data about the properties or characteristics of these new emerging sub-variants but on the ground level, more people are experiencing disease severity and need to be hospitalized with ICU wards nearing full capacity in the province.
Dr Shahab said that health officials are reporting information about the subtypes to the World Health Organization and the ground situation in both Alberta and Saskatchewan.
Dr Rasmussen said modelling suggests the Delta AY.25.1 sub-variant may have a five per cent selective advantage compared to other Delta sub-lineages.
She explained, "That basically means that it can out-compete them when it's spreading through the population, but that doesn't indicate that it's more transmissible."
Thailand
Medical News
will be reporting further in a few days' time when we are able to gather more details about the specific mutations found on the AY.25.1 and AY.27 sub-variants.
For more on the emerging
SARS-CoV-2 Delta and Alpha sub-variants
, keep on logging to Thailand Medical News.