BREAKING! German Long COVID Study Reveals Persistent Symptoms In 69.1% Of Non-Hospitalized COVID-19 Patients 2 Years After Infection!
Long COVID-19 Is More Prevalent Than Thought!
COVID-19 News
: The first European follow up study spanning 2 years by German researchers from the University of Augsburg and the Institute for Medical Information Processing, Biometry, and Epidemiology at LMU sheds shocking revelations on the long-term effects of COVID-19 on non-hospitalized individuals.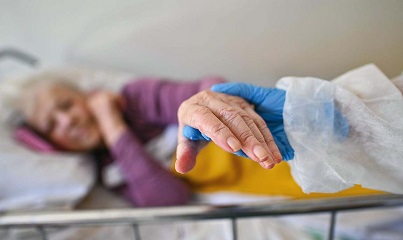 This comprehensive research, which followed up with patients 24 months after SARS-CoV-2 infection, highlights the alarming finding that 69.1% of non-hospitalized COVID-19 patients continue to suffer from post-COVID issues.
The study emphasizes the urgent need to address the healthcare challenges faced by individuals experiencing "post-COVID-19 syndrome" (PCS) and to provide them with appropriate support and treatment.
The Persistence of Post-COVID Symptoms
Post-COVID syndrome, commonly referred to as "long COVID," encompasses a range of symptoms such as fatigue, dyspnea (shortness of breath), and cognitive problems that persist for several weeks or months after the initial COVID-19 infection. Previous studies and
COVID-19 News
coverages have reported varying prevalence rates for PCS in non-hospitalized individuals, ranging from 6% to 46%. Given that this group represents the majority of COVID-19 cases, the prevalence of PCS among non-hospitalized patients has significant implications for healthcare systems.
Findings of the German Study
The study conducted at the University Hospital of Augsburg followed 304 non-hospitalized participants, of whom 69.1% were classified as having PCS. Among those with PCS, 18.8% experienced slight to moderate functional limitations.
Fatigue was the most common symptom at the baseline (33.9%) and the follow-up (FUP) (52.8%), followed by muscle or joint pain (22.0%, 42.1%), headache (25.1%, 37.6%), concentration problems (27.2%, 34.9%) and memory problems (23.4%, 33.6%). Dyspnea on exertion was reported by 24.4% of the participants at the baseline and 27.4% at the FUP. With the exception of impairment of smell or taste functions and heartburn, all symptoms were more common at the FUP than at the baseline.
The study also revealed a higher utilization of healthcare services among individuals with PCS, with many expressing dissatisfaction with the lack of information on persistent COVID-19 symptoms and difficulties finding competent healthcare providers. The study's results emphasize the critical need to optimize patient information, improve access to specialized healthcare providers, and enhance the education of healthcare professionals regarding PCS.
The Importance of Long-Term Care
The study's two-year follow-up period provided valuable insights into the prolonged effects of PCS. While some symptoms, such as impaired taste or smell, tended to improve over time, most participants continued to experience a range of symptoms, indicating th e necessity for long-term care and support. The findings also highlighted the crucial role of primary care providers in managing PCS and coordinating patient care. However, only a small percentage of individuals with PCS utilized specialized COVID clinics, indicating the need for improved awareness and accessibility to such facilities.
Addressing Healthcare Challenges
The study underscored the significance of addressing the challenges faced by individuals with PCS. It called for optimized patient information to raise awareness about PCS and its common symptoms, increased access to specialized healthcare providers, and easily accessible treatment options coordinated by primary care specialists. Furthermore, healthcare providers need to be better equipped with knowledge about PCS to offer comprehensive support and treatment.
The study's findings suggest that a multidisciplinary approach, involving various medical disciplines, coordinated by general practitioners, could effectively address the diverse needs of individuals with PCS.
Implications and Future Research
The study's results provide a foundation for understanding the course of PCS and the specific needs of affected individuals. However, further long-term studies are crucial to gain a comprehensive understanding of PCS and how the healthcare system can best meet these needs. Moreover, defining PCS consistently across studies is essential to improve comparability and facilitate a more comprehensive understanding of its prevalence and impact.
Conclusion
The German long COVID study has shed light on the persisting symptoms experienced by non-hospitalized individuals two years after SARS-CoV-2 infection. With 69.1% of participants classified as having PCS, the study emphasizes the urgent need to improve patient information, enhance access to specialized healthcare providers, and provide comprehensive care and support.
The study findings were published in the peer reviewed journal: Viruses.
https://www.mdpi.com/1999-4915/15/6/1326
For the latest
COVID-19 News
, keep on logging to Thailand Medical News.