COVID-19 News: Chinese Meta Study Uncovers That Thymosin-α-1 Reduces Risk Of Mortality In COVID-19 Patients With Disease Severity
COVID-19 News
: The global impact of Coronavirus Disease 2019 (COVID-19) caused by the severe acute respiratory syndrome coronavirus 2 (SARS-CoV-2) has been nothing short of catastrophic. As the world grapples with this ongoing pandemic, researchers and medical professionals continue their relentless pursuit of effective treatments to mitigate the disease's devastating effects. One such treatment that has garnered attention is thymosin-α-1 (Tα1), an endogenous polypeptide with a range of therapeutic applications. A recent meta-analysis study conducted by the Fourth Affiliated Hospital of China Medical University in Shenyang and the China‒Japan Union Hospital of Jilin University in Changchun, China, validated the potential of thymosin-α-1 (Tα1) in combating COVID-19.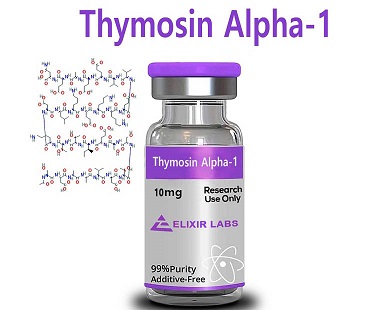 The Immune System's Crucial Role in COVID-19
The havoc caused by COVID-19 extends beyond its viral contagiousness; it's also underscored by the profound immune dysregulation experienced by patients. The immune system, comprising innate and adaptive components, plays a pivotal role in curbing viral replication, initiating an immune response, and ultimately controlling the spread of the virus. However, COVID-19 often leads to abnormal immune responses, including lymphopenia and cytokine storms, contributing to disease exacerbation, all of which have all been covered in previous studies and
COVID-19 News
reports. This has prompted researchers to explore immunotherapeutic interventions as potential strategies for combating the virus.
Thymosin-α-1: A Promising Immunomodulatory Agent
Thymosin-α-1 emerges as a compelling candidate in this endeavor. This endogenous polypeptide, derived from thymic tissue, has demonstrated immunomodulatory effects that bolster T-cell generation, elevate anti-inflammatory cytokines, and reduce proinflammatory cytokines. These properties position thymosin-α-1 (Tα1) as a potential therapeutic agent for a wide array of ailments, including viral infections. Notably, its ability to modulate immune responses and maintain immune homeostasis makes it an attractive prospect for combating COVID-19.
A Comprehensive Meta-Analysis Unveiled
The crux of the study conducted by the Chinese medical institutions revolves around assessing the effectiveness of Tα1 in patients with COVID-19. The research involved meticulous selection criteria, including a minimum of 10 cases per study, participants aged 18 and above with confirmed SARS-CoV-2 infection, and data related to mortality, hospitalization length, disease severity, and study location. The study, which spanned from November 2019 to July 2023, drew upon data from six databases, including PubMed, Web of Science, Embase, Cochrane Library, China Knowledge Resource Integrated Database, and Wanfang Database.
Results and Implications
The meta-analysis encompassed data from nine studies with a cumulative participant count of 5,417. The analysis revealed intriguing insights into the potential of thymosin-α-1 (Tα1). Mortality rates between COVID-19 patients r eceiving Tα1 treatment and those who did not yielded no significant differences. Similarly, the length of hospitalization showed no remarkable variance between these groups.
However, when scrutinizing patients based on disease severity, the results illuminated the potential of thymosin-α-1 (Tα1) for specific subsets.
Among patients with serious COVID-19, Tα1 treatment significantly reduced the incidence of mortality. This suggests that Tα1 could be a valuable tool in combating severe and critical cases of COVID-19. Additionally, among patients with non-serious COVID-19, those treated with Tα1 experienced shorter hospitalization lengths, highlighting the compound's potential in expediting recovery for less severe cases.
Discussion and Future Directions
The meta-analysis findings underscore the potential of Tα1 in the battle against COVID-19, particularly in severe cases where mortality rates are significantly reduced. Furthermore, for patients with less severe disease, Tα1's influence in shortening hospitalization lengths is promising. However, it's important to acknowledge the study's limitations, including the predominance of studies conducted within China and the high heterogeneity in results. These factors emphasize the need for further research, ideally in the form of rigorous clinical trials, to validate and refine the findings.
In conclusion, the meta-analysis conducted by the Chinese medical institutions sheds light on the potential of thymosin-α-1 as an immunomodulatory agent in the realm of COVID-19 treatment. The study's outcomes offer a glimmer of hope for patients battling severe forms of the disease while also suggesting avenues for expediting recovery in milder cases. As the world navigates the complex landscape of the COVID-19 pandemic, the pursuit of effective treatments like Tα1 remains a beacon of optimism in these challenging times.
The study findings were published in the peer reviewed European Journal of Inflammation. (Sage Journals)
https://journals.sagepub.com/doi/full/10.1177/1721727X231197922
For the latest
COVID-19 News
, keep on logging to Thailand Medical News