BREAKING NEWS! Scientist Discover That The Common Allele HLA-B*15:01 Is Associated With Asymptomatic SARS-CoV-2 Infection!
COVID-19 News
: In a groundbreaking discovery, scientists from the University of California, San Francisco and La Trobe University in Australia have found a genetic link between the allele HLA-B*15:01 and asymptomatic infection with the SARS-CoV-2 virus.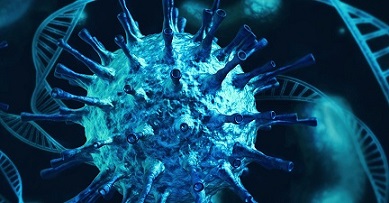 This study finding sheds new light on the immunological features that promote rapid viral clearance and could have significant implications for understanding disease pathogenesis, vaccine development, and therapeutic targets.
While much attention has been given to severe cases of COVID-19, approximately 20% of individuals infected with SARS-CoV-2 remain asymptomatic as reported in previous studies and
COVID-19 News
reports. Investigating asymptomatic infections provides a unique opportunity to explore early immunological responses and the factors that contribute to the successful clearance of the virus.
The researchers hypothesized that genetic variation in the human leukocyte antigen (HLA) loci might play a role in mediating asymptomatic infections.
To test this hypothesis, the scientists conducted a smartphone-based study involving 29,947 individuals who had high-resolution HLA genotyping data available. The discovery cohort comprised 1,428 unvaccinated individuals who had tested positive for SARS-CoV-2.
They analyzed the association between five HLA loci and the disease course and found a strong correlation between HLA-B*15:01 and asymptomatic infection.
This association was observed in two independent cohorts, suggesting that it is a robust finding.
To further support the genetic association, the study team examined T cells from pre-pandemic samples of individuals carrying HLA-B*15:01. They discovered that these T cells were reactive to a specific peptide derived from the SARS-CoV-2 virus, indicating pre-existing T cell immunity.
The majority of the reactive T cells displayed a memory phenotype and exhibited high polyfunctionality, meaning they had the ability to perform multiple functions simultaneously. Additionally, these T cells were cross-reactive to a peptide derived from seasonal coronaviruses, suggesting a broad immune response.
In-depth analysis of the crystal structure of HLA-B15:01-peptide complexes revealed that the peptides derived from SARS-CoV-2 and seasonal coronaviruses shared a similar ability to be stabilized and presented by HLA-B15:01.
This structural similarity provided the molecular basis for T cell cross-reactivity and supported the notion of HLA-B*15:01-mediated pre-existing immunity.
The findings indicate that HLA-B15:01 plays a crucial role in mediating asymptomatic SARS-CoV-2 infection.
Individuals carrying this allele are more than twice as likely to remain asymptomatic after infection compared to those without it.
Furthermore, individuals with two copies of HLA-B15:01 are over eight tim es more likely to be asymptomatic. These results suggest that early infection with SARS-CoV-2 involves specific features related to HLA-B*15:01.
Understanding the genetic basis and immunological mechanisms underlying asymptomatic infection has significant implications for public health measures, vaccine design, and therapeutic development.
The use of a mobile application and a pre-existing database enabled the researchers to screen a large number of individuals and identify the strong association between HLA-B*15:01 and asymptomatic disease. The study's findings also provide insights into the development of protective immunity and the presence of pre-existing T cell responses.
While previous studies have examined the role of HLA variation in COVID-19, most have focused on severe disease and hospitalized patients. This study's unique approach, analyzing primarily mild and asymptomatic cases, provides valuable insights into the genetic factors associated with different disease outcomes. By identifying the HLA-B*15:01 allele as a protective factor in asymptomatic infection, the researchers have laid the groundwork for further research into the immunogenetic basis of recovery from SARS-CoV-2 infection.
In conclusion, this groundbreaking study has uncovered a significant association between the HLA-B*15:01 allele and asymptomatic SARS-CoV-2 infection. The research demonstrates the presence of pre-existing T cell immunity and highlights the importance of HLA variation in viral clearance. These findings have far-reaching implications for our understanding of early infection, vaccine development, and potential therapeutic options for COVID-19.
The study findings were published in the peer reviewed journal: Nature.
https://www.nature.com/articles/s41586-023-06331-x
For the latest
COVID-19 News
, keep on logging to Thailand Medical News.