University Of Wisconsin Study Validates That Even The Vaccinated Can Still Shed And Transmit Infectious SARS-CoV-2 Virus When Infected With COVID-19!
COVID-19 News
: A new study conducted by researchers from the University of Wisconsin and Wisconsin Department of Health Services, Madison-USA has validated the fact that even those who have been vaccinated can still shed and spread infectious SARS-CoV-2 virions when they are infected by COVID-19.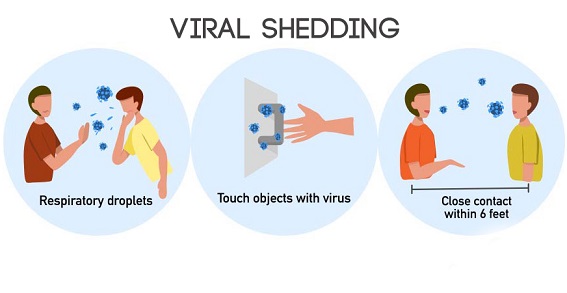 This questions the stupid practice of certain establishments including moronic convention and exhibition centers and organizers in Thailand demanding vaccination certificates for entry to events including one center with a food event current event taking place in the Sukhumvit vicinity. (As stated on their website!)
It was already known through a variety of past studies and clinical observations that current COVID-19 jabs do not stop infection or transmission and the recent claims are that these jabs only prevent disease severity and also prevent increased risk of mortality! (Not sure if the eight mice are still alive though!)
The SARS-CoV-2 Delta Variant of Concern is highly transmissible and contains mutations that confer partial immune escape. The emergence of Delta in North America caused the first surge in COVID-19 cases after SARS-CoV-2 vaccines became widely available.
In order to determine whether individuals infected despite vaccination might be capable of transmitting SARS-CoV-2, the study team compared RT-PCR cycle threshold (Ct) data from 20,431 test-positive anterior nasal swab specimens from fully vaccinated (n = 9,347) or unvaccinated (n = 11,084) individuals tested at a single commercial laboratory during the interval 28 June– 1 December 2021 when Delta variants were predominant.
The study team observed no significant effect of vaccine status alone on Ct value, nor when controlling for vaccine product or sex. Testing a subset of low-Ct (<25) samples, we detected infectious virus at similar rates, and at similar titers, in specimens from vaccinated and unvaccinated individuals.
The study findings strongly indicate that vaccinated individuals infected with Delta variants are capable of shedding infectious SARS-CoV-2 and could play a role in spreading COVID-19.
The latest
COVID-19 News
indicate that the Omicron variants and newer sub-lineages that are even more immune evasive and the effects could even be far worse in terms of shedding and spread but we are still having stupid primates around the world still demanding vaccination certificates as their mothers are most probably paid whores of some of the pharma companies or are rimming the corrupted politicians making monies from these pharma companies and tech billionaires with vested interest.
The study team commented, "A pivotal moment in the COVID-19 pandemic in the U.S. occurred during the summer of 2021 after the majority of individuals were vaccinated against the virus that causes COVID. The paradigm at the time was that infection and transmission after vaccination were rare. After contact tracers noticed an increase in infections after vaccination, we rapidly assembled a team of virologists, epidemiologists, and public health officials to investigate. Our study was conducted in Wisconsin at a time when the Delta variant accounted for almost all new infections. While data related to individual outbreaks and large gatherings were emerging, we examined data f rom community test sites spread over a wide geographic area in Wisconsin. We found that a large proportion of people with infection despite full vaccination had high levels of virus in their bodies, regardless of sex or the type of vaccine they received. Our study was one of the first to demonstrate the possibility that vaccinated people could play a role in spreading COVID, and helped inform public health policies (such as mask mandates) to cope with new surges in COVID-19 cases."
The study findings were published in the peer reviewed journal: PLOS Pathogens.
https://journals.plos.org/plospathogens/article?id=10.1371/journal.ppat.1010876
The study team evaluated the SARS-CoV-2 ribonucleic acid (RNA) burden in nasal swabs obtained from vaccinated and unvaccinated individuals to ascertain if individuals with vaccine breakthrough infections might shed SARS-CoV-2 Delta viruses at levels compatible with the potential transmission.
The anterior nasal swab samples sent for clinical testing to a commercial reverse transcription-polymerase chain reaction (RT-PCR) testing service between 28 June 2021 and 1 December 2021 were employed.
The research utilized sample-associated metadata to estimate viral RNA burden in individuals who tested positive for SARS-CoV-2 during a period of high Delta variant prevalence and its association with the person's vaccination status.
From numerous clinic locations throughout Wisconsin, samples were obtained using standardized collection kits from patients who required SARS-CoV-2 RT-PCR testing.
In order to assess the nasal viral RNA load, the study team analyzed RT-PCR cycle threshold (Ct) data related to 20,431 specimens from completely vaccinated or unvaccinated individuals.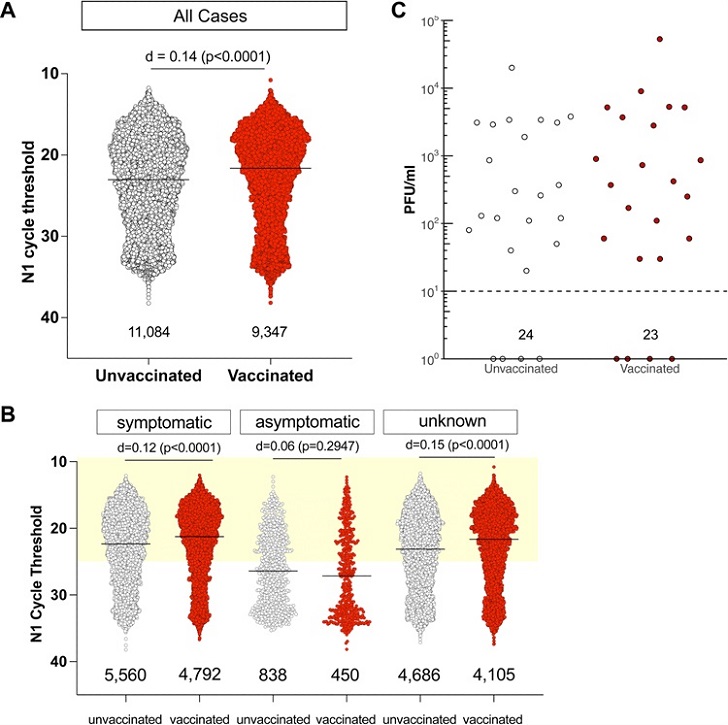 Individuals infected with SARS-CoV-2 despite full vaccination have low Ct values and shed similar amounts of infectious virus as unvaccinated individuals. ​​​​​​​A. N1 Ct values for SARS-CoV-2-positive specimens were grouped by vaccination status. RT-PCR was performed by Exact Sciences Corporation, responsible for over 10% of all PCR tests in Wisconsin during this period, using a qualitative diagnostic assay targeting the SARS-CoV-2 N gene (oligonucleotides identical to CDC's N1 primer and probe set) that has been authorized for emergency use by FDA). An effect size of d< 0.2 is negligible. The number of samples in each group is listed under the dot plot. B. N1 Ct values for SARS-CoV-2-positive specimens grouped by vaccination status for individuals who were symptomatic or either asymptomatic or did not have any information, at the time of testing. Light yellow box indicates Ct values <25. C. We performed plaque assays on Vero E6 TMPRSS2 cells on a subset of specimens. Specimens were selected by N1 Ct-matching between fully vaccinated and unvaccinated persons. Specimens from individuals with unknown vaccination status were excluded from the analysis. Infectious titers are expressed as plaque-forming units (PFU) per milliliter of specimen. Specimens underwent a freeze-thaw cycle prior to virus titration.
The actual levels of Ct were determined using the Flu-SC2 Multiplex Assay. This RT-PCR method can simultaneously identify influenza A and B and SARS-CoV-2 nucleic acid in anterior nasal swabs. Reverse transcription into complementary deoxyribonucleic acid (cDNA) and amplification was performed on the RNA obtained from anterior nasal swab samples. A no-template control, a positive extraction control containing human RNAse P, and an internal RNAse P control were all used as controls.
For the study, if a vaccine registry or self-reported data showed that a final vaccine dosage was received at least 14 days before the submission of a SARS-CoV-2 positive, the individual was deemed completely vaccinated at the time of testing.
The study team evaluated the presence of an infectious virus and observed the presence of cytopathic effects throughout the course of five days using an initial batch of specimens with Ct values less than 25. Samples were selected by employing N1 Ct-matching between unvaccinated and completely vaccinated individuals.
From past data, infected SARS-CoV-2 individuals have been linked to SARS-CoV-2 RT-PCR Ct values below 25. Ct values less than 25 were observed in 6,253 of 9,347 fully vaccinated individuals and 6,739 of 11,084 unvaccinated individuals.
The study team derived standardized differences, which are the average differences between the groups divided by the pooled standard deviations, to determine the size of the differences between groups.
The researchers found no discernible correlation between Ct values in infected individuals and vaccination status. Irrespective of whether they had symptoms at the time of testing, vaccinated persons had low Ct values, with Ct values less than 25 being found in 65% of symptomatic unvaccinated individuals and in 70% of completely vaccinated symptomatic patients.
Importantly, the interval between the start of symptoms and testing was unaffected by vaccination status for patients with symptoms.
In the study cohort, both vaccinated and unvaccinated individuals reported a median delay of 2.4 days between the beginning of symptoms and testing. In this study sample, 92% of people sought testing within six days of the onset of symptoms.
The research findings showed that a significant fraction of those who developed SARS-Cov-2 Delta virus infections after receiving vaccinations had low Ct values compatible with the possibility of shedding infectious viruses.
The study findings indicated that individuals who are infected despite receiving vaccinations could spread SARS-CoV-2.
The study team stressed that in order to stop transmission, infection prevention is essential.
The study team also warned that those who have and have not received the COVID-19 vaccine should continue to follow non-pharmaceutical measures to limit the transmission of COVID-19.
For the latest
COVID-19 News
, keep on logging to Thailand
Medical News
.