BREAKING COVID-19 NEWS! SARS-CoV-2 GQ.1 Is One The 8 Newly Emerged Sub-Lineages That Could Be More Lethal!
COVID-19 News
. In an earlier article, we covered one of the eight newly emerged SARS-CoV-2 sub-lineages that are exhibiting worrisome mutations that could possibly drive increased disease severity and be possibly more lethal.
https://www.thailandmedical.news/news/breaking-news-researchers-discover-new-xbb-1-16-sublineage-with-e-protein-mutation-p71s-that-could-possibly-increase-lethality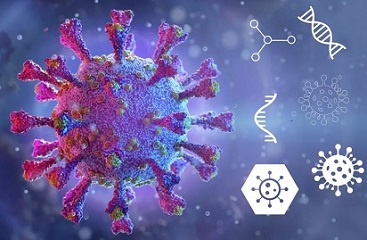 It should be noted that these SARS-CoV-2 sub-lineages have only just emerged and depending on their viral fitness, it typically takes time for them to become predominant in circulation and drive the expected increase in disease severity and hospitalizations that we are anticipating to see.
Most of these identified sub-lineages are expected to play a leading role in the coming Autumn and Winter of 2023 but then again, with the extraordinary rapid rate that that the new SARS-CoV-2 sub-lineages are evolving and spawning newer sub-lineages, there might be even more worrisome strains that could fast emerge and easily supersede these identified sub-lineages that are possibly more lethal.
But one thing is for sure, despite so called 'experts' claiming that the SARS-CoV-2 is becoming milder in
COVID-19 News
coverages in various mainstream media, the identification of such sub-lineages show that SARS-CoV-2 is definitely not evolving to be just mild!
We continue the series of articles with the focus on the second identified sub-lineage called GQ.1.
GQ.1 also known as B.1.1.529.2.75.3.4.1.1.1.1.3.1 is a sub-lineage from the BA.2 variant and is not from the recombinant XBB sub-lineages which are predominant in circulation at the moment.
https://cov-spectrum.org/explore/World/AllSamples/Past6M/variants?nextcladePangoLineage=GQ.1
This news sub-lineage was first found in Australia and New Zealand and bears the spike mutation 493Q that was last seen in certain B.4. And B.5 variants and sub-lineages.
The 493Q mutation as also seen in the wildtype Wuhan strain where it had displayed enhanced binding to ACE2 receptors and also displayed enhanced pathogenicity! The 493Q mutation is also associated with increased infectivity.
https://www.ncbi.nlm.nih.gov/pmc/articles/PMC8697837/
https://www.ncbi.nlm.nih.gov/pmc/articles/PMC8697837/
https://www.nature.com/articles/s41586-022-05644-7
https://academic.oup.com/mbe/article/39/4/msac061/6553617
Some experts warn that s trains carrying this mutation along with other relevant mutations could be exhibiting enhanced tropism for the lungs and also the heart tissues explaining for the disease severity and increased mortality seen in waves that involved the Wuhan wildtype variant or the B4. Or B.5 variant.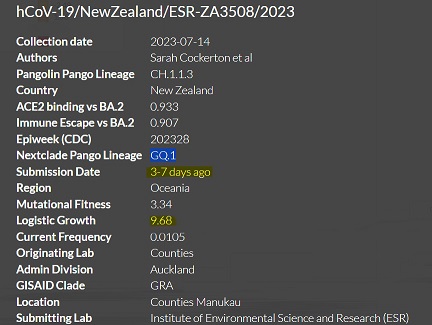 While the GQ.1 sub-lineage is at the moment seems to be growing in Australia and New Zealand where it is contributing to increased disease severity and also increased risk of mortality in those infected with it, because of lax of border controls and airport screenings, the GQ.1 sub-lineage has already been identified in a few cases in the United States, United Kingdom and also other parts of Europe.
It has a better growth rate than XBB.1.16 and theoretically we can expect to see more of it very soon even before the start of Autumn and Winter of 2023 or even witness some of its spawns or recombinant spawns emerging!
No matter what it may be, Autumn and Winter 2023 will definitely be an eventful season!
We will be featuring the remaining 6 sub-lineages in coming articles.
For the latest
COVID-19 News
, keep on logging to Thailand Medical News.