BREAKING NEWS! Parts Of Brazil Runs Out Of Oxygen Supplies As New SARS-CoV-2 And Flu Onslaught Is Wreaking Havoc And Killing Many Especially Children!
COVID-19 News
: Despite heavy media censorships and concealment of the actual COVID-19 and health situation in Brazil, news has emerged online from various sources that the situation in Brazil has exacerbated to the point that not only are hospitals overflowing once again but there is now an acute shortage of oxygen supplies in many parts of the country with efforts underway to procure more oxygen supplies. The news about the emerging catastrophic situation has been corroborated by several medical entities, local physicians and also researchers based in Brazil.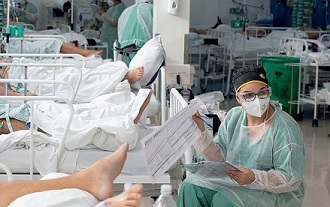 The news about the situation in Brazil was first broken online by Corona Headsup, a news platform online that has been reporting about COVID-19 situation globally.
https://twitter.com/CoronaHeadsUp/status/1661116469814370306
A news article dated 21
st
of May by independent Brazilian news outlet, g1globo.com detailed about the Brazilian navy now stepping in to aid in sending oxygen supplies to parts of Brazil badly affected by the current health crisis especially in Amapa, which is the one of the 26 states in Brazil located in the Northern region of the country.
https://g1.globo.com/ap/amapa/noticia/2023/05/21/marinha-leva-oxigenio-ao-amapa-que-enfrenta-surto-de-sindromes-gripais.ghtml
According to news coverages, the state government of Amapa declared an emergency on the 13
th
of May 2023 as the number of pediatric cases of respiratory infections surged with many requiring ICU beds due to disease severity. The situation deteriorated due to an exponential increase in caseloads, not only causing ICU beds and even ordinary hospital beds to be in short supply but even oxygen supplies simply dwindled due to the high demand as not only children but many adults in the state were also exhibiting severe respiratory issues.
https://g1.globo.com/ap/amapa/noticia/2023/05/13/surto-de-sindromes-gripais-causa-emergencia-de-saude-no-amapa-utis-pediatricas-estao-lotadas.ghtml
While state officials attribute the health crisis die to flu infections, hospitals staff said there was also a rise in COVID-19 detections.
Suspiciously, no health officials were willing to state what strains of flu virus were at play and whether it was H5N1 and the same when asked as to what SARS-CoV-2 sub-lineages were possibly at causing a rise in infections.
WHO officials in the country are also refusing media comments.
While the emergency outbreak in Amapa was declared on the 13
th
of May 2023, no other mainstream Brazilian media covered the story nor did any international news or wire agencies including the BBC or its new garbage BBC Verify initiative!
Some journalist contacted in Sao Paolo said that they were under strict orders not to report about the health crisis in Amapa or elsewhere in Brazil or to write on any
px">COVID-19 News
coverages!
Thailand Medical News at the moment is not able to report much details about the situation in Amapa and other parts of Brazil as we are still awaiting for more detailed information. It is highly suspicious that despite samples being send for lab analysis, no one is able to comment as to what exact pathogen is driving the crisis!
In the meanwhile, the situation is still worsening with many especially children being the worse hit. A report dated 18 of May indicated that 4 children have since died and 160 hospitalized due to the mysterious respiratory disease.
https://g1.globo.com/ap/amapa/noticia/2023/05/18/bebe-de-3-meses-e-a-4a-vitima-de-surto-de-gripe-no-ap-rede-publica-tem-160-criancas-internadas.ghtml
However according to phone conversation in the last one hour with a hospital director from a private hospital in Santana, a municipal in the city of Macapa in Amapa, at least 17 children and about 23 adults have since died and about more than 400 people are in ICU wards with many more hospitalized. Many in the states of Amapa are reportedly requiring supplemental oxygen to simply breathe including infected healthcare workers!
Readers should take note that currently, governments everywhere along with the WHO and the UN are censoring and concealing critical health data and also about emerging health crisis occurring or any outbreaks. We advise all to do due diligence and also to be on alert as things are not what it seems to be.
Thailand Medical News will continue to provide more updates on the situation in Brazil.