COVID-19 News: SARS-CoV-2 Infections And Hospitalizations Surges In Romania. 14,861 New Weekly Infections, 1,149 Hospitalizations And 27 Deaths
COVID-19 News
: There has been no news coverages by any of the international mainstream media or wire news agencies about the COVID-19 situation in Romania that is turning out to be not only extremely bad but can also become a hotspot in Europe and help spread whatever that is happening there to the rest of the region.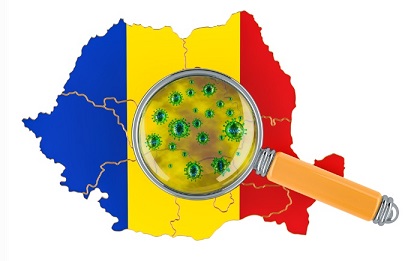 For the last three weeks, COVID-19 cases have start increasing exponentially in Romania with most hospitals seeing a deluge of patients, causing a shortage of hospital beds and long queues for outpatient services.
According to local
COVID-19 News
reports, signs of disease severity caused by the current COVID-19 infections are very apparent, with many developing serious breathing issues and the increasing need for supplemental oxygen is predicted to soon trigger a shortage in the country.
Romanian health authorities reported that between September 18th and September 24th, 2023, there were 14,861 new cases of individuals infected with SARS-CoV-2.
https://www.ms.ro/media/documents/Buletin_de_presa_18-_24.09.2023.pdf
Among these new cases in that week, 5,064 were reinfections, testing positive more than 90 days after their initial infection.
There were only 4,475 RT-PCR tests conducted between September 18th and September 24th, 2023.
Another 54,678 rapid antigen tests were conducted at various testing centers at hospitals, clinics and government centers.
The actual figures of COVID-19 infections could be far higher as many are unable to get tested despite having symptoms and access to rapid antigen testing kits are in short supply in the country with many local pharmacies or drug stores having none available.
Up to the present, in Romania, there have been 3,455,207 reported cases of SARS-CoV-2 infection. The 14-day incidence rate is 0.95.
There were 1,149 new hospitalizations for the same week of which 74 needed to be placed in ICU wards. It was reported that of these 74 new ICU cases, 48 had been vaccinated.
It was also reported that children below the age of 12 are constituting almost 50 percent of all hospitalized COVID-19 patients!
In the same week, a total of 27 COVID-19 deaths were reported (17 men and 10 women).
The recorded deaths were distributed as follows: 1 in the 40-49 age group, 3 in the 50-59 age group, 5 in the 60-69 age group, 9 in the 70-79 age group, and 9 in the over 80 age group.
Out of the total deceased patients, 26 had comorbidities, and 13 were vaccinated.
To date, Romania has recorded 68,341 COVID-19 deaths.
At the moment, it is very difficult to ascertain as to what SARS-CoV-2 strains or sub-lineages are driving the COVID-19 surge in Romania as there is very little genomic sequencing.
Data from the COV Spectrum platform which is not very reliable these days, shows that SARS-CoV-2 variants ad sub-lineages like FL.18, FL.15, DV.7.1, GK.1.1, XCL, JG.3, GK.2.1, HK.3 and EG.5.1 a re the predominant in circulation.
https://cov-spectrum.org/explore/Romania/AllSamples/Past6M
Interestingly, some of these are the new FLip variants.
https://www.thailandmedical.news/news/covid-19-news-researchers-warn-that-sars-cov-2-evolving-with-emergence-of-the-flip-lineages-that-are-superbly-immune-evasive
There have been some interesting anomalies being reported by the health authorities in Romania in which individuals who have recovered are testing positive a few days later and manifesting disease severity. It would be interesting to study and see if these cases have anything to do with the FLip variants.
For the latest
COVID-19 News
, keep on logging to Thailand Medical News.