Research Uncovers The Hidden Dangers Of The Chemotherapy Drug: Ifosfamide. Generations Of Cancer Survivors' Offspring Plagued By Toxic Inheritance!
Medical News
: In a startling revelation, researchers from Washington State University (WSU) have discovered that a common chemotherapy drug, ifosfamide, could carry a toxic inheritance for the children and grandchildren of adolescent cancer survivors. This study is among the first to demonstrate that disease susceptibility can be passed down to unexposed third-generation offspring from certain drugs used in cancer treatments.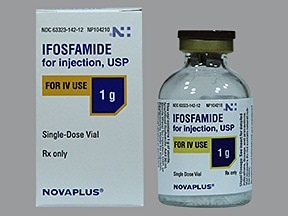 The research, led by WSU biologist Dr Michael Skinner, could have profound implications for cancer survivors planning to have children. While Dr Skinner insists that these findings should not deter cancer patients from undergoing chemotherapy, as it remains an effective treatment, he recommends that patients take precautions, such as cryopreservation of sperm or ova before treatment.
In this groundbreaking study, young male rats were exposed to ifosfamide for three days, simulating a treatment course a human adolescent cancer patient might undergo. The rats were then bred with unexposed female rats, and their offspring were bred again with another set of unexposed rats. The research team observed a higher incidence of disease in both the first and second generations, even though the second generation had no direct exposure to the drug.
This study suggests that the epigenetic changes induced by the chemotherapy drug could be inherited by future generations. Epigenetic changes are molecular processes that can influence gene expression without altering the DNA sequence itself. Previous research has shown that toxicants, particularly during development, can cause epigenetic changes that are passed down through sperm and ova.
The WSU-led research detected epigenetic changes in two generations of rats linked to the chemotherapy exposure of the originally treated rats. The presence of these changes in the grand-offspring with no direct exposure to the drug indicates that the negative effects were passed down through epigenetic inheritance.
Dr Skinner and colleagues at Seattle Children's Research Institute are now working on a human study to explore the effects of chemotherapy exposure on fertility and disease susceptibility in former adolescent cancer patients. A better understanding of the epigenetic shifts caused by chemotherapy could help inform patients about their likelihood of developing certain diseases, potentially leading to earlier prevention and treatment strategies.
Epigenetics may be used to diagnose whether a person is likely to develop certain diseases or pass them on to their grandchildren. Dr Skinner told Thailand
Medical News
, "We could potentially determine if a person's exposure had these epigenetic shifts that could direct what diseases they're going to develop, and what they're going to potentially pass on to their grandchildren."
Funded by The Templeton Foundation and the U.S. National Institutes of Health, this groundbreaking research adds to the growing body of knowledge about the generational effects of chemotherapy drugs. The study highlights the importance of understanding the impact of chemotherapy on future generations, as survival rates for childhood cancers continue to improve, and treatment options evolve to minimize the effects on fertility.
Epigenetics plays a crucial role in our understanding of disease etiology. As the study identifies pathology and epimutation differentially methylated regions (DMRs) correlated with ancestral chemotherapy exposure around puberty, it underscores the importance of precautionary measures like cryopreservation of sperm and eggs prior to chemotherapy. This would allow patients to have children later in life without concerns about the potential effects of chemotherapy on their offspring and future generations.
Further studies are needed to explore if other chemotherapy drugs produce similar effects. In the meantime, these findings provide valuable insights into potential phenotypes of disease that may be observed in the future as we continue to understand the long-term effects of chemotherapy exposure. The research serves as a reminder for healthcare providers and patients to consider precautionary steps like collecting and storing sperm and eggs before undergoing chemotherapy, to avoid generational impacts.
The study findings were published in the peer reviewed journal: iScience.
https://www.cell.com/iscience/fulltext/S2589-0042(22)01842-9
For the latest
Medical News
, keep on logging to Thailand Medical News.