COVID-19 News: Spanish Physicians Warn That SARS-CoV-2 Can Trigger A Skin Condition Known As Acute Pityriasis Rubra Pilaris!
COVID-19 News
: In recent times, the medical world has been grappling with the myriad manifestations of COVID-19, caused by the notorious SARS-CoV-2 virus. Beyond its widely recognized respiratory symptoms, this pandemic has revealed numerous peculiar ways in which the virus affects the human body. Among these manifestations, the University Hospital of Pontevedra in Spain has issued a warning regarding the potential connection between COVID-19 and a rare skin condition known as Acute Pityriasis Rubra Pilaris (PRP). This
COVID-19 News
report delves into this emerging concern, exploring the case reported by Spanish physicians and the implications it may have for our understanding of COVID-19's impact on human health.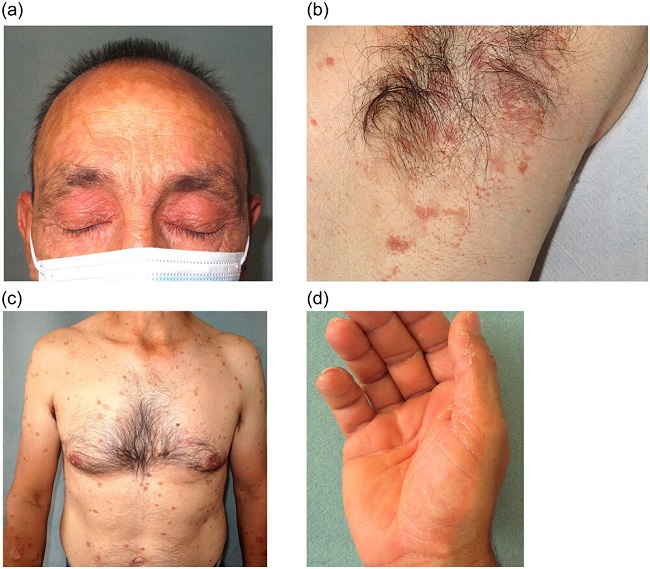 (a) Eyelid erythema. (b) Small follicular papules with a keratotic plug affecting the axillary area. (c)
Erythematous plaques with an inner lamellar desquamation. (d) Orange waxy palmoplantar keratoderma
Pityriasis Rubra Pilaris: A Rare Skin Disorder
Pityriasis Rubra Pilaris (PRP) is a rare inflammatory disorder of keratinization that remains largely shrouded in mystery when it comes to its underlying causes. Typically characterized by follicular keratotic papules and red-to-orange plaques, PRP has been linked to various triggers, including certain viruses such as cytomegalovirus, Epstein-Barr virus, varicella-zoster, and even human immunodeficiency virus (HIV). However, what has recently caught the attention of the medical community is the unusual association between PRP and SARS-CoV-2, the virus responsible for COVID-19.
The Case Report: A Distinct Connection
The case reported by the University Hospital of Pontevedra involves a 61-year-old male patient with an otherwise clean bill of health. His medical journey began with a mild upper respiratory infection, accompanied by low-grade fever, which resolved in about a week. Significantly, the onset of a skin rash occurred on the fourth day of convalescence from this respiratory illness, suggesting a temporal connection. A nasopharyngeal swab for SARS-CoV-2 was conducted on the third day of his recovery and yielded a positive result. Notably, the patient had received the Moderna COVID-19 vaccine four months before the onset of symptoms.
Upon physical examination, the patient exhibited various skin abnormalities that strongly pointed to PRP. These included eyelid erythema, small follicular erythematous papules with central keratotic plugs on the limbs, trunk, and axillae, as well as orange-red waxy palmoplantar keratoderma. Furthermore, sharply demarcated erythematous plaques with inner lamellar desquamation were observed on the trunk and limbs. Surprisingly, despite these skin manifestations, the patient remained largely asymptomatic.
Diagnostic tests such as blood cell counts and serum chemistry did not reveal any abnormalities, and serological tests for autoimmune markers like antinuclear and anti-Ro/SSA antibodies were also negative. Additional investigations, including screening for HIV, produced negative results. A biopsy taken from one of the leg plaques confirmed the clinical suspicion of PRP. The case was further complicated by the patient's recent bout with COVID-19, leading the medical team to postulate a potential causal relationship.
Exploring the Connection: COVID-19 and PRP
The emergence of this case has led researchers and clinicians to delve deeper into the relationship between COVID-19 and PRP. The established classification of PRP, as delineated by Griffiths, includes several subtypes with distinct clinical features. This classification encompasses classical adult PRP (type I), atypical adult PRP (type II), classical juvenile PRP (type III), circumscribed juvenile PRP (type IV), atypical juvenile PRP (type V), and HIV-positive PRP (type VI). In general, PRP is defined by the presence of follicular keratotic papules and red-to-orange plaques, with additional features like waxy palmoplantar keratoderma, subungual hyperkeratosis, and nail thickening in some cases.
However, the case reported from the University Hospital of Pontevedra highlights a peculiar subgroup within PRP known as "acute postinfectious PRP." This subtype is characterized by an acute onset of symptoms following an initial infection, usually marked by a scarlatiniform erythema phase.
While this phase is reminiscent of other skin disorders mediated by superantigens, such as Kawasaki disease, it typically transitions into a classical juvenile PRP presentation in the weeks that follow. Importantly, the prognosis for postinfectious PRP is usually positive, with a low likelihood of recurrence.
The superantigen hypothesis has gained traction as a potential explanation for the development of postinfectious PRP. Recent research has highlighted the presence of a superantigen-like motif in the SARS-CoV-2 virus. This motif may contribute to the immune system's overreaction, leading to the observed skin manifestations. Furthermore, COVID-19 has been noted to clinically mimic other superantigen-induced diseases, such as Kawasaki disease, adding weight to this theory.
The Link Between COVID-19 and PRP
To further investigate this emerging phenomenon, a literature search was conducted using the PubMed database, employing the search terms "COVID-19" or "SARS-CoV-2" in conjunction with "pityriasis rubra pilaris." This search revealed a limited number of reported cases, with only two documented cases in adults. Given the close temporal association between COVID-19 infection and the onset of PRP in the reported case from Spain, it is reasonable to speculate on a potential causal relationship.
This speculation hinges on the notion that an altered immune response, possibly triggered by SARS-CoV-2, in conjunction with a genetic predisposition for PRP, may have been the driving force behind the observed clinical picture in the patient. If this connection is indeed valid, it opens up new avenues for understanding the wide-ranging impact of COVID-19 on human health and the skin in particular.
Conclusion: Expanding the Spectrum of COVID-19 Skin Conditions
In conclusion, the case reported by the University Hospital of Pontevedra in Spain highlights a previously undocumented connection between COVID-19 and Acute Pityriasis Rubra Pilaris. While PRP is a rare skin condition, its potential link to the SARS-CoV-2 virus adds another layer to the complex web of symptoms and sequelae associated with COVID-19. This finding underscores the need for ongoing research and vigilance in monitoring patients for diverse manifestations of the virus.
As we continue to navigate the COVID-19 pandemic, healthcare professionals and researchers must remain open to the possibility of new and unexpected connections between the virus and various medical conditions. By expanding our understanding of these relationships, we can provide more comprehensive care to those affected by COVID-19 and contribute to the growing body of knowledge regarding the virus's impact on human health. This case serves as a poignant reminder that our fight against COVID-19 is not confined to its respiratory effects but extends to a multitude of systems within the human body, including the enigmatic world of dermatology.
The study findings were published in the peer reviewed journal: JEADV Clinical Practice.
https://onlinelibrary.wiley.com/doi/10.1002/jvc2.302
For the latest
COVID-19 News
, keep on logging to Thailand Medical News.