BREAKING! Outbreak News: Many Parts Of India Facing Simultaneous Onslaught Of A Variety Of Viral Infections, Increasing Risk Of Severity!
Outbreak News
: Reports are emerging that many parts of India are facing a simultaneous onslaught of various viral infections caused by pathogens like adenovirus, influenza A virus, Influenza B virus, respiratory syncytial virus (RSV), metapneumovirus, rhinovirus, common human coronaviruses, para-influenza virus and also SARS-CoV-2!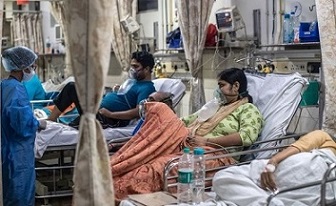 Local physicians and hospitals are reporting the rise of such anomalous infections often not just involving two viral pathogens but commonly three and, in some cases, even four!
In Kolkata, doctors reported the case of a 65-year-old woman who was struck down with four different pathogenic infections!
https://timesofindia.indiatimes.com/city/kolkata/seasonal-viruses-now-attacking-in-packs-raising-case-severity-kolkata-doctors/articleshow/98574183.cms
The female patient was admitted to CMRI hospital as a result of breathing issues. Initially upon admission, it was found that she had a bacterial infection called haemophilus influenzae.
The patient had an history of multiple comorbidities such as diabetes and hypertension and had a history of being vulnerable to various infections.
She was treated for her symptoms and recovered and was discharged from the hospital.
She however was admitted a few days later again due to a relapse of symptoms. Diagnostics shockingly revealed that she had influenza A, metapneumovirus, rhinovirus and adenovirus infections all in one go!
CMRI Hospital Director of Pulmonology Dr Raja Dhar commented, "This is totally unusual although the hospital of late have come across many cases of co-infections involving two and in some cases three different viruses. Most of these cases tend to exhibit disease severity with prolonged recovery periods."
Head microbiologist at Peerless Hospital, Dr Bhaskar Narayan Chodhury also commented that the hospital is witnessing many cases of co-infections involving two to three different viruses.
According to him, at least 10 per cent of all samples tested at the hospital was found to have more than one virus!
Most of these multiple infections involved adults who were having influenza virus, rhinovirus or metapneumovirus infections.
More cases are emerging recently involving SARS-CoV-2 XBB sub-lineages and also H3N2 infections which are typically more serious with a very high fatality rates.
Another observation made by the doctors were that in cases involving elderly patients with 2 or 3 different viral infections simultaneously, disease severity was often witnessed…..again with increased risk of mortality!
There has also been reported cases involving both bacterial and viral infections.
India is currently witnessing a major H3N2 disease outbreak across the country and also a new rise in COVID-19 infections as reported by various
Outbreak News
reports.
>
https://www.thailandmedical.news/news/breaking-india-facing-serious-influenza-a-h3n2-outbreak-with-many-requiring-hospitalization-and-supplemental-oxygen
https://timesofindia.indiatimes.com/india/coronavirus-live-updates-march-11-2023/liveblog/98553717.cms
Despite many local physicians and hospitals reporting about the rise in cases involving multiple viral infections, local and federal health authorities and government officials have not made any statements about this growing threat!
Also interesting is the fact that deaths due to COVID-19 H3N2 and also co-infections involving 2 or more pathogens are not being properly collated by health authorities or even divulged to the media or public!
It would be very interesting for local Indian journalists to look into this and also gather the real data about excess deaths in India in the last 3 months!
For the latest
Outbreak News
, keep on logging to Thailand Medical News.