COVID-19 News: Immunology Conference In Melbourne Attended By Numerous Unmasked International Immunologists Turns Into Superspreader Event!
COVID-19 News
: The online medical community is in a state of frenzy after various participants attending an unmasked Immunology Conference in Melbourne starting testing positive for COVID-19 and many developing a wide array of symptoms.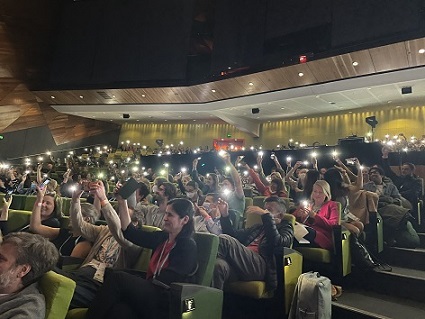 Despite the seriousness of the matter as many lives are at stake, it is still hilarious and ironical when we see that many prominent immunologists from around the world and more from Australia and New Zealand who were the ones that most of us are supposed to take the lead from, were themselves unmasked during the event and were so reckless despite knowing about the seriousness of the ongoing COVID-19 crisis and what damages exposure to the SARS-CoV-2 virus can do especially in the long term.
The ASI 2022 or the 50th Annual Scientific Meeting of the Australian and New Zealand Society for Immunology showcasing the best immunology research from Australia, New Zealand and around the world took place in Melbourne, Victoria from 29 November to 2 December 2022 at the Melbourne Convention and Exhibition Centre (MCEC).
https://asi2022.org/
The event was attended by a few hundred immunologists and healthcare professionals from around the world and not only was masking not a prerequisite, but very little preventive measures were in place despite the fact the SARS-CoV-2 is still rampaging in Australia with COVID-19 infections, hospitalizations and deaths increasing and even certain political parties calling for masking to be mandated.
https://www.abc.net.au/news/2022-12-02/covid-19-news-case-numbers-states-territories-december-2/101726428
https://www.news.com.au/world/coronavirus/australia/victorian-greens-cry-for-return-of-mask-mandates-amid-covid-wave/news-story/af9e1326d2d6a262bbe46669351f4826
News first broke out about the super spreader event when a few participants, being responsible doctors, alerted colleagues and fellow participants that they had tested positive for COVID-19 and were experiencing symptoms and suggested that the rest get tested and seek out treatments.
https://twitter.com/science_sophie/status/1599515983861153792
https://twitter.com/Sharkviro/status/1599222033992536065
As news about the event started to spread online showing pictures of immunologists from around the world not wearing mask, dancing and singing in close proximity while the number of attendees contracting the SARS-CoV-2 infection started to increase, a number of local
COVID-19 News
outlets and online accounts started to cover the incident.
https://twitter.com/friendlyc ovid19/status/1598535685220155392
https://twitter.com/kaffando/status/1599559035078193152
https://twitter.com/patientadvAU/status/1597891444513308672
https://twitter.com/NaphiSoc/status/1599583263680393216
Simply use hastag: #ASI2022MEL on twitter or other social media platforms to see pictures of all the immunologists unmasked and in close proximity during the medical conference without any preventive measure while COVID-19 infections were rising in Melbourne.
As criticisms and insults started to pile up on the irresponsible health professionals and researchers, many started to delete their posting online about testing positive.
However, latest reports from local health officials confirm that the event was a super spreader event which led to not only a high percentage of the event participants contracting the SARS-CoV-2 virus but also spreading it to the conference venue staff, nearby hotel staff, their colleagues back at hospitals and universities and also to family members.
An interesting takeaway from the incident was that many who had contracted the circulating SARS-CoV-2 variant or sub-lineage developed dizziness, slight fevers, headaches and chest pains along with fatigue and also the fact in some cases, rapid antigen test kits were not able to detect the infections but PCR test did.
Thailand Medical News will not be covering any of the research data or study findings presented during the conference as we do not think that any of the irresponsible participants have any credibility left in the field of COVID-19 or in the field of immunology!
For the latest
COVID-19 News
, keep on logging to Thailand Medical News.