BREAKING COVID-19 News! Terrifyingly Mutated SARS-CoV-2 Coronavirus Variant With About 113 Mutations Discovered In A Patient In Indonesia!
Scientists Alarmed by Record-Breaking 113 Mutations In New Variant That Has 37 Spike Mutations And Numerous Mutations In the N-Proteins!
COVID-19 News
: In a shocking revelation that has sent ripples of concern across the global scientific community, a newly identified SARS-CoV-2 variant with a staggering 113 mutations has emerged in Indonesia. This mysterious strain, collected from a patient in Jakarta, has raised alarm bells due to its unprecedented mutation rate, surpassing even the infamous Omicron variant, which wreaked havoc worldwide. Although the variant is currently under scrutiny, experts warn that vigilance is crucial, as its potential impact on human immunity and vaccine efficacy remains uncertain.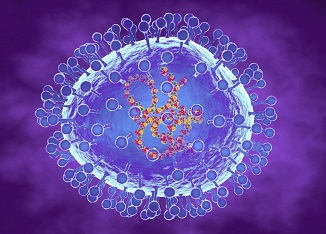 The Most Mutated Version Ever
Named the "most mutated Covid variant ever," by various
COVID-19 News
coverages in the last few hours, this latest variant of the Delta lineage has presented scientists with an unparalleled genetic puzzle. The 113 unique mutations, with 37 directly affecting the spike protein, are a cause for serious concern. The spike protein is vital for the virus's entry into human cells and serves as the primary target for many Covid-19 vaccines. Experts worry that these mutations may enable the virus to evade immunity from previous infections or vaccinations.
https://github.com/sars-cov-2-variants/lineage-proposals/issues/437
Spawned by Chronic Infection
The variant's genesis lies in a case of chronic infection, where the virus persisted within a single patient for an extended period. Chronic infections typically occur in individuals with compromised immune systems, making them vulnerable to prolonged viral activity. This, in turn, provides a fertile breeding ground for the virus to mutate relentlessly, potentially developing into more dangerous variants capable of outmaneuvering the body's defenses.
The Silent Threat
While this variant is currently confined to a single patient, scientists stress that complacency is not an option. They fear that underestimating the potential danger of emerging variants could prove catastrophic, given that the virus continues to evolve and surprise them. With countries scaling back genetic surveillance, the risk of overlooking new and potentially more dangerous strains is real, leaving the world blind to looming threats. In fact it is not just a exponential decrease in genomic sequencings that is a threat, the fact that COVID-19 testing has dropped in many countries and there is also a lack of more vigilant monitoring of different animal species contracting the SARS-CoV-2 virus and possibility infecting humans with new strains via zoonotic transmission, the risk of more devastating SARS-CoV-2 variants emerging remains possible.
A Race Against Time
Experts are torn between apprehension and cautious optimism. Virologists like Professor Dr Lawrence Young from Warwick University stress that it remains unclear whether the new variant can efficiently spread to others and establish itself in the population. To become dominant, it must outcompete existing variants, including Omicron descendants, which are currently prevalent in many regions. Nonetheless, the possibility of a silent rise in cases due to this new variant continues to loom ominously.
Mutation Versus Fitness Cost
Professor Ian Jones, a virologist from the University of Reading, provides a glimmer of hope amidst the anxiety. He explains that while chronic infections can drive mutations that enable immune evasion, the virus often incurs a "fitness cost." This hampers its ability to grow effectively and reduces the overall risk posed by the variant. Nevertheless, he emphasizes that vigilance is essential, and monitoring the frequency of particular sequences is vital to detect potential threats.
Conclusion
The discovery of the most mutated Covid variant in Indonesia serves as a stark reminder of the virus's unpredictable nature. While it's too early to gauge the true threat level posed by this new strain, scientists worldwide urge caution and continued vigilance. The battle against COVID-19 is far from over, and the ongoing evolution of the virus demands a relentless commitment to genetic surveillance and research. Only by staying one step ahead can humanity hope to overcome the ever-changing challenges posed by this formidable adversary.
For the latest
COVID-19 News
, keep on logging to Thailand Medical News.