BREAKING! Thailand's Largest Public Hospital, Siriraj Issues Notice That There Are No More Beds Available Due To Surging COVID-19 Infections!
Thailand Medical
News: Local Thai media are reporting that Thailand's largest public hospital, the Siriraj Piyamaharajkarun Hospital has issued a notice in the last 24 hours that there are no more hospital beds available due to the surging COVID-19 cases in the country.
https://www.thaipbs.or.th/news/content/328240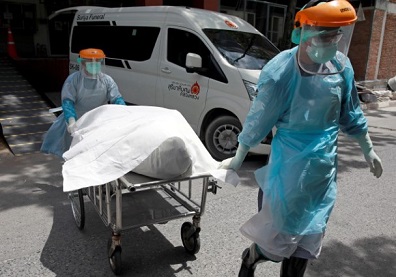 Pic Credit: Soe Zeya Tun /Reuters
The hospital posted online that all its intensive care beds (ICU) and inpatient beds (IPD) for COVID-19 patients are now full and that even its emergency departments (ER) are now being stressed out and are having difficulty dealing with increasing patients.
Thailand Ministry of Public Health has so far not revealed the true magnitude of the current COVID-19 crisis in the country and the acting Minister for Health is currently believed to be in Geneva attending some WHO events!
The newly elected Move Forward party and also the Pheu Thai party that are planning to form the next coalition government have also not commented on the current COVID-19 crisis in the country nor have they addressed any initiatives to deal with the current and future onslaughts rather they are more engrossed in infightings to the secure the parliament speaker position and other important cabinet positions etc!
While real and reliable COVID-19 daily statistics for the country are not available due to strategies to downplay the COVID-19 situation, many other hospitals especially many private hospitals are also now reporting that they are running out of hospital beds as well!
Some of the usual Thailand's so-called virus or COVID-19 'experts' are simply talking garbage on mainstream media and are not addressing the main points to warn the general public, irrespective as to whether or not they have been vaccinated to take extra precautions including masking, social distancing and most importantly, schools, malls, offices and indoor public venues should do more to introduce air-filtering and air-disinfection devices and protocols.
Attention should also be paid to healthcare staff as constant exposure to the infected especially with so many different immune evasive XBB sub-lineages in circulation will make them more vulnerable to reinfections and coinfections and will ultimately have an impact on them. Special prophylactics and adjuvants should be administered to them on a regularly basis for them to withstand such constant exposures.
All those in the vulnerable groups (the aged, the obese, the immunocompromised, those with existing comorbidities like diabetes, hypertension, heart and kidney issues and also those with certain genetic makeups) should do whatever they can to initiate isolation and to take all necessary preventive measures.
At present, there are more than 60 different XBB sub-lineages in circulation in the country with XBB.1.16 now constituting about 20.25% of all sequences in the last 30 days followed by XBB.1.5 that constitutes about 10.78% of all circulating sub-lineages. Worrying, the XBB.2.3 and many of its newer spawns are starting a gradual climb in circulation predominance!
2023-04-19%26to%3D2023-05-20/variants?nextcladePangoLineage=xbb*&">https://cov-spectrum.org/explore/Thailand/AllSamples/from%3D2023-04-19%26to%3D2023-05-20/variants?nextcladePangoLineage=xbb*&
To make things more complicated for COVID-19 situation Thailand, there are also a number of BA.5 and BA.2 sub-lineages that are increasing in circulation.. most likely thanks to visitors from China, Japan and Europe!
https://cov-spectrum.org/explore/Thailand/AllSamples/from%3D2023-04-14%26to%3D2023-05-20/variants?variantQuery=nextcladePangoLineage%3Aba.5*+%26+%21nextcladepangolineage%3Abq.1*&
https://cov-spectrum.org/explore/Thailand/AllSamples/from%3D2023-04-19%26to%3D2023-05-20/variants?nextcladePangoLineage=ba.2.75*&
https://cov-spectrum.org/explore/Thailand/AllSamples/from%3D2023-04-19%26to%3D2023-05-20/variants?nextcladePangoLineage=ch.1.1*&
Interestingly,
Thailand Medical
New
s
has been hearing and receiving reports of more incidences of young, healthy adults dying of heart failures and strokes over the last few weeks while some authorities are trying to attribute the rise to these incidences to the hot weather!
It will be interesting to procure the real daily COVID-19 statistics over the last few weeks and also to have access to the number of tests conducted, the test positivity rates and also the excess deaths rates for Thailand.
In the meanwhile, the public can rest assured that in the coming weeks, they will see more deaths in the country despite whatever stupid 'experts' can claim that the new sib-lineages are mild or that we are going through an endemic phase or that the boosters will protect us. The newer XBB 2.3 spawns and other newer XBB sub-lineages are not only more immune evasive but also more fusogenic, hence we can hopefully see more cases of disease severity and also increased risk of mortality.
Thai 'experts' making comments to the mainstream media should be careful about disseminating misleading information to the public if they do not have any peer reviewed studies to back themselves up or proper audited data!
For the latest Thailand COVID-19 News, keep on logging to
Thailand Medical
News.