COVID-19 News: U.S. CDC Admits That SARS-CoV-2 Infections And Hospitalizations Are Once Again Rising In The United States
COVID-19 News
: As winter approaches, the United States is grappling with a significant resurgence of COVID-19 hospitalizations, prompting concerns from health officials and the Centers for Disease Control and Prevention (CDC). The latest data reveals an 8.6 percent increase in new hospital admissions, with over 16,200 reported last week - a stark reversal from the previous downward trend observed since early September.
https://covid.cdc.gov/covid-data-tracker/#trends_weeklyhospitaladmissions_select_00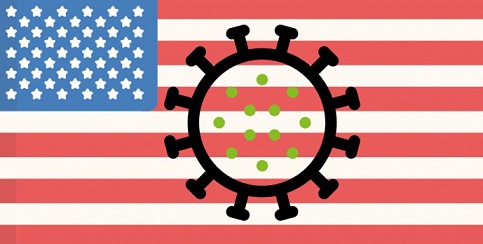 The CDC's weekly respiratory virus summary indicates that COVID-19 activity "remains elevated," with the percentage of positive tests holding steady at a national level. Emergency department visits and hospitalizations have seen a slight increase, prompting heightened surveillance from experts who fear the beginning of a fall and winter coronavirus wave.
The predominant strain fueling the surge is identified as HV.1, a member of the omicron variants (XBB and its sublineages). HV.1 is responsible for 29% of recent COVID-19 cases, according to CDC estimates, making it the most prevalent strain circulating in the U.S. The CDC continues to closely monitor HV.1, along with other lineages such as EG.5.
While there are claims that the updated COVID-19 vaccines are expected to be effective against HV.1, a descendant of EG.5, some researchers, studies and even
COVID-19 News
reports are skeptical of these claims. Although the initial rollout faced challenges related to availability and insurance issues, U.S. health officials assure that these problems have been largely resolved. A survey conducted by the federal government reveals that nearly 15% of American adults have received the updated COVID-19 shot, a coverage rate comparable to the last round of vaccinations.
However, vaccination rates still fall short of expectations, especially as the holiday season approaches. A recent survey from KFF indicates that over half of vaccinated adults who haven't received the latest shot cite a lack of concern about contracting COVID-19 as their primary reason for not getting vaccinated.
Amid these developments, fourteen U.S. states are currently experiencing an exponential surge in COVID-19 hospitalizations, signaling a potential winter wave.
The overall national increase stands at 8.6 percent, with spikes observed in the upper Midwest, parts of the South Atlantic, and the southern Mountain regions. Health officials attribute this surge to colder weather, known to foster increased virus transmission.
While hospitalizations had steadily risen since late June, peaking in early September before stabilizing around 15,000 through October and November, the latest data reveals concerning trends in several states. Vermont leads with a 70 percent rise, followed by Iowa and Alaska at 60 percent. Increases of over 30 percent have been reported in Montana, Minnesota, and Hawaii. States like Virginia, Tennessee, Wisconsin, Nebraska, North Dakota, New Mexico, Arizona, and Washington D.C. report hikes exceeding 20 percent.
r />
The magnitude of the rises in some states may seem startling, but health officials clarify that this may be due to the relatively low number of hospital admissions in those areas. For instance, Vermont, with a 70 percent increase, had just 43 hospitalizations in a week.

Nationally, there is a 1.8 percent rise in COVID-19 patients in intensive-care unit beds, indicating more severe cases requiring ventilation. As localized surges prompted the reinstatement of mask mandates during the summer, the evolving situation underscores the importance of remaining vigilant and adaptable in the face of shifting infection rates.

The CDC identifies COVID-19 hotspots based on recent averages for new hospital admissions per capita. In the week ending November 4, 45 U.S. counties were described as having a "high" level of new COVID-19 hospital admissions, with rates of 20 per 100,000 or higher. The Kansas counties of Kingman and Harper reported the highest rates, each at 71.5 per 100,000 people. An additional 250 counties were classified as having a "medium" level of COVID-19 hospital admissions, with rates between 10.0 and 19.9 per 100,000 people.

It's worth noting that hospitalization rates are calculated per 100,000 people, meaning even a small number of hospitalizations can lead to a higher rate for smaller communities. The CDC's county hospital admission figures are calculated at the Health Service Area level, which can span multiple counties.

Since the U.S. passed 1 million cumulative deaths tied to COVID-19 in the spring of 2022, approximately 152,000 additional people have died in connection with the disease, according to provisional data from the CDC. As the nation faces another wave of COVID-19 infections and hospitalizations, it is hoped that the Biden administration will be more transparent and truthful in its reporting of actual COVID-19 statistics.

Thailand Medical News would also like to warn readers to be aware of certain journalists that are linked to the WEF and who are active on twitter, including a certain male French journalist…. who are either distorting or reporting misinformation with regards to the COVID-19 situation in France and even the United Kingdom… making claims that that infection and hospitalization figures are down and that individuals needs not worry about COVID-19 or about the latest circulating SARS-CoV-2 variants! He is also an ardent 'pro-vaxxer' and his posts are also shared frequently on twitter accts of individuals who are linked to groups with ulterior agendas.

For the latest COVID-19 News, keep on logging to Thailand Medical News.