COVID-19 News: Spanish Scientists Develop Mobile App To Analyze Cough Sounds For COVID-19 Severity Assessment
COVID-19 News
: The COVID-19 pandemic has swept across the globe, challenging healthcare systems and causing significant disruptions to daily life. While most individuals experience mild symptoms, some progress to severe illness, especially when pneumonia develops. To address the pressing need for simpler and more accessible diagnostic and prognostic tools, a team of Spanish scientists has developed a mobile app that analyzes cough sounds to determine the severity of COVID-19 patients. This groundbreaking research, led by the Institute for Bioengineering of Catalonia (IBEC) and Hospital del Mar, in collaboration with the Universitat Politècnica de Catalunya (UPC), CIBER-BBN, and CIBERES-Spain, offers a potential solution to improve patient triage and early intervention, even in primary care or home settings.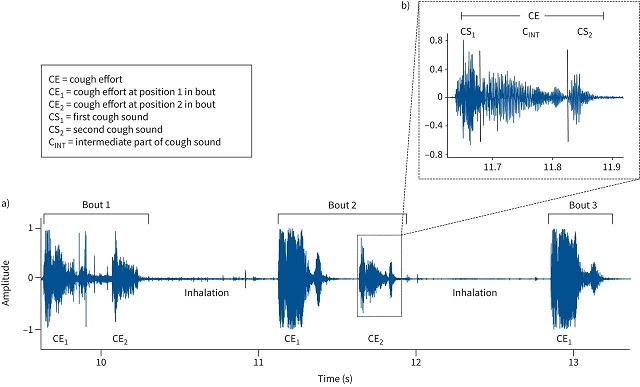 Example of a raw signal recorded from a study participant with coronavirus disease 2019 (COVID-19) showing the classification of cough efforts (CEs), positions and bouts. b) A zoomed in portion of the figure shows the three constituent parts of a cough effort.
The Challenge of Assessing COVID-19 Severity
As COVID-19 cases surged worldwide, healthcare providers faced the daunting task of identifying patients at risk of developing severe disease. Traditional diagnostic and prognostic methods relied on costly and less accessible imaging techniques, such as radiography, ultrasound, or computed tomography (CT). These methods posed challenges in terms of availability and affordability, particularly in regions with limited medical infrastructure or during emergency situations. To address these limitations, there was a pressing need for a simpler and more widely available tool to assess the severity of COVID-19 patients accurately.
Analyzing Cough Sounds as a Diagnostic Tool
In response to this challenge, the research team embarked on a study that explored the potential of analyzing cough sounds to assess COVID-19 severity. They collected smartphone recordings of voluntary coughs from 70 COVID-19 patients within the first 24 hours of their hospital admission. These cough recordings were subjected to acoustic analysis by IBEC, revealing significant differences in cough sounds based on the severity of the patients' respiratory condition. These differences were corroborated by imaging tests and the need for supplemental oxygen, indicating a promising correlation between acoustic characteristics and disease severity.
The Power of Cough Frequency Analysis
Raimon Jané, a professor at Universitat Politècnica de Catalunya (UPC) and the principal investigator at IBEC, spearheaded the development of the methodology and algorithms for the acoustic analysis of cough sounds. Using a statistical model known as a linear mixed model, the research team identified five key parameters related to sound frequencies that exhibited significant differences in coughs among patients with varying levels of disease severity. These differences in cough sounds were believed to reflect the progressive alterations in the respiratory system of COVID-19 patients.
Professor Jané told
uot;>COVID-19 News
reporters from TMN, "While acoustic cough analysis methods have been previously proposed for diagnosing respiratory diseases, we aimed to take a step further by specifically investigating the connection between the acoustic characteristics of coughs and the varying levels of pneumonia severity in COVID-19 patients."
Dr Joaquim Gea, emeritus head of the Pneumology Service and researcher at the Hospital del Mar Research Institute, emphasized the potential benefits of this research in regions with limited medical infrastructure or during emergency situations. The approach of using cough sound analysis could aid in the swift identification and isolation of COVID-19 patients, facilitating prompt medical care and the implementation of control measures.
Beyond COVID-19: Expanding the Application
While the primary focus of this study was on COVID-19, its implications extend beyond the current pandemic. The successful development of a model that correlates cough sounds with disease severity opens the door to applying this methodology to other respiratory conditions. This breakthrough has the potential to revolutionize the way healthcare professionals diagnose and monitor various respiratory diseases, providing a cost-effective and accessible tool for patient care.
Challenges and Future Directions
While the research holds promise, it's important to acknowledge its limitations. The study involved a relatively small patient sample, and further research with a larger cohort is necessary to validate the findings. Additionally, the potential for using cough sound analysis as a diagnostic tool for COVID-19 and other respiratory diseases needs to be explored through additional studies and clinical trials.
Conclusion
The development of a mobile app that analyzes cough sounds to assess the severity of COVID-19 patients represents a significant stride in improving healthcare during the ongoing pandemic and beyond. By providing a simpler and more accessible diagnostic tool, this research can aid healthcare providers in promptly identifying patients at risk of severe disease and allocating resources effectively. Furthermore, the potential to extend this methodology to other respiratory conditions offers hope for more comprehensive and cost-effective patient care in the future. While challenges and further research lie ahead, the prospects of leveraging technology to improve healthcare outcomes are promising and inspiring.
The study findings were published in the peer reviewed journal: ERJ Open Research.
https://openres.ersjournals.com/content/9/3/00247-2022
For the latest
COVID-19 News
, keep on logging to Thailand Medical News.