Researchers from Brazil Suggest That Targeting Receptors Involved In Purinergic Signaling Can Help Treat Many Clinical Manifestations Of COVID-19
COVID-19 News
: COVID-19, caused by the SARS-CoV-2 virus, continues to be a global health concern despite the availability of vaccines and treatments. The disease is marked by high inflammation and coagulation disturbances, which may be connected to purinergic signaling molecules such as ATP, ADP, adenosine (ADO), and purinergic receptors (P1 and P2).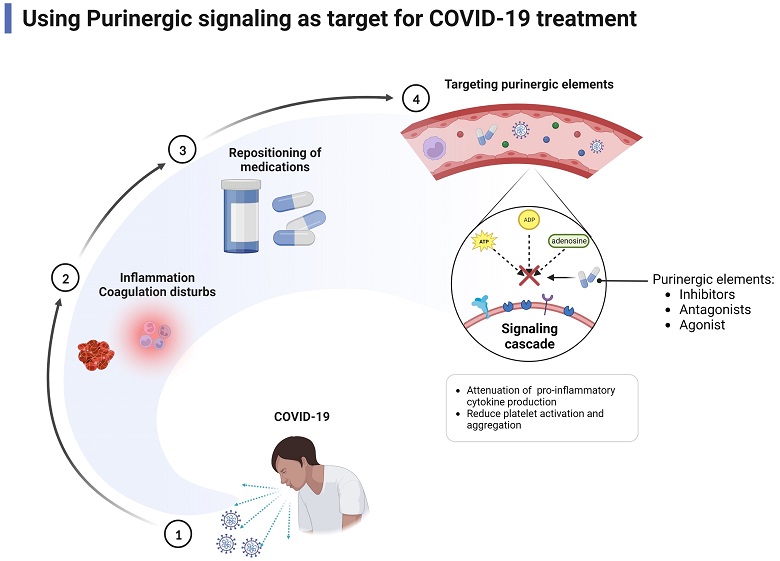 Graphical Abstract
A new study review by researchers from Universidade Federal de Ciências da Saúde de Porto Alegre (UFCSPA)- Brazil explores the potential of drugs targeting the purinergic pathway in treating COVID-19 and its complications.
COVID-19 and Purinergic Signaling
COVID-19 varies in severity, with severe cases exhibiting intense systemic inflammation and coagulation issues in multiple organs. The purinergic system, which includes ATP, ADP, and purinergic receptors, plays a crucial role in these processes. Research suggests that targeting these receptors and enzymes could be a promising approach to treating COVID-19.
Therapeutic Potential of Purinergic Drugs
Drugs that target P1 receptors may be effective due to their ability to modulate the cytokine storm and immune response. Those targeting the P2X7 receptor can reduce pro-inflammatory cytokine release. However, the most promising medications are those that modulate platelet behavior and blood coagulation factors, primarily through the P2Y12 receptor.
Purinergic signaling affects various physiological and pathological processes, such as inflammation, blood coagulation, and cellular signaling, which are affected in moderate and severe COVID-19 cases. While there is limited preclinical and clinical data evaluating the mechanism of action of purinergic system-targeting medications, indirect benefits for COVID-19 patients have been observed and covered in certain past cases reports, observational studies and also
COVID-19 News
reports. Using these medications as a complementary treatment for COVID-19 may prove advantageous.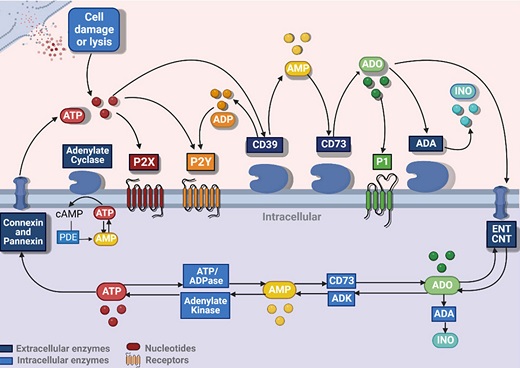 The purinergic signalling cascade. The release of ATP in the extracellular space leads to the activation of P2X and P2Y receptors and it is hydrolyzed by CD39 to ADP, which also activates P2Y receptors. The CD39 also hydrolyzes ADP to AMP, which is sequentially hydrolyzed to adenosine (ADO) by the CD73. ADO activates the P1 receptors and can return to the intracellular space by the ENT/CNT or be hydrolyzed by adenosine desaminase (ADA) into inosine (INO). Once the ADO is inside de cellular space, it can be converted to inosine (INO) by intracellular ADA or can be transformed into AMP by the Adenylate Kinase forming ATP by Adenylate cyclase (AC), which can be released into extracellular space by connexins and pannexins. The intracellular ATP can also be hydrolyzed to AMP by the intracellular ATP/ADPase and then again into ADO by CD73, being released again in the extracellular s pace by the CNT and ENT.
Highlighted Drugs and Receptors
-P2Y12 modulators like cangrelor and ticagrelor show promise due to their reversible platelet blocking action, which helps prevent excessive bleeding.
-P2Y14 is involved in neutrophil recruitment, and targeting this receptor may reduce blood clot formation. However, no medication has been approved yet.
-Targeting the P2X3 receptor may help relieve cough symptoms and improve the quality of life.
-The P2X7 receptor is a promising target for inflammation reduction as it is linked to NLRP3 inflammasome activation, which can reduce the release of pro-inflammatory cytokines.
-Targeting CD39 and CD73 enzymes might not be the best treatment strategy, but using them as prognostic biomarkers could be beneficial.
-Targeting PDE and ADA intracellular enzymes could be an alternative treatment to avoid coagulation dysregulation and clot formation.
-Modulating the A2A receptor with istradefylline and regadenoson represents a potential COVID-19 treatment due to its ability to modulate neutrophils and the inflammatory process.
-The use of methylxanthines like theophylline and caffeine may also be a good strategy for COVID-19 treatment, as they can help with smell and taste recovery and improve blood oxygen saturation.
Conclusion
Further research is needed to definitively assess whether medications targeting the purinergic system should be used as first-line or complementary treatment for COVID-19. Preclinical studies are essential to confirm their mechanisms of action, while clinical studies are crucial for evaluating their efficacy and safety in COVID-19 patients.
The study findings were published in the peer reviewed journal: International Journal of Molecular Sciences.
https://www.mdpi.com/1422-0067/24/9/7865
For the latest
COVID-19 News
, keep on logging to Thailand Medical News.