COVID-19 Drugs: Spanish Researchers Find That Early Treatment With Antihistamines Like Cetirizine Can Reduce Risk Of COVID-19 Hospitalization!
COVID-19 Drugs
: A groundbreaking study by Spanish researchers from Servicio de Salud de Castilla-La Mancha (SESCAM) in Toledo, Spain, has unveiled the astonishing potential of antihistamines as an early treatment for COVID-19. This discovery could revolutionize our approach to managing the pandemic, reduce hospitalizations, and possibly prevent the spread of the virus among close contacts.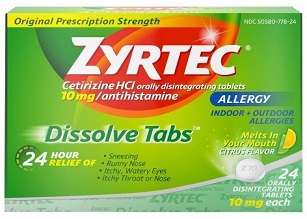 Between March 2020 and August 2021, the dedicated team of researchers treated 468 COVID-19 patients in Yepes, Spain, with early antihistamines, along with azithromycin in selected cases. The primary goal was to assess the hospitalization rate, while secondary objectives included ICU admission and mortality rates.
The results? A remarkably low hospitalization rate of just 4.3%, ICU admission rate of 1.1%, and a fatality rate of 0.6%. Even more impressive, none of the patients required follow-up treatment, suggesting that they did not develop long COVID.
This

COVID-19 Drugs

study findings indicate that early antihistamine treatment may significantly reduce the odds of hospitalization (OR: 0.490, CI: 0.313–0.767, p-value: 0.001). However, randomized controlled clinical trials are needed to further confirm these effects.
As the pandemic emerged in 2020, medical professionals worldwide scrambled to find effective treatments for the unknown virus. Over-the-counter antipyretics, analgesics, or antitussives, including antihistamines, were recommended by the U.S. National Institute of Health (NIH) for symptom management in outpatient COVID-19 patients.
Antihistamines, commonly used in primary care, are believed to help dampen mast cell degranulation, thereby reducing the cytokine storm observed in severe COVID-19 cases.
Commonly prescribed antihistamines include cetirizine, loratadine, ebastine, dexchlorpheniramine, bilastine, levocetirizine, fexofenadine, desloratadine, mizolastine and rupatadine.
Two previous clinical studies also demonstrated the potential utility of treating COVID-19 patients with H1 antihistamines.
https://www.thailandmedical.news/news/covid-19-treatments-study-shows-using-dual-antihistamines-such-as-cetirizine-and-famotidine-helps-pulmonary-symptoms-in-covid-19-patients
https://www.sciencedirect.com/science/article/pii/S1094553920301462
https://www.sciencedirect.com/science/article/pii/S1094553921000018
A key source of proinflammatory cytokines and chemokines in COVID-19 is mast cells, which are especially abundant in the lungs. Interestingly, patients who either recovered from or had mild symptoms after COVID-19 exhibited multiorgan symptoms similar to those presented in mast cell activation syndrome (MCAS). This has led experts to hypothesize that COVID-19 hyperinflammation and post-COVID-19 illness may be due to MCAS.
Several antihistamines have been shown to possess inhibitory properties on the production and expression of interleukins, chemokines, and other cytokines, suggesting their potential role in treating a COVID-19 cytokine storm through immunomodulatory properties. For instance, cetirizine has been found to decrease interleukin production.
The study conducted by the Spanish researchers expanded on previous work and compared the outcomes of 468 outpatient SARS-CoV-2 positive subjects treated with antihistamines in Yepes, Spain, to the national COVID-19 statistics. The results suggest that early treatment with antihistamines reduces the odds of hospitalization.
Patients diagnosed with COVID-19 were treated with antihistamines, and their close contacts were also given prophylactic antihistamine treatment. Remarkably, none of the close contacts developed COVID-19 symptoms, implying that antihistamines could play a role in preventing contagion and viral spread among family members.
Despite the limitations of observational studies and the use of national Spanish statistics as a control group proxy, the significant reduction in hospital admission risk among patients treated with antihistamines warrants further investigation in randomized controlled clinical trials.
As COVID-19 continues to challenge our lives, the need for effective drugs for early treatment and prevention is evident. The promising results from this study, along with earlier experiences in treating COVID-19 patients with antihistamines, could provide the breakthrough many have been seeking.
According to the study's findings, early treatment of COVID-19 patients with antihistamines for 30 days at the Primary Health Care level, coupled with azithromycin for 3-6 days in selected cases, yielded excellent outcomes for patients living in the community, regardless of their age and risk factors.
Furthermore, since none of the close contacts who took antihistamines developed the disease, researchers believe that antihistamines may have a preventive effect against COVID-19, which warrants further exploration.
After utilizing this safe, inexpensive treatment protocol in their Health Center for over a year and a half, the researchers reported a significantly lower mortality rate compared to official figures. They strongly recommend initiating this treatment with COVID-19 patients in Primary Care as soon as the first symptoms appear. Antihistamines and azithromycin boast a good safety profile, extensive experience of use, excellent tolerance, low cost, and wide availability. As a result, this treatment regimen could address the global therapeutic needs for COVID-19 for all age groups. However, clinical trials are necessary to determine its true effectiveness.
In conclusion, the discovery of antihistamines' potential role in early COVID-19 treatment and prevention is nothing short of extraordinary. This breakthrough could revolutionize the way the COVID-19 pandemic is approached for achieving a target of fewer hospitalizations and possibly even preventing the spread of the virus among close contacts.
The study findings were published in the peer reviewed journal: Heliyon
https://www.cell.com/heliyon/fulltext/S2405-8440(23)02979-1
For the latest on
COVID-19 Drugs
, keep on logging to Thailand Medical News.
Read Also:
https://www.thailandmedical.news/news/university-of-california-study-shows-that-common-otc-antihistamines-such-as-diphenhydramine-can-help-alleviate-certain-long-covid-symptoms
https://www.thailandmedical.news/news/breaking-scientists-find-that-the-otc-drug-diphenhydramine-when-paired-with-lactoferrin-could-be-a-new-therapeutic-for-covid-19
https://www.thailandmedical.news/news/covid-19-meds-austrian-vitro-study-finds-that-nasal-antihistamine-azelastine-could-be-repurposed-to-reduce-viral-transmission-or-as-a-prophylaxis