H5N1 News: Argentina Reports 6 Individuals Possibly Contracted H5N1 Avian Flu. Manner Of Reporting Validates That Many Governments Are Concealing Data!
H5N1 News
: Health authorities in Argentina have reported that 6 individuals out of 46 locals exposed to infected animals could have possibly been infected with the H5N1 Avian Flu virus.
https://www.infobae.com/salud/ciencia/2023/03/11/el-mapa-de-la-gripe-aviar-en-la-argentina-se-detectaron-40-focos-en-aves-en-10-provincias/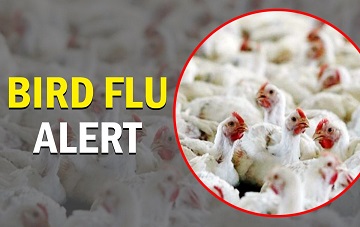 According to the Argentinian Health authorities, 5 of the suspected infected individuals have been discharged from hospital while a 76-year-old who was admitted in on the 2
nd
of March for suspected H5N1 Avian flu infections is still currently hospitalized but is reported to be in stable condition.
The fact the Argentinian government officials are only now disclosing these cases to the media and the fact that they are still using terms like possible H5N1 Bird Flu infections raises a lot of red flags and hints at a cover up.
While there are many WHO sponsored laboratories scattered all over South America including in Argentina, it is very strange that the 46 individuals were not properly tested and actual test results openly disclosed!
Even in teh case of the six individuals that were hospitalized and treated with 5 having being discharged after having recovered…what was the doctors treating them for if they do not have actual test results?
The same phenomena are also being seen in countries like Indonesia, Bolivia, Chile, United Kingdom, Netherlands, Austria and Germany where no data is being disclosed to the media or public!
https://www.thailandmedical.news/news/h5n1-news-domestic-cats-infected-with-h5n1-avian-flu-in-austria--eu-authorities-covering-up-sporadic-humans-infections-in-europe
Some of these actions being taken by various governments and health authorities could be due to new directives by the United Nations that is influenced by the WEF and also as a result of a new contractual agreement between countries and The WHO with regards to the management of disease outbreaks!
Despite many assurances by the WHO and also various governments that human-to-human transmissions have not occurred yet, many are now becoming skeptical as suspected that it is already occurring but at a vey minute scale and in specified geolocations and that these new strains have not gained sufficient viral fitness yet.
Another concern is also the fact while many have claimed the current H5N1 outbreaks among animals belong to two different clades that have been around for a while now and are not new strains..that fact that more mammals are now being infected raises questions.
Also,
H5N1 News
coverages a few days ago reported that the U.S. Health and Human Services Secretary Mike Leavitt had said that he'd given the U.S. National Institutes of Health and the federal Centers for Disease Control the go-ahead to develop a se cond bird flu vaccine.
https://www.csoonline.com/article/2119563/bird-flu-found-in-austrian-cats--poland.html
There are already millions of doses of the first avian flu vaccine in the U.S. government's possession, but that vaccine was synthesized to combat a strain of avian flu found in Vietnam in 2004 and health officials fear that the virus has since mutated into a form that can resist the vaccine.
Again, it seems that authorities are aware that new mutations could have caused the emergence of new H5N1 strains but nothing is being shared with the media or public!
Something is 'brewing' that is definitely 'not right' and furthermore, certain sources in Cambodia, Chile and Boliva have indicated that the antivirals Tamiflu and also peramivir, zanamivir and baloxavir are not effective against the current H5N1 bird flu infections in humans!
In the last 7 days, the number of H5N1 bird flu outbreaks in various countries across the world targeting wild birds, poultry and mammals have intensified with millions of livestock either dying or are being culled as a result of safety measures.
For the latest
H5N1 News
, keep on logging to Thailand Medical News.
Follow Also:
https://twitter.com/birdflu_updates/status/1634852968796426250
Read Also:
https://www.thailandmedical.news/news/health-news-we-are-living-in-dark-times-governments-and-health-agencies-around-the-world-are-not-telling-us-the-truths-of-what-are-really-brewing
https://www.thailandmedical.news/news/h5n1-news-suspected-outbreak-of-h5n1-avian-flu-virus-among-humans-being-investigated-in-south-kalimantan,-indonesia
https://www.thailandmedical.news/news/breaking-h5n1-news-bolivia-reports-that-a-dozen-people-could-be-possibly-infected-with-h5n1-avian-flu-virus
https://www.thailandmedical.news/news/h5n1-avian-flu-news-woman-in-jiangsu-province,-china-found-infected-with-h1n5-bird-flu
https://www.thailandmedical.news/news/h5n1-avian-flu-news-coverup-of-h5n1-avian-flu-human-to-human-infections-involving-military-cadets-in-chile-s-valparaiso-region
https://www.thailandmedical.news/news/h5n1-avian-flu-news-unknown-to-many,-studies-have-shown-that-h5n1-bird-flu-virus-can-be-transmitted-by-houseflies,-mosquitoes-and-other-insects
https://www.thailandmedical.news/news/h5n1-avian-flu-news-researchers-are-concerned-that-a-lethal-reassortant-strain-involving-sars-cov-2-and-h5n1-avian-flu-virus-is-likely-to-emerge-soon
https://www.thailandmedical.news/news/h5n1-avian-flu-news-snippets-and-updates-of-the-h5n1-avian-flu-threat
https://www.thailandmedical.news/news/breaking-news-h5n1-avian-flu-news-thailand-s-department-of-disease-control-ddc-issues-bird-flu-alert
https://www.thailandmedical.news/news/breaking-h5n1-avian-flu-news-12-more-individuals-infected-with-h5n1-bird-flu-in-cambodia-human-to-human-transmissions-now-possible
https://www.thailandmedical.news/news/breaking-h5n1-avian-flu-news-11-year-old-girl-dies-from-h5n1-avian-flu-virus-in-cambodia-s-prey-veng-province
https://www.thailandmedical.news/news/h5n1-avian-flu-news-preparing-for-an-imminent-outbreak-what-prophylactics,-drugs-and-supplements-work-part-1