BREAKING NEWS! Indian One Year Follow Study Of Post COVID Individuals Alarmingly Finds That 32.3 Percent Develops New Onset Hypertension!
Other Studies Conducted In Various Countries Finds Incidence Rates Of New Onset Hypertension In Post-COVID Individuals To Be Between 12 to 28 Percent!
COVID-19 News
: In a new study conducted in India, researchers have discovered a startling connection between COVID-19 recovery and the development of new-onset hypertension. The study, which followed individuals for one year after their battle with the virus, revealed that an astonishing 32.3% of patients experienced the onset of hypertension. These findings shed light on the long-term consequences of the SARS-CoV-2 virus and its impact on the cardiovascular system.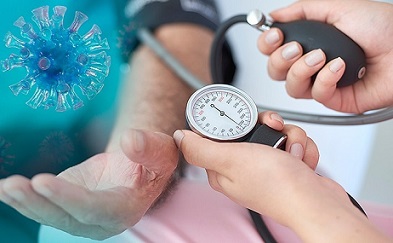 In fact, in November last year, Thailand Medical News highlighted in a
COVID-19 News
report the discovery that a unique form of hypertension known as Diastolic Hypertension was quite prevalent in many post-COVID individuals.
https://www.thailandmedical.news/news/breaking-thailand-medical-news-finds-that-sars-cov-2-infections-increases-risk-of-isolated-diastolic-hypertension-urgent-studies-warranted
This new study, conducted at the prestigious U. N. Mehta Institute of Cardiology and Research Centre (UNMICRC) in Gujarat-India, aimed to understand the incidence and predictors of hypertension among patients recovering from COVID-19. A total of 393 patients who had been hospitalized with COVID-19 between March and May 2021 were enrolled in the study. The study team collected data on their baseline characteristics, laboratory findings, treatment regimens, and outcomes. After one year, the participants were reevaluated to determine the presence of hypertension.
The results were alarming. Nearly one-third of the patients (32.3%) had developed new-onset hypertension during the follow-up period.
The study found that individuals with more severe cases of COVID-19, as indicated by a higher computed tomography (CT) severity score, were more likely to develop hypertension. Additionally, the use of steroids during hospitalization was more prevalent among the hypertensive group. Furthermore, patients who developed hypertension had significantly higher levels of serum ferritin and C-reactive protein (CRP) at baseline, suggesting a potential link between inflammation and the development of hypertension.
One of the most intriguing findings of the study was the significant difference between the vascular age and chronological age of hypertensive patients. The vascular age was on average 12.5 years older than their chronological age, indicating premature vascular aging caused by COVID-19.
This revelation raises concerns about the long-term cardiovascular risks associated with the disease.
The study's lead researcher, Dr Pooja Vyas, highlighted the importance of these findings in understanding the broader impact of COVID-19. " COVID-19 is not just a respiratory disease; it affects multiple organ systems, including the cardiovascular system. Our study reveals a worrisome connection between the SARS-CoV-2 virus and the development of hypertension, which can have significant implications for the health and well-being of survivors."
These findings add to a growing body of research suggesting that COVID-19 is not just a temporary illness but may have lasting effects on survivors. Previous studies have already indicated a higher prevalence of hypertension among COVID-19 patients, and the present study confirms that the risk extends beyond the acute phase of the disease. Hypertension is a known risk factor for cardiovascular complications such as acute coronary syndrome and stroke, further highlighting the importance of monitoring and managing blood pressure in post-COVID-19 individuals.
As the COVID-19 pandemic continues to impact millions of lives worldwide, it is crucial to recognize and address the potential long-term consequences of the disease. By understanding the underlying mechanisms that lead to conditions like hypertension, researchers can develop targeted interventions and treatment strategies to mitigate these risks.
The implications of this study extend beyond India, as studies conducted globally have reported new-onset hypertension incidences ranging from 12% to 28%.
https://www.ncbi.nlm.nih.gov/pmc/articles/PMC9536154/#:~:text=In%20conclusion%2C%20post%2DCOVID%20arterial,population%2C%20most%20often%20among%20women
.
https://journals.lww.com/jhypertension/Abstract/2022/06001/ARTERIAL_HYPERTENSION_FOLLOWING_COVID_19.480.aspx
https://journals.plos.org/plosone/article?id=10.1371/journal.pone.0250815
https://www.ncbi.nlm.nih.gov/pmc/articles/PMC8971864/
https://link.springer.com/article/10.1007/s00392-020-01626-9
This alarming trend underscores the urgent need for further research and preventive measures to protect the health and well-being of COVID-19 survivors worldwide.
In the face of this growing health crisis, health authorities and medical professionals must prioritize post-COVID-19 care and establish comprehensive follow-up programs to monitor the long-term health of survivors. By doing so, we can work towards reducing the burden of hypertension and other related complications.
The study findings were published in the peer reviewed Indian Heart Journal.
https://www.sciencedirect.com/science/article/pii/S0019483223001037
For the latest
COVID-19 News
, keep on logging to Thailand Medical News.