Thailand Medical News: Surge In COVID-19 Infections Across Tourism Hotspots In Thailand Causes Prime Minister To Ask Country To Be On Alert!
Thailand Medical
: The rise in post Songkran holidays COVID-19 infections is fast accelerating and causing alarms bells to sound not only in the healthcare and tourism sectors but is also causing in the business sectors as rising number of sick workers is starting to cause disruption issues in companies and factories.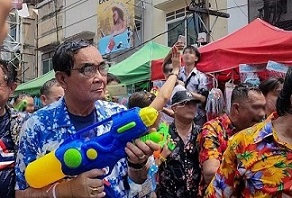 Pic Credit: Reuters
Interestingly, the Thai Prime Minister who was also seen during the Songkran holidays at the tourism hotspot of Khao San road without any mask, after receiving a report on the COVID-19 caseloads for the period 16
th
of April 2023 to 22
nd
April 2023 from the Department of Disease Control which reflected a high growth rate, issued orders for health authorities across the country to be on the alert especially in major tourism destinations.
It has been reported that COVID-19 caseloads are also rising fast in many of these destinations.
The Thai prime minister has also expressed his concerns about those in the vulnerable groups ie the aged, the obese, the immunocompromised and those with existing comorbidities and also is worried about frontline and healthcare staff.
To date, the Prime Minister seems to be the only politician in the country who is worried about the COVID-19 situation in the country while the rest of the politicians have only been focused on campaigning for the coming elections!
Many local Thais are also asking as to why the local Minster of Public Health is not taking any active initiatives or taking lead of the situation as COVID-19 caseloads rise in the country as despite the fact the government has been dissolved due to the coming elections in a few days' time, he still has a role in the caretaker government and should put the interest and wellbeing of the people as a priority.
Officials from the department of disease control are predicting that the caseloads for this week will likely double those from the previous week and expects caseloads especially from the tourism hotspots like Bangkok, Phuket, Chiangmai and Chonburi to rise exponentially!
It has already been reported that not only are some private hospitals in the country facing bed shortages but some have already started to refuse patients due to the rising caseloads.
It has also been reported that many Thais especially poorer and rural Thais are under the misconception that they now have to pay dearly for COVID-19 treatments and hence many have resorted to not going to hospitals or clinics to seek treatments unaware that many antiviral drugs for COVID-19 have now been included in the list of essential drugs covered by the Universal Coverage for Emergency patients (Ucep) plus scheme and are available for free.
Local health authorities are however urging all Thais to get their boosters and as they anticipate that the COVID-19 surge will extend throughout the rainy season that is expected to start next month.
While the XBB.1.16 variant now constitutes about 10 percent or so of all genomic sequencings in the country, it is expected to grow and become the predominant variant in coming weeks. To add to more complications, there are currently more than 25 different XBB sub-lineages circulating in Thailand including the recently de buted XBB.2.3 sub-lineages and its spawns.
https://cov-spectrum.org/explore/Thailand/AllSamples/Past6M/variants?nextcladePangoLineage=xbb*&
Meanwhile, a recent study conducted by Indian scientists on the clinical aspects of the XBB.1.16 sub-lineage has found that it does drive disease severity with almost 25.7% of all those infected needing hospitalizations and about 33.8% f these needing oxygen supplementation!
https://www.thailandmedical.news/news/indian-study-shows-that-xbb-1-16-does-increase-risk-for-disease-severity-contrary-to-claims-by-clueless-experts-or-stupid-health-authorities
The study showed that breakthrough infections occurred in about 91.7% of all those who had received at least one vaccine!
Emerging data from India and even elsewhere continue to show that those in the vulnerable groups are still susceptible to disease severity and increased risk of mortality despite having been fully vaccinated and having received the boosters. It is strongly recommended that more safety precautions be undertaken for these groups.
Thailand Medical
News is also continuing with our previous warnings based on our hypothesis that when a particular SARS-CoV-2 variant emerges in a particular geolocation within a population with a unique genetic profile, that variant is likely to cause more havoc, increased disease severity and increased mortality in populations in other geolocations due to different host genetic factors. We have already witnessed that to a certain extent with the Delta variant that emerged in India and caused more damage and increased fatalities in the United States and Europe! These new XBB.1.16 sub-lineages and its spawns including the new XBB.2.3 all emerged in India due to intra-host evolution and we can expect to see increased disease severity as they spread into other populations globally!
Thais are also encouraged to not only keep on wearing mask and to continue with other safety measures but also to practice social distancing and to avoid crowded settings.
It is strongly believed that despite potential fluctuations in daily COVID-19 infections, this new onslaught might be long as the XBB sub-lineages are rapidly evolving and spawning mutations to evade all forms of immunity including remaining immunity bestowed by the T cells. We can expect quick replacements of sub-lineages taking the predominant role and in the case of after the XBB.1.16 onslaught, we can expect its own spawns such as FU.1 or FU.2 or even the more worrisome spawns of the new XBB.2.3 sub-lineage to continue the onslaught.
https://www.thailandmedical.news/news/are-the-spawns-from-the-xbb-2-3-sub-lineage-aka-the-trans-variant-such-as-xbb-2-3-2,-xbb-2-3-5-evolving-to-cause-t-cell-damage-similar-to-hiv
For the latest on the COVID-19 situation in Thailand, keep on logging to
Thailand Medical
News.