Brazilian Randomized Clinical Trial Shows That L-Carnitine L-Tartrate Have Beneficial Coagulation Modulating Effects In COVID-19 Individuals
L-Carnitine L-Tartrate supplementation led to an increase in platelet levels and decrease in fibrinogen levels, displaying an antithrombotic effect, which could be beneficial in reducing thrombosis-induced complications in COVID-19 individuals.
COVID-19 Supplements
: In a new medical discovery, researchers from multiple prestigious institutions in Brazil have unveiled the potential beneficial effects of L-carnitine L-tartrate (LC) on coagulation in individuals battling COVID-19. The results of a pilot phase 2 randomized clinical trial have shown promising outcomes, indicating that this dietary supplement could have a significant impact on preventing COVID-19 disease progression.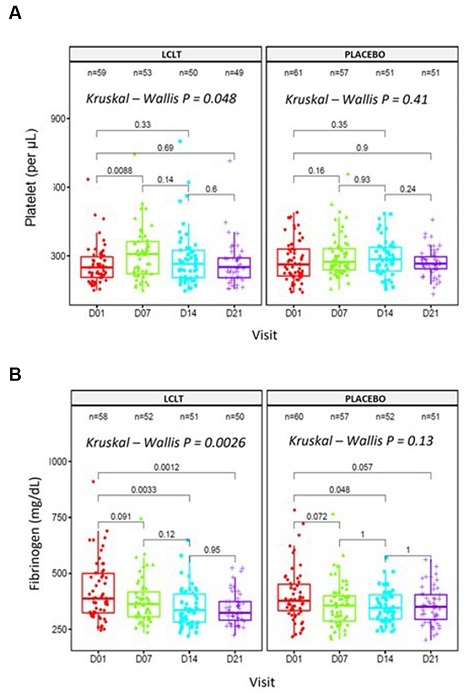 Platelet counts and fibrinogen in entire cohort 2. Analyses performed in blood samples collected
at days 01, 07, 14, and 21. (A) Platelet counts [Friedman test, X2(1) = 4, p = 0.046, n = 4].
(B) Fibrinogen levels [Friedman test, X2(1) = 1, p = 0.32, n = 4].
L-carnitine, a molecule essential for the transport of fatty acids into mitochondria for energy production, has long been associated with reducing inflammatory cytokines. It has also been found to downregulate the angiotensin-converting enzyme-2 (ACE2) receptor, which is the primary target for the SARS-CoV-2 virus, responsible for COVID-19 infections.
The Clinical Trial
The randomized, double-blind, placebo-controlled trial consisted of two cohorts. Cohort 1 comprised 101 individuals who tested negative for SARS-CoV-2 but cohabitated with an infected person. Cohort 2 included 122 individuals who tested positive for SARS-CoV-2 but were either asymptomatic or had mild COVID-19 pneumonia symptoms. Each participant was randomly assigned to receive either a daily oral dose of 2g of elemental L-carnitine or a placebo for a period of 21 days.
The Findings
In Cohort 1, only two participants from each group tested positive for SARS-CoV-2, attributed to the low infectivity rate in the study area. Therefore, the primary endpoint of infection rate reduction was not statistically significant. However, the study showed that L-carnitine supplementation was well-tolerated with no severe adverse effects reported.
In Cohort 2, the results were highly promising. Participants who received L-carnitine supplementation exhibited elevated platelet counts and reduced fibrinogen levels compared to those in the placebo group. Moreover, lung lesions seen in chest computed tomography (CT) scans of the L-carnitine group significantly improved, suggesting that L-carnitine may slow the progression of COVID-19 in mild cases.
Implications of the Findings
The study's secondary endpoints revealed intriguing insights into L-carnitine's potential therapeutic effects. The increase in platelet levels and decrease in fibrinogen levels suggest that L-carnitine may have an antithrombotic effect, which could be beneficial in reducing thrombosis-induced complications in COVID-19 patients. The sub-group analysis further supported the p otential protective role of L-carnitine against COVID-19 pneumonia.
Lead author, Dr Roberto Badaró, a professor at the Institute of Health Technologies (ITS), University Center SENAI/CIMATEC told
Thailand Medical
News, "Our findings suggest that L-carnitine L-tartrate could be a game-changer in COVID-19 treatment. It appears to modulate coagulation pathways, which can be crucial in managing severe COVID-19 cases."
Future Prospects
Although the results are promising, the study team emphasized the need for larger-scale studies to corroborate the findings and better understand the mechanisms behind L-carnitine's effects on SARS-CoV-2. Further investigations may lead to the development of more targeted and effective treatment strategies against COVID-19.
The study findings were published in the peer reviewed journal: Frontiers In Nutrition.
https://www.frontiersin.org/articles/10.3389/fnut.2023.1134162/full
For the latest on
COVID-19 Supplements
, keep on logging to Thailand Medical News.
Disclaimer: The information provided in this article is based on the findings of the mentioned clinical trial and should not be taken as medical advice. Patients and individuals should always consult with their healthcare professionals before making any treatment decisions.