Long COVID News: Contrary To Claims That Long COVID Resolves Within A Year, New American Review Suggests That Long COVID May Last Indefinitely For Some!
Long COVID News
: A new American study review led by researchers from the Patient-Led Research Collaborative, New York-USA and Scripps Research Translational Institute, California-USA has found that suggests long COVID may last indefinitely for some individuals and mimic other ailments!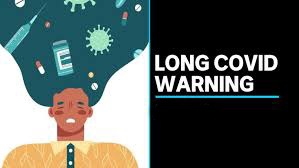 The American review contradicts earlier Israeli claims covered in various
Long COVID-19 News
coverages that that Long COVID typically resolves within a year or less!
The American study team warns that Long COVID could be a much more serious and bigger threat than thought!
Long COVID is an often a debilitating illness and more than 200 symptoms have been identified with impacts on multiple organ systems. At least 65 million individuals worldwide are estimated to have long COVID, with cases increasing daily. Biomedical research has made substantial progress in identifying various pathophysiological changes and risk factors and in characterizing the illness; further, similarities with other viral-onset illnesses such as myalgic encephalomyelitis/chronic fatigue syndrome and postural orthostatic tachycardia syndrome have laid the groundwork for research in the field.
The study team explored the current literature and highlight key findings, the overlap with other conditions, the variable onset of symptoms, long COVID in children and the impact of vaccinations.
The study on this new effort found evidence in prior reports suggesting that approximately 10% of people infected with COVID-19 will develop long COVID and that it is most prevalent in people between the ages of 36 and 50. year.
Unfortunately, for those with more severe symptoms, the outlook is grim. They found few signs that symptoms will ever lessen.
The American study team found that in many cases, the symptoms of long COVID become nearly indistinguishable from several other conditions, such as chronic fatigue syndrome, mast cell activation syndrome and postural orthostatic tachycardia syndrome. Notably, they point, out, many such symptoms are consistent with autonomic dysfunction.
The study team presented one example of the difficulties facing both patients and doctors….it was found in many instances of patients suffering from long COVID, they had symptoms identical to postural orthostatic tachycardia syndrome.
The study findings suggest that these patients will live with their symptoms for the rest of their lives. They conclude by noting that women appear to be more at risk of developing persistent long COVID and face more skepticism from physicians.
The study findings were published in the peer reviewed journal: Nature Reviews Microbiology.
https://www.nature.com/articles/s41579-022-00846-2
Though these key findings are critical to understanding long COVID, current diagnostic and treatment options are insufficient, and clinical trials must be prioritized that address leading hypotheses. Additionally, to strengthen long COVID research, future studies must account for biases and SARS-CoV-2 testing issues, build on viral -onset research, be inclusive of marginalized populations and meaningfully engage patients throughout the research process.
For the latest
Long COVID News
, keep on logging to Thailand Medical News.
Read Also:
https://www.thailandmedical.news/news/breaking-german-study-shows-persistent-capillary-rarefication-a-reduction-in-vascular-density-even-18-months-after-covid-19-infection
https://www.thailandmedical.news/news/warning-two-new-studies-find-that-all-exposed-to-sars-cov-2-are-at-high-risk-of-developing-heart-issues-up-to-a-year-or-longer-after-infection
https://www.thailandmedical.news/news/breaking-ongoing-u-s-study-shows-persistence-of-sars-cov-2-s1-protein-in-cd16-monocytes-in-post-acute-sequelae-of-covid-19-up-to-15-months-post-infe