COVID-19 News
: As COVID-19 continues to evolve, a new variant, XBB.1.16, is raising concerns in India. The country has reported at least 344 XBB.1.16 sequences isolated by India's Sars-CoV-2 genome sequencing consortium INSACOG, accounting for 49% of the global database GISAID's XBB.1.16 sequences.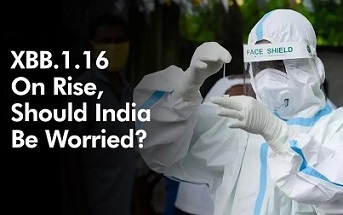 The variant has been found in samples of all six sates states witnessing a rise in COVID-19 cases ie Gujarat, Karnataka, Kerala, Maharashtra, Telangana and Tamil Nadu.
COVID-19 Cases Rising Rapidly In India
New COVID-19 infections are rising at an alarming rate in India with 1890 new cases reported in the last 24 hours despite low COVID-19 testing.
https://timesofindia.indiatimes.com/india/coronavirus-in-india-covid-cases-today-25-march/liveblog/98982333.cms
The XBB.1.16 variant is believed to be leading this new COVID-19 onslaught in India.
The XBB.1.16 Sub-Lineage
The XBB.1.16 sub-lineage is derived from the XBB.1 lineages and spots the spike mutations S:486P, S:T478R and S:E180V.
It also has two ORF9b mutations that are worrying scientists and virologists ie ORF9b:I5T and ORF9b:N55S mutations as it is believed that these mutations could possibility drive immunity issues and disease severity.
XBB.1.16 growth advantage to XBB.1.5 is around 5% (0-10% CI).
https://cov-spectrum.org/explore/World/AllSamples/Past6M/variants?nextcladePangoLineage=XBB.1.16*
https://twitter.com/MoritzGerstung/status/1639321372529680384
https://twitter.com/vipintukur/status/1636552692272365569
The SARS-CoV-2 ORF9b proteins are concerned with immune functions and mutations on them have always been related to increased disease severity as reported in past
COVID-19 News
coverages.
https://www.thailandmedical.news/news/shandong-university-study-uncovers-that-sars-cov-2-orf9b-antagonizes-type-i-and-iii-interferons-by-targeting-components-of-signaling-pathways
https://www.thailandmedical.news/news/breaking-covid-19-research-coronavirus-study-reveals-that-sars-cov-2-orf9b-protein-binds-to-human-host-mitochondria-protein-tom70
news/breaking-covid-19-news-researchers-concerned-about-new-ba-5-2-1-with-mutations-in-the-orf9b-in-japan-may-be-driving-disease-severity-and-deaths">https://www.thailandmedical.news/news/breaking-covid-19-news-researchers-concerned-about-new-ba-5-2-1-with-mutations-in-the-orf9b-in-japan-may-be-driving-disease-severity-and-deaths
https://pubmed.ncbi.nlm.nih.gov/33913550/
https://pubmed.ncbi.nlm.nih.gov/33567255/
https://twitter.com/jbloom_lab/status/1636470443493449728
WHO's Technical Advisory Group On Sars-CoV-2 Virus Evolution However Says That XBB.1.16 Unlikely To Cause A Significant Wave Of Infections.
Dr Anurag Agarwal, a pulmonologist and chair of the WHO Technical Advisory Group on SARS-CoV-2 Virus Evolution, suggests that the more transmissible variant is unlikely to cause a significant wave of infections. (It should be noted that on numerous occasions that the WHO disseminated unreliable or false information during the course the COVID-19 pandemic!)
XBB.1.16 is one of several XBB variants in circulation globally, originating from a recombinant of two Omicron sub-variants. These sub-variants are known for their ability to evade immunity from previous infections and vaccinations. Despite this, cellular immunity remains effective against these variants. However, Dr Agarwal predicts that the pattern of a more transmissible variant displacing a dominant one, leading to increased cases and subsequent immunity, will likely hold true for XBB.1.16.
No Cause For Panic
Although the rising COVID-19 infections and the emergence of the XBB.1.16 sub-lineage in India has raised concerns about a potential fifth wave of infections, former AIIMS (All India Institute of Medical Sciences) director Dr Randeep Guleria says there is no need to panic, but urges the public to follow safety protocols.
He said that with most of the Indian population previously exposed to the Delta and Omicron variants, the risk of severe disease from the XBB.1.16 variant is relatively low.
To date, the healthcare system has not been significantly burdened by cases involving this new variant, with no major increase in hospitalizations or deaths. (Reports emerging in Gujerat, Maharashtra and Telangana about hospitalizations and shortage of hospital beds are painting a different picture however!) The real concern, according to Dr Agarwal, is the potential long-term complications associated with repeated COVID-19 infections, such as heart attacks and strokes.
Safety Precautions And Preventive Measures
Indian health authorities are encouraging the public to protect themselves against infection by continuing to practice good hand hygiene, maintain respiratory hygiene, ensure proper ventilation in homes and offices, and wear masks in crowded spaces. High-risk individuals, such as the elderly and those with comorbidities, should exercise caution and avoid crowded, unventilated areas when possible.
Unusual Skin Symptoms From XBB.1.16 Infections
While most of the symptoms of the XBB.1.16 infection are similar to those of previous COVID-19 variants and generally include fever, chills, persistent cough, nasal congestion, runny nose, headache, muscle aches, sore throat, and muscle cramps, some doctors are reporting a skin in skin issues similarly seen in measles.
https://twitter.com/drjatinahuja/status/1639299250927595526
Conclusion
Despite the concerns surrounding the XBB.1.16 variant, experts emphasize that it is crucial not to panic. Instead, focusing on preventive measures and monitoring the situation is essential to mitigating the spread of the virus. Indian authorities are closely watching the variant's progression, and states have re-implemented COVID-safety protocols to contain its spread.
In conclusion, the emergence of the XBB.1.16 variant in India warrants attention but not panic. By maintaining vigilance, adhering to safety protocols, and promoting vaccination, the risk of a significant new wave of COVID-19 cases can be minimized. It is essential for individuals and communities to continue working together to overcome the challenges presented by COVID-19 and its evolving variants
For the latest
COVID-19 News
, keep on logging to Thailand Medical News.