H5N1 Avian Flu News: Coverup Of H5N1 Avian Flu Human-To Human Infections Involving Military Cadets In Chile's Valparaíso Region?
H5N1 Avian Flu News
: Many are speculating that there is a major coverup taking place in the region of Valparaíso in Chile as a result of intervention by certain International and Western health agencies and groups with vested interest in vaccine developments and manufacturing. Speculations are adrift that certain clandestine vaccine clinical trials are now being conducted in the vicinity due to an undisclosed outbreak of H5N1 Avian Flu virus affecting many other young healthy young men in a military camp and also locals in the vicinity.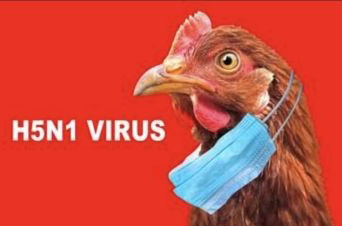 In early 2023, it was reported that a major outbreak of H5N1 Avian flu virus was occurring in the region of Valparaíso in Chile that started since late 2022 and has been affecting not only wild birds and poultry but also various mammals in the area.
https://www.poultryworld.net/health-nutrition/health/bird-flu-detected-in-chile-and-human-case-reported-in-equador/
The Chilean Agriculture and Livestock Service (SAG) in Valparaíso Region had confirmed that the highly pathogenic avian influenza virus of the H5N1 subtype was wreaking havoc among wild birds, poultry and other animals in the region.
https://www.echemi.com/cms/1147193.html
https://www.wattagnet.com/articles/46430-hpai-detected-in-major-poultry-producing-region-in-chile?v=preview
Various
H5N1 Avian Flu News
coverages in February 2023 had confirmed that the virus was also affecting mammals in the region including sea lions.
https://www.milenio.com/internacional/chile-detecta-caso-gripe-aviar-mamifero-marino
https://flutrackers.com/forum/forum/internet-communication/avian-flu-diary/968763-chile-sernapesca-announces-avian-h5n1-infection-of-a-sea-lion
https://www.diarioantofagasta.cl/regional/antofagasta/171906/detectan-nueve-zonas-con-aves-infectadas-con-influenza-aviar-h5n1-en-la-region-de-antofagasta/
During the months of January and February, when the carcasses of dead birds and other wild animals were being found in large quantities along side beaches and various locations, besides the health personnel, the local authorities also used young military trainees to help clear the areas and dispose the animals.
By late February 2023, news emerged that about 25 first year trainees from the military school in Pichicuy commune, in the Valparaíso Region had develo ped a strange acute respiratory illness that was causing many to be seriously sick requiring hospitalization.
https://www.emol.com/noticias/Nacional/2023/02/27/1087871/cuadro-respiratorio-alumnos-escuela-militar.html
Subsequent news reported that 12 of these military cades remain in serious hospitalized conditions.
https://www.biobiochile.cl/noticias/nacional/region-metropolitana/2023/02/28/12-cadetes-de-la-escuela-militar-siguen-internados-aun-se-desconoce-la-causa-del-cuadro-respiratorio.shtml
It was reported that the Chilean health and defense authorities had ordered a subsequent news back out of what was developing with regards to the young military cadets but locals and parents on various social media platforms keep on posting that more than 67 young cadets were seriously sick with many in hospitals now indicating that what the disease they were inflicted with had been spreading via human-to-human transmissions coupled with reports that one healthcare professional at the Military Hospital of Santiago had also contracted the unknown respiratory illness and along with two other locals in the in Pichicuy commune, in the Valparaíso Region.
The WHO has been informed of the incident and had sent teams along with officials from the U.S. CDC and U.S. NIH to assist.
Interestingly, reports have emerged that all military personnel at the Military school are now receiving some kind of vaccine shots long with personnel from the Military hospital and also selected individuals from surround communes. There is tight security in various locations in the region and the local media have been barred from certain sites and also from covering news related to the developments involving the young military cadets.
It is everybody's guess as to what is really brewing there in Valparaíso-Chile. Was there a H5N1 Avian outbreak involving the military cadets and was human-to-human transmissions already taking place? Are the U.S. and international health officials conducting some kind of H5N1 Avian flu vaccine trials by 'buying' the Chilean authorities?
Most importantly, it has been days now since samples were sent for diagnostics, why no news as to what respiratory disease was affecting the military cadets?
For the latest
H5N1 Avian Flu
News, keep on logging to Thailand Medical News.
Read Also:
https://www.thailandmedical.news/news/h5n1-avian-flu-news-preparing-for-an-imminent-outbreak-what-prophylactics,-drugs-and-supplements-work-part-1
https://www.thailandmedical.news/news/h5n1-avian-flu-news-snippets-and-updates-of-the-h5n1-avian-flu-threat
https://www.thailandmedical.news/news/h5n1-avian-flu-news-unknown-to-many,-studies-have-shown-that-h5n1-bird-flu-virus-can-be-transmitted-by-houseflies,-mosquitoes-and-other-insects
https://www.thailandmedical.news/news/h5n1-avian-flu-news-researchers-are-concerned-that-a-lethal-reassortant-strain-involving-sars-cov-2-and-h5n1-avian-flu-virus-is-likely-to-emerge-soon
https://www.thailandmedical.news/news/breaking-news-h5n1-avian-flu-news-thailand-s-department-of-disease-control-ddc-issues-bird-flu-alert
https://www.thailandmedical.news/news/health-news-we-are-living-in-dark-times-governments-and-health-agencies-around-the-world-are-not-telling-us-the-truths-of-what-are-really-brewing
https://www.thailandmedical.news/news/breaking-h5n1-avian-flu-news-11-year-old-girl-dies-from-h5n1-avian-flu-virus-in-cambodia-s-prey-veng-province
https://www.thailandmedical.news/news/breaking-h5n1-avian-flu-news-12-more-individuals-infected-with-h5n1-bird-flu-in-cambodia-human-to-human-transmissions-now-possible