What's Really Brewing In Brazil? Independent News Outlets Reporting About Catastrophic COVID-19, RSV and Flu Situation In Paraiba, Bahia, Amapa
Medical News
: It getting more and more worrisome each day as reports come in about a deluge of respiratory infections sweeping across various states across Brazil especially in the Northern regions. It seems to date that only the smaller independent news agencies are reporting about the actual situations unfolding in Brazil which so far have been corroborated and validated as true.
https://www.portal.ap.gov.br/noticia/2105/vsr-e-influenza-a-sao-os-virus-circulantes-no-amapa-governo-reforca-necessidade-de-vacinacao-para-conter-surto-de-sindromes-respiratorias
https://www.portal.ap.gov.br/noticia/2305/surto-de-sindromes-respiratorias-3-ordf-reuniao-do-coesp-alinha-acoes-de-controle-de-casos-no-amapa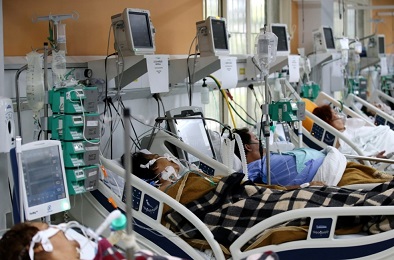 Strangely none of the bigger mainstream news outlets are writing about the situation unfolding in the Northern states in Brazil especially in Amapa, Paraiba and Bahia. which is gradually spreading and cases already emerging in the other states including Roraima, Para and Minas Gerais.
Strangely, no WHO officials are commenting about the situation nor Brazilian federal health officials!
In an earlier report that Thailand
Medical News
have covered about the Northern state of Amapa, we covered about the rising severe respiratory infections in children across the state and also the shortage of oxygen supplies.
https://www.thailandmedical.news/news/breaking-news-parts-of-brazil-runs-out-of-oxygen-supplies-as-new-sars-cov-2-and-flu-onslaught-is-wreaking-havoc-and-killing-many-especially-children
The situation has not the least improved in Amapa and in fact, has deteriorated badly to the point that local state officials declared a state of emergence in 16 municipalities in Amapa on the 26
th
of May.
https://www.in.gov.br/web/dou/-/portaria-n-1.747-de-22-de-maio-de-2023-484872185
According to current reports, COVID-19 infections, RSV infection and Flu infections are rising at an alarming situation in Amapa in both young infants and children and now even adults.
Bahia, another Northern state is also witnessing the same crisis since the start of the year.
https://twitter.com/saudegovba/status/1661089957702713348
A latest update has shown that cases are also rising in the state of Paraiba.
State health authorities In Paraiba reported that s of the 29th of May, there was more than 1292 individuals with severe respiratory infections requiring hospitalizations. It was stated that RSV, Influenza B and SARS-CoV-2 infections were behind the rise in caseloads. 31 deaths related to respiratory in fections not related to COVID-19 were reported but the number who died from COVID-19 were not reported.
https://portalcorreio.com.br/paraiba-ja-tem-mais-de-1-200-casos-graves-de-sindromes-respiratorias-em-2023/
https://twitter.com/CoronaHeadsUp/status/1663602067414425600
Meanwhile, the pediatric infection rates with many of these young children needing ICU care are rising in the states of Amapa, Paraiba and Bahia.
However, the situation is not just unique to the Northern states but also occurring across many other states across Brazil…just that no mainstream media is reporting about the developments!
https://twitter.com/beattrice_/status/1662071957783822337
While the federal Brazilian government has only declared a 180 day emergency with regards to the outbreak of H5N1 among the animal populations, it has not to date made any comments about the health crisis unfolding across the country.
https://www.theguardian.com/world/2023/may/23/bird-flu-h5n1-virus-in-brazil-wild-birds-prompts-animal-health-emergency
Some virologist and variant hunters are attributing the rise in severe respiratory infections in Brazil simply due to the possibility of co-infections involving RSV, Influenza B and the newer SARS-CoV-2 sub-lineage: FE.1 (aka XBB.1.18.1.1) and it spawns like FE.1.1. and FE.1.2
https://cov-spectrum.org/explore/Brazil/AllSamples/Past6M/variants?nextcladePangoLineage=FE.1&
However, there are speculations arising that a new reassortant strain of influenza involving normal Influenza B strains and the H5N1 strain has possibly emerged! While this new strain is not as catastrophic as the H5N1 strain, it still drives disease severity and has a high fatality rate.
At this stage we cannot verify as to whether those speculations hold any weigh at all but it is simply strange that the Brazilian federal authorities, the mainstream media and the WHO are not commenting on the unfolding health crisis in Brazil.
For the latest
Medical News
, keep on logging to Thailand Medical News.