COVID-19 Infections And Hospitalizations Rising In Philippines. 2,106 New COVID-19 on Friday, Active Cases Now 16,577, Highest In Nearly 5 Months
COVID-19 News
. The COVID-19 situation in Philippines, despite reassurances from health officials and authorities seems to be spiraling out of control and might soon escalate to cause a heavy strain on the public healthcare infrastructure.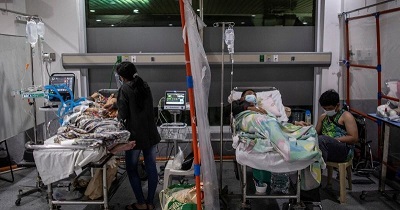 Reports are already emerging that COVID-19 hospitalizations are rising with many private hospitals in the country witnessing an increase of between to 20 to 50 % in COVID-19 admissions.
https://www.cnnphilippines.com/news/2023/5/19/Increasing-COVID-19-hospital-admissions.html
One government hospital that serves as a specialty hospital for heart issues i.e. The Philippine Heart Center (PHC) has suspended visitors to the hospital to increasing COVID-19 infections.
https://www.gmanetwork.com/news/topstories/nation/870484/philippine-heart-center-suspends-visits-with-covid-19-admissions-up/story/
Health officials in Philippines reported 2,106 new COVID-19 infections on Friday, while the active cases rose to 16,577, the highest in nearly 5 months. This was the highest since December 23, 2022 with 16,994 active infections reported.
It was reported that in the recent two weeks, the National Capital Region (NCR) reported the greatest number of infections with 9,929, followed by Calabarzon with 5,531, Central Luzon with 1,882, Western Visayas with 1,371, and Bicol Region with 844. COVID-19 infections are also seen rising in other areas including Cavite, Laguna, Aklan and the Davao region.
There also seems to be a concerted effort by those in charge to conceal the COVID-19 death rates and also excess death rates in the country. While there strangely been no COVID-19 deaths reported, physicians at both public and private hospitals have conformed that there has been a number of COVID-19 deaths in the last two weeks.
Department of Health officer-in-charge Dr Maria Rosario Vergeire confirmed the increase of cases in Aklan as its positivity rate had reached 59.7 percent for the week of May 8 to 14.
More worryingly, there is inadequate COVID-19 testing in the country and according to the DOH, only a total of 8,290 individuals were tested on Thursday, while only 320 testing laboratories submitted data as of Thursday.
Meanwhile, the Private Hospitals Association of the Philippines (PHAPi) on Wednesday said the number of patients with COVID-19 admitted in most private hospitals has increased by 20 to 50 percent in the past two to three days.
PHAPi President Dr Jose de Grano told
COVID-19 News
outlets that most of the cases were labelled "coincidental COVID-19", meaning patients were admitted for different health issues but turn out positive for COVID-19 when screened.
However, many of these cases involved conditions linked to COVID-19 such as strokes, cardiovascular issues, kidney problems and also hyperglycemia.
Despite the rise of COVID-19 cases and admissions, Dr de Grano assured everyone that it is safe to go to private hospitals for their healthcare needs and have medical consultations. He said COVID and non-COVID areas in hospitals are separated and self-protection like wearing face masks is still required.
However, Dr de Grano added, "Some private hospitals still do not allow family members, relatives or friends to look after patients who are confined for any disease."
There has alarmingly been very little genomic sequencing data submitted by the country.
https://cov-spectrum.org/explore/Philippines/AllSamples/Past6M/sequencing-coverage
As such it is very difficult to ascertain accurately what SARS-CoV-2 variants and sub-lineages are causing the new COVID-19 onslaught in the Philippines especially which ones are behind the increase in hospitalizations.
For the latest
COVID-19 News
, keep on logging to Thailand Medical News.