Thailand Medical: More Cases Of People Dying In Their Homes Due To COVID-19 Emerging In Bangkok While Authorities Say Not To Panic About XBB.1.16!
Thailand Medical
: In the last 24 hours, two more cases of Thais dying in their homes in Bangkok were revealed by local authorities.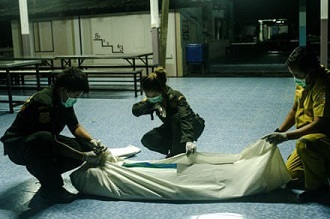 (Stock Pics)
In the first case, Sutthisan Police In Bangkok reported that a 52 year old male was found dead on his bed in his room at a condominium in Chatuchak ditrict at 7.33 am yesterday. The deceased wife had told police that she had seen him late Monday evening before discovering his death in the morning. Autopsy results showed that the deceased had COVID-19.
In another case, Nong Chok police in Bangkok found a dead 22-year-old male at about 8am at an apartment at Sakun Di Raod in Nong Chok. Investigations revealed the deceased was living at the apartment with his girlfriend and both had been diagnosed with COVID-19 after the Songkran holiday break but he had complained of fever and chest pains three days ago.
In will be interesting the know the true COVID-19 scenario in other provinces In Thailand as well at the moment besides Bangkok and to know if such deaths are also occurring.
In the meanwhile, Thai health authorities have also confirmed that a migrant worker who was found dead in his room on the 17
th
of April in Sathorn district had the SARS-CoV-2 XBB.1.16 variant.
Thai health authorities however reassured that the general public should not panic as the individual who had died had never received any vaccinations!
The Thailand Department of Medical Sciences also told media that another 6 cases of COVID-19 infections involving the XBB.1.16 variant has been detected in the country, bring the total number of identified XBB.1.16 cases in the country to 34.
The department also said that they had identified one case involving infection with the spawn of the XBB.1.16 variant ie XBB.1.16.1.
According to data found on the CoV-Spectrum platform, there are more than 25 different XBB sub-lineages circulating in Thailand.
https://cov-spectrum.org/explore/Thailand/AllSamples/Past6M/variants?nextcladePangoLineage=xbb*&
Among these are also the newer XBB.2.3, XBB.2.3.3, XBB.2.4 and XBB.2.5 sub-lineages that are making many international virologists and researchers concerned as it is being speculated that these new variants could possibly be affecting T Cell immunity in more damaging ways but studies are needed to verify this.
Meanwhile, many
Thailand Medical
'experts' experts are still insisting that there is no cause for alarm and that the vaccines and boosters would help prevent disease severity and mortality!
Following the conclusion of Songkran festivities on April 15, Covid-19 hospitalizations and associated deaths experienced a substantial surge of 150% within a week. The Department of Disease Control reported that from April 16 to 22, there were 1,088 Covid-19 patients, compared to 435 in the week prior. Additionally, the death toll increased from two to five durin g the same timeframe.
The uptick in cases also affected patients with lung inflammation, as the number escalated to 73, a 143% increase from the 30 cases in the preceding week. Moreover, there was a significant 84% rise in patients needing ventilator support, with the number growing from 19 to 35 individuals. (Please note that Thailand Medical News is unable to verify if the miniscule COVID-19 figures released by the authorities are true or in reality much more but consdering the past reputations of the many agencies involved, we should take all data with a pinch of salt and expect the worse!)
Hopefully, the caseloads will increase in coming weeks and that professionals in the healthcare sector or some high-profile rich individuals would also get infected with disease severity and maybe die, then only perhaps will the COVID-19 situation in the country garner more attention and people will take more safety precautions and more stringent measures will be implemented. At present, many locals and worse the foreigners who are bringing in the various strains and sub-lineages into the country are totally complacent with many disregarding safety measures including masking and social distancing!
For the latest COVID-19 News, keep on logging to
Thailand Medical
News.