COVID-19 Updates: New Variants Will Not Cause Much Severity In Acute Phase Of Infection But Increases Mortality Risk Within 30 Days Of Infection!
COVID-19 Updates
: Yes, more good news emerging which will make Gates, Fauci, Obama, Schwab, Dazak and DARPA proud of their achievements as the new emerging SARS-CoV-2 subvariants and sub-lineages are the perfect tools to keep population control in check without causing the stupid masses to panic or react.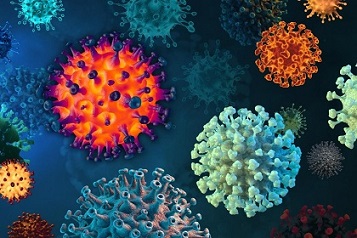 Unlike the earlier SARS-CoV-2 variants like the wildtype Wuhan variant or the Alpha or Delta variants, the newer variants are unlikely to cause disease severity during the acute phase of infection even for some of those in the vulnerable groups (ie the aged above 65 years, the obese, those with existing comorbidities like diabetes hypertension, heart and kidney issues, the immunocompromised and those with certain genetic issues) but emerging preliminary data is showing that with increased mortality within 30 days of infection is increased and also the long term effects of infection are more debilitating with fatal outcomes more common.
This is in context with the various new second, third and fourth generation sub-lineages of the BQ, XBB, XAY, BR, BN, CH, DN, BE variants etc and hence will include the BQ.1.1, BQ.1.14, BQ.1.3, BQ.1.34, BQ.1.1.13, BQ.1.1.20XBB.1, XBB.1.5, XBB.1.8, XBB.1.9.1, XBB.3.1,XAY.2, BR.2.1, BN.1,BN.1.3.1, CH.1.1, CH.1.1.1, DN.1.1, BE.1.4.2, BE.9,XBC.1.2 etc. (These are the various subvariants and sub-lineages that are predominant in circulation in various parts of the world right now.)
The only exceptions are the BF.7.14, BF.7,.15, BF.5.1, BF.5.2, BA.5.2.48, BA.5.2.49 and the XBM subvariants and sub-lineages that seem to be causing disease severity in the majority infected irrespective of vaccination or booster status and also contributing to severe pneumonia and ARDs. Those who do not develop disease severity typically end up with damaged lungs unknowingly!
https://www.thailandmedical.news/news/covid-19-news-new-sars-cov-2-variants-in-china-bf-7-14-and-ba-5-2-48-found-to-driving-pneumonia-and-ards-but-fake-virologist-claiming-they-are-mild
https://www.thailandmedical.news/news/covid-19-news-deadly-covid-19-associated-pneumonia-rising-in-many-parts-of-the-world-including-italy,-china,-japan,-etc-are-the-bf-variants-at-play
Early data and
COVID-19 Updates
from Sweden for instance is showing increased mortality with 30 days of infection after contracting the virus especially in the December 2022 and early January 2023 COVID-19 onslaught. Most of these deaths are often being classified as excess deaths!
https://twitter.com/bjornpiltz/status/1613584066133233665
The same is also occurring in Australia, United Kingdom Japan, Canada and elsewhere where individuals despite not exhibiting disease severity during acute phase, many are dying subsequently from heart failures, postural tach ycardia syndrome (PoTS), sudden arrhythmic death syndrome (SADs), strokes, aneurysms, sepsis, intestinal ischemia, etc
Careful examination of excess deaths in all these countries especially since November 2022 will show proof of the increasing mortality 30 days after acute infection.
https://www.thailandmedical.news/news/covid-19-news-more-older-people-in-japan-dying-mildly-after-getting-infected-with-new-mild-sars-cov-2-variants-and-developing-only-mild-covid-19
https://www.ons.gov.uk/peoplepopulationandcommunity/birthsdeathsandmarriages/deaths/bulletins/deathsregisteredweeklyinenglandandwalesprovisional/weekending23december2022
https://www.theguardian.com/australia-news/2022/dec/09/two-thirds-of-15400-extra-australian-deaths-in-2022-caused-by-covid-study-finds
https://www.cbc.ca/news/canada/ottawa/covid19-ottawa-levels-spread-risk-january-2023-1.6709981
https://www.wsws.org/en/articles/2022/12/28/gsku-d28.html
(Please use search functions on TMN site to view more articles on these)
The silent, slow and sudden mechanisms of these newer subvariants and sub-lineages to cause death is a life saver for those controlling the COVID-19 narratives and those that continue to profit from the vaccines and boosters as the seriousness of the new variants can easily be concealed and labelled as mild while the narratives that the vaccines and boosters can prevent disease severity and deaths can be prolonged! The majority of the masses are simply stupid and ignorant.
However, the rise of the new BF and BA.5.2 sub-lineages and recombinant variants containing parts of the BF variant, might cause some problems to governments and health authorities trying to conceal the true impact of these new variants but to date they are trying their best to downplay of the seriousness of these new variants but will not be able to do so for long!
By late February and early March 2023, the impact of these new BF and BA.5.2 variants such as BF.7,14, BF.7.15, BF.5.1, BF.5.2, BA.5.2.48, BA.5.2.49 and the recombinant variant XBM long with many other new sub-lineages arising from these will be felt by the world especially in the West, where these East Asian variants will also hit them more severely due to host genetic issues found in the Caucasian race!
In the meanwhile, we can sit down relax and enjoy the COVID-19 narratives spawned by the various government and health authorities, Western 'experts' on twitter and also, the concealed COVID-19 statistics and the stopping of reporting of critical COVID-19 data by various countries and also mainstream media. Hopefully the carcasses will keep on piling in the mortuaries in the various Western countries and also in China and soon in certain South East Asian countries as well!
For the latest
COVID-19 Updates
, keep on logging to Thailand Medical News.
Read Also:
https://www.thailandmedical.news/news/covid-19-news-another-new-worrisome-bf-variant-emerges-in-japan-ie-bf-7-15,-that-joins-other-dangerous-east-asian-variants-bf-7-14,-bf-5-1-and-bf-5-2
https://www.thailandmedical.news/news/covid-19-news-china-s-covid-19-crisis-is-going-to-hit-the-west-hard-travel-restrictions-are-not-enough-total-global-travel-ban-needed-for-4-months
https://www.thailandmedical.news/news/covid-19-news-australia-is-another-country-that-is-not-transparent-with-its-covid-19-data-as-new-variants-br-2-1,-xbf-and-ch-1-1-are-wreaking-havoc