India Records 12,591 New COVID-19 Infections And 40 deaths In Last 24 Hours. India's Defense Minister Also Down With COVID-19!
COVID-19 News
: India health authorities reported a new high of 12,591 new COVID-19 infections and 40 new COVID-19 deaths in the last 24 hours with reports emerging that the situation is getting worse in states like Kerala, Tamil Nadu and Uttar Pradesh.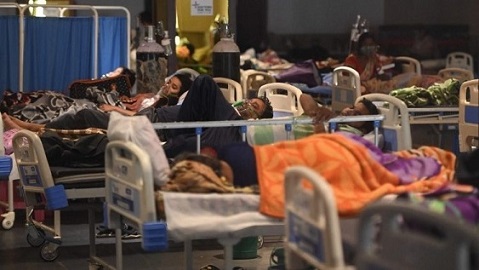 The current number of active cases has risen to 65,286 with a bulk of them currently hospitalized and starting to cause stress to the public healthcare infrastructure and hospitals in certain states.
India has been seeing a surge in COVID-19 cases with the first two weeks of April registering a 400 percent hike. The new surge is driven by a variety of XBB sub-lineages and the surge which first started in Maharashtra, has also pushed the test positivity rate (TPR) - a vital marker in assessing the spread of an outbreak -- to 8.40 per cent. It is the highest TPR which indicates the percentage of people who are found to be infected by the virus from those who are being tested -- since February 3, 2022, when the third wave driven by Omicron was seeing a surge in COVID-19 cases in India.
The prevalent SARS-CoV-2 strain in circulation is the XBB.1.16 sub-lineages which many local physicians are warning besides the typical symptoms associated with COVID-19 such as fever, cough, sore throat, runny nose, muscle pain and fatigue is also strangely causing red eyes and also diarrhea in many with possible indications that this new sub-lineage exhibits tropism towards the eye and also gastrointestinal cells and tissues.
The XBB.1.16 also seems to be affecting children more aggressively compared to previous SARS-CoV-2 variants.
Local Indian virologist and medical experts are also calling for more genomic surveillance as various other XBB sub-lineages are also emerging in the country due to their high evolving rate and also rapid spawning of new mutations.
There is a very probability that some new more pathogenic SARS-CoV-2 variants are likely to emerge from the current COVID-19 onslaught in India due to the kinetics of the current wave.
In the meanwhile, while the common narratives by India government officials and health authorities and so called medical 'experts' in the
COVID-19 News
segments in mainstream media and social media platforms are that infections with the XBB.1.16 sub-lineages are mild, many Indian doctors and nurses are exasperated by these narratives as they have to deal with growing caseloads of patients with COVID-19 disease severity and also many who are being admitted to ICU wards. Many said that such narratives are misleading and can lead people to be more complacent coupled with the fact that even for those that did get mild infections, there is no clue as to what health conditions or complications the virus can cause in the long term.
India's Defense Minister Rajnath Singh tests positive for COVID-19
It was reported that India's Defense Minister Rajnath Singh has been tested positive for COVID-19. He was scheduled to attend the Indian Air Force Commanders' Conference in New Delhi yesterday, April 20, but had to skip it after being tested positive for the SARS-CoV-2 virus. The defense minister is currently under home quarantine. A team of doctors examined him and advised him to rest.
Delhi High Courts Makes Mask Mandatory
In a latest development, it was reported that, Delhi High Court has made it mandatory for lawyers, staff and litigants to wear face masks at all times in court premises "as a matter of caution" due to surge in COVID-19 cases in national capital.
For the latest
COVID-19 News
Updates, keep on logging to Thailand Medical News.