H5N1 News: Domestic Cats Infected With H5N1 Avian Flu In Austria. EU Authorities Covering Up Sporadic Humans Infections In Europe?
H5N1 News
: Health authorities and veterinary experts in Austria have reported that three domestic cats from the Noah's Ark animal shelter in the southern town of Graz tested positive for the H5N1 Avian Flu virus.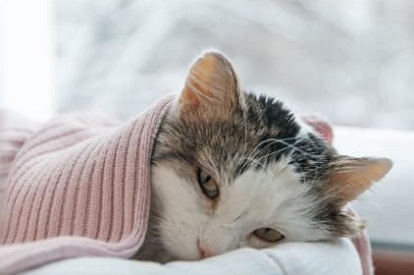 According to the
H5N1 News
coverages, a chicken in the same shelter had been found infected with the virus about 2 weeks ago, marking the first known case in a domestic bird in Europe. The shelter had placed infected chickens in cages next to pens holding cats and dogs in the belief that the virus could not spread from birds to mammals.
However, the shelter decided to test all 170 cats in the shelter for H5N1 bird flu after reports emerged that neighboring German health officials had discovered a dead cat infected with H5N1 on the Baltic Sea island of Ruegen.
The test results showed that three of the cats in the shelter were infected with the H5N1 virus and were sick.
Austrian Health Minister said that the cats have been isolated but have ordered local authorities to be more vigilant as domestic and street cats are now confirmed to be able to be infected with the H5N1 virus and could help serve as vectors to spread the virus to humans!
The discovery that H5N1 could infect domestic cats has ratcheted up another notch as it indicates that felines can transmit the virus to other cats as well and perhaps to humans. Cats' vulnerability to H5N1 which comes on the heels of similar findings in many different mammals now, increases concerns that the virus may evolve into a more dangerous strain that could set off an influenza pandemic in a matter of time.
Meanwhile there are emerging speculations that the U.N and E.U are asking health authorities and also governments across Europe and also elsewhere around the world to not report cases of human H5N1 infections till certain preparations are in place.
There seems to be some credibility in these claims as there have been reported cases of possible human infections of H5N1 involving workers in fruit farms in Poland and in poultry farms in Romania and also reported cases of strange respiratory disease infections in parts of Northern Germany with no media coverages nor statements by health authorities.
The same is also happening with regards to a possible H5N1 Avian Flu outbreak in South Kalimantan, Indonesia where no details of test results were released as also in Chile and Bolivia recently. News about a possible H5N1 outbreak in Yunnan, Southern China was also quicky silenced by Chinese authorities a few days ago.
There is no reason to conceal such incidences if test results prove negative for H5N1 infections!
In most of these cases, human to human transmissions can be ruled out as most of the infected had direct contact with infected carcasses.
This week, the U.S. Health and Human Services Secretary Mike Leavitt said that he'd given the U.S. National Institutes of Health and the federal Centers for Disease Control the go-ahead to develop a second bird flu vaccine.
There are already millions of doses of the first avian flu vaccine in the U.S. government's possession, b ut that vaccine was synthesized to combat a strain of avian flu found in Vietnam in 2004 and health officials fear that the virus has since mutated into a form that can resist the vaccine.
Strangely, many experts have claimed in media reports that the H5N1 virus has not mutated yet and that we are dealing with two clades of the virus at present.
The fact that U.S. NIH officials are claiming that a new vaccine is needed indicates that again certain critical data is being concealed to the public and masses.
The WHO or World Health Organization has called bird flu a greater challenge than any other past infectious disease, draining some $10 billion from global agriculture and affecting 300 million farmers.
The H5N1 Avian Flu virus has spread to 17 new countries in Africa, Europe and the Middle East since February 2023 and is now present in more than 68 countries across the world, affecting wild birds, poultry and mammals!
For the latest
H5N1 News
, keep on logging to Thailand Medical News.
Read Also:
https://www.thailandmedical.news/news/health-news-we-are-living-in-dark-times-governments-and-health-agencies-around-the-world-are-not-telling-us-the-truths-of-what-are-really-brewing
https://www.thailandmedical.news/news/h5n1-news-suspected-outbreak-of-h5n1-avian-flu-virus-among-humans-being-investigated-in-south-kalimantan,-indonesia
https://www.thailandmedical.news/news/breaking-h5n1-news-bolivia-reports-that-a-dozen-people-could-be-possibly-infected-with-h5n1-avian-flu-virus
https://www.thailandmedical.news/news/h5n1-avian-flu-news-woman-in-jiangsu-province,-china-found-infected-with-h1n5-bird-flu
https://www.thailandmedical.news/news/h5n1-avian-flu-news-coverup-of-h5n1-avian-flu-human-to-human-infections-involving-military-cadets-in-chile-s-valparaiso-region
https://www.thailandmedical.news/news/h5n1-avian-flu-news-unknown-to-many,-studies-have-shown-that-h5n1-bird-flu-virus-can-be-transmitted-by-houseflies,-mosquitoes-and-other-insects
https://www.thailandmedical.news/news/h5n1-avian-flu-news-researchers-are-concerned-that-a-lethal-reassortant-strain-involving-sars-cov-2-and-h5n1-avian-flu-virus-is-likely-to-emerge-soon
https://www.thailandmedical.news/news/h5n1-avian-flu-news-snippets-and-updates-of-the-h5n1-avian-flu-threat
https://www.thailandmedical.news/news/breaking-news-h5n1-avian-flu-news-thailand-s-department-of-disease-control-ddc-issues-bird-flu-alert
https://www.thailandmedical.news/news/breaking-h5n1-avian-flu-news-12-more-individuals-infected-with-h5n1-bird-flu-in-cambodia-human-to-human-transmissions-now-possible
https://www.thailandmedical.news/news/breaking-h5n1-avian-flu-news-11-year-old-girl-dies-from-h5n1-avian-flu-virus-in-cambodia-s-prey-veng-province
https://www.thailandmedical.news/news/h5n1-avian-flu-news-preparing-for-an-imminent-outbreak-what-prophylactics,-drugs-and-supplements-work-part-1