COVID-19 News
: Health authorities in Spain are reporting that COVID-19 hospitalizations are once again rising in various parts of the country and should the trend continue for another six weeks, the country's healthcare infrastructure could be in jeopardy.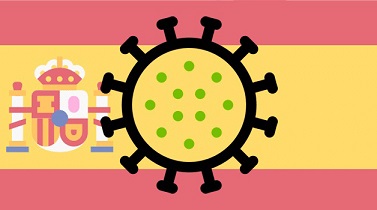 In Catalonia alone, more than 500 people are now hospitalized due to COVID-19. Health authorities in Spain however claim that as a whole, COVID-19 infections are only rising gradually in the general population but hospitalizations seem to be rising fast!
They claimed that as a whole, acute respiratory infections (ARI) have dropped between August 12th to August 20th, with an infection rate of about 272 affected per 100,000 inhabitants. (Note in Spain, they clump Flu infections, COVID-19 infections, RSV infections and other respiratory collectively under the category of ARI)
In total there have been registered 21,329 cases of ARI at present, although the Ministry of Health in Spain has clarified that the figures may be low due to underreporting as a result of recent public holidays.
It was reported that of all the ARI cases, COVID-19 infections represented about 30.3% of all cases while rhinovirus infections constituted about 13.6% of all ARI infections. Influenza infections accounted for about 7.6% of all ARI infections.
It was also reported that among those admitted to hospitals in Catalonia for COVID-19, almost 82% of them were aged above 6o years of age. There were only 12 individuals in ICU at the moment.
The health authorities stopped short of revealing COVID-19 test rates, test positivity rates and also COVID-19 death rates.
In nearby Mallorca, it was reported that COVID-19 infections have skyrocketed by almost 124.8 percent since the beginning of August. Local hospitals there are also witnessing an increase in COVID-19 related hospitalizations.
Local
COVID-19 News
outlets in Spain are also reporting that infection rates among children are also increasing and that public toilets in schools, malls and many public places are becoming sources of infections!
Local experts attribute the rise in COVID-19 infections due to the emergence of the more transmissable SARS-CoV-2 EG.5.1 variant and its various spawns.
Typically, Spain does not see a rise in COVID-19 infections during Summer. Some also claim that the rise in COVID-19 infections in Spain could also be linked with the rise of British tourists visiting Spain during the Summer breaks.(It should be noted that COVID-19 infections are also surging in the United Kingdom at the moment.)
Despite the relaxation of COVID-19 preventive measures in the country including masking, some hospitals in Spain are bringing back mandatory masking as healthcare staff are also being infected with COVID-19.
Thailand Medical News will continue to provide updates on the developing COVID-19 situation in Spain.
Sources:
https://www.larazon.es/sociedad/nuevo-debate-mascarilla-hospi tales_2023082364e585335df8e30001dff4ce.html
https://taketonews.com/catalonia-already-has-almost-500-hospitalized-for-covid-and-they-are-on-the-rise/
https://elpais.com/espana/madrid/2023-08-23/solucion-expres-al-colapso-en-urgencias-denunciar-al-juez-de-guardia.html?rel=buscador_noticias
https://www.elmundo.es/madrid/2023/08/22/64e4e5be21efa0413a8b45bb.html
https://www.theolivepress.es/spain-news/2023/08/10/covid-19-cases-rise-sharply-in-spains-mallorca-but-expert-describes-situation-as-not-alarming/
For the latest
COVID-19 News
, keep on logging to Thailand Medical News.