Germany Study Uncovers Alarming Link Between Neural Autoantibodies And Psychiatric Symptoms In COVID-19 And Post-COVID Individuals
The study also raised concerns about potential brain damage in patients with autoantibody-associated COVID-19 and Long COVID.
COVID-19 News
: A new study conducted at the University Medical Center Göttingen, Germany, has revealed a startling connection between neural autoantibodies and psychiatric symptoms in patients affected by SARS-CoV-2 infection. The study delved into the phenomenon of psychiatric manifestations of COVID-19, both in acute and persistent forms, and its association with neural autoantibodies. The findings have raised concerns about the potential long-term impact of COVID-19 on the nervous system and the urgent need for comprehensive evaluation and treatment of affected patients.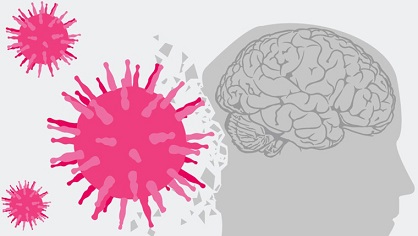 Psychiatric Disease Manifestation in COVID-19
The study focused on patients with COVID-19 who exhibited psychiatric symptoms as a consequence of SARS-CoV-2 infection. These symptoms ranged from cognitive impairment to more severe manifestations like psychosis. Patients with no previous psychiatric history were found to carry a higher risk of developing psychiatric disorders, and having a pre-existing psychiatric condition was identified as a potential risk factor for contracting COVID-19. The psychiatric symptoms observed in COVID-19 patients were linked to encephalopathy or encephalitis, indicating a potential impact on the central nervous system as covred in previous studies and
COVID-19 News
reports.
Pathomechanisms of Neural Autoantibody Production in COVID-19
The study explored several possible mechanisms responsible for the production of neural autoantibodies in COVID-19. One of the main mechanisms was molecular mimicry, wherein the immune system produces antibodies that react with human proteins due to similarities between the SARS-CoV-2 virus and the human central nervous system. The hyperstimulation of the immune system triggered by the cytokine storm in COVID-19 was identified as another crucial mechanism leading to autoantibody production. Neutrophils extracellular traps (NETs) and a more permeable blood-brain barrier were also implicated in the production of autoantibodies. Additionally, bystander activation and epitope spreading were considered as potential contributors to autoantibody-associated psychiatric disease.
Neural Autoantibodies in COVID-19 with Psychiatric Manifestation
The study found evidence of neural autoantibodies being more prevalent in COVID-19 patients with psychiatric symptoms compared to control subjects or psychiatric patients without COVID-19. The autoantibodies targeted various neural antigens, including N-methyl-D-aspartate receptor (NMDAR), myelin, dopamine receptors, and brain-derived neurotrophic factor (BDNF). Notably, these autoantibodies were even detected in patients with prolonged symptoms known as long COVID-19 or post-COVID-19 syndrome (PCS), highlighting their potential role in persistent psychiatric manifestations.
Neural Autoantibodies in Post-COVID-19 Syndrome with a Psychiatric Manifestation
The study also investigated the presence of neural autoanti bodies in patients with post-COVID-19 syndrome (PCS) who presented psychiatric symptoms. It revealed that neural autoantibodies were detected in a significant percentage of PCS patients, especially those exhibiting cognitive impairment. The presence of autoantibodies against unknown target antigens further suggested a potential link between SARS-CoV-2 infection and the development of autoimmunity and autoantibody production.
Potential Brain Damage in Autoantibody-Associated COVID-19 and Post-COVID Syndrome with Neuropsychiatric Symptoms
The study raised concerns about potential brain damage in patients with autoantibody-associated COVID-19 and PCS, particularly those experiencing neuropsychiatric symptoms. Biomarker studies indicated elevated markers of brain injury in COVID-19 patients, suggesting the presence of neurotoxicity and permanent damage to key brain functions. The involvement of the limbic system was also observed, and compensatory brain activity was noted in patients with cognitive deficits or emotional stress.
C
onclusion
The study's findings underscore the importance of identifying and addressing the role of neural autoantibodies in COVID-19 patients with psychiatric symptoms. The research reveals a complex interplay between the virus, the immune system, and the central nervous system, potentially leading to autoimmune diseases and persistent psychiatric disorders. The study's insights call for further investigation and the development of targeted therapies for patients affected by autoantibody-associated psychiatric conditions in the context of COVID-19. As the world continues to grapple with the repercussions of the COVID-19 pandemic, understanding the neural effects of the virus becomes paramount for providing comprehensive care and improving patient outcomes.
The study findings were published in the peer reviewed journal: Antibodies.
https://www.mdpi.com/2073-4468/12/3/49
For the latest
COVID-19 News
, keep on logging to Thailand Medical News.