Dengue News
: Dengue fever, a mosquito-borne viral disease, has long been a global public health challenge, affecting millions of people annually across more than 100 countries. This debilitating disease has been a top priority for the World Health Organization (WHO), which recognized its severity by listing it among the top 10 threats to global health. In this comprehensive
Dengue News
coverage, we will delve into the pivotal development in dengue prevention - the endorsement of Takeda Pharmaceuticals' QDENGA vaccine by the WHO. We will explore the intricacies of dengue fever, the scientific basis of the vaccine's approval, and the far-reaching implications of this monumental decision.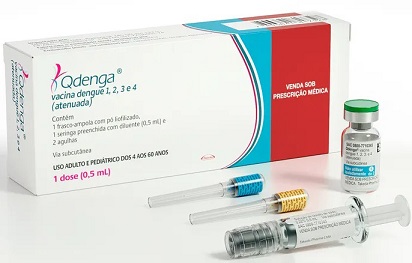 Dengue Fever: A Global Health Menace
Dengue fever is an alarming global health concern, characterized by a range of symptoms from mild fever to severe and potentially life-threatening manifestations. The disease is transmitted by Aedes aegypti mosquitoes, with Aedes albopictus also playing a minor role in its spread. Dengue is caused by any of the four dengue virus serotypes, and recovery from infection by one serotype provides lifelong immunity only against that particular serotype, leaving individuals vulnerable to other serotypes. This phenomenon increases the risk of severe disease upon subsequent infections. The geographical prevalence of these serotypes varies, making dengue a complex and dynamic challenge to combat.
Takeda's QDENGA: A Game-Changer in Dengue Prevention
Takeda Pharmaceuticals' QDENGA is a tetravalent vaccine designed to provide protection against all four dengue virus serotypes. It is based on a live-attenuated dengue serotype 2 virus, which serves as the genetic "backbone" for all four serotypes. This unique approach aims to offer comprehensive protection against the virus's diverse strains, making it a versatile tool in the battle against dengue.
WHO's Resounding Endorsement of QDENGA
The recent endorsement of QDENGA by the WHO's Strategic Advisory Group of Experts on Immunization (SAGE) is a watershed moment in the fight against dengue. SAGE, comprised of leading experts in immunization, has issued a series of key recommendations that underscore the vaccine's potential impact:
-
Introduction in High-Burden Areas
: SAGE has strongly recommended the introduction of QDENGA in areas with a high dengue disease burden and intense transmission. This strategic approach aims to maximize the public health impact of the vaccine while minimizing potential risks, particularly for seronegative populations.
-
Targeting Children
: The vaccine has been endorsed for use in children aged six to 16 years. Vaccination within this age group should ideally commence one to two years before the age-specific peak incidence of dengue-related hospitalizations. The recommended vaccination schedule consists of two doses, administered three months apart.
-
Communication and Community Engagement
: Successful vaccine introduction necessitates a well-designed communication strategy and robust comm unity engagement efforts. Raising awareness about dengue prevention and the benefits of vaccination is vital to achieving broad coverage and effectiveness.
-
The Scientific Foundation for QDENGA's Approval
The WHO's endorsement of QDENGA is firmly rooted in an extensive and rigorous scientific foundation. SAGE reviewed data from a comprehensive set of 19 Phase 1, 2, and 3 trials, involving over 28,000 participants. Among these trials, the pivotal Phase 3 Tetravalent Immunization against Dengue Efficacy Study (TIDES) stands out. It was designed in accordance with WHO guidance for second-generation dengue vaccines.
TIDES Trial Highlights
:
-Impressive Efficacy
: QDENGA demonstrated an exceptional 80.2% efficacy against virologically-confirmed dengue (VCD) at the 12-month follow-up, meeting the primary endpoint.
-Protection Against Hospitalization
: The vaccine also exhibited remarkable efficacy in preventing hospitalization due to VCD fever, with a 90.4% success rate.
-
Long-Term Protection
: Even after 54 months, QDENGA maintained substantial protection, with an overall vaccine efficacy of 61.2% and 84.1% efficacy against VCD and hospitalized dengue, respectively.
Furthermore, the vaccine's safety profile has been consistently positive throughout clinical trials, with no significant safety risks identified to date.
Global Rollout of QDENGA
As of now, QDENGA is available in the private markets of Europe, Indonesia, and Brazil, with plans for further expansion into Argentina and Thailand. The gradual rollout of this vaccine to new regions promises to have a profound impact on dengue prevention and management.
Challenges and Considerations
While the WHO's endorsement of QDENGA is undeniably a significant step forward in the battle against dengue, challenges and considerations persist:
-
Complex Dengue Landscape
: Dengue is a multifaceted disease with four serotypes and varying regional prevalence. Achieving uniform protection across all serotypes remains a challenge.
-
Equitable Access
: Ensuring equitable access to the vaccine for all populations, especially those in low-resource settings, is imperative. Addressing disparities in healthcare infrastructure and affordability is crucial.
-
Research Continues
: Ongoing research and development efforts are necessary to enhance vaccine accessibility, effectiveness, and coverage. This includes exploring potential booster doses and investigating long-term immunity.
Conclusion: A Brighter Future in Dengue Prevention
The WHO's resounding support for Takeda Pharmaceuticals' QDENGA marks a monumental milestone in the global effort to combat dengue fever. With its robust scientific foundation, QDENGA has the potential to save countless lives and significantly reduce the worldwide burden of this devastating disease. As QDENGA becomes available in additional regions, vigilance in dengue prevention and ongoing research will be key to its continued success. While the path to eradicating dengue is challenging, this endorsement offers hope for a future where dengue is no longer a global health threat but a preventable disease under control. The world is now one step closer to that brighter future.
For the latest
Dengue News
, keep on logging to Thailand Medical News.