COVID-19 Drugs: Study Suggest That G4-Binding Drugs, Chlorpromazine And Prochlorperazine Could Be Repurposed Against SARS-CoV-2 Infections
COVID-19 Drugs
: Indian researchers after conducting successful animal model drug trials involving hamsters are suggesting that G4-binding drugs, chlorpromazine and prochlorperazine could be repurposed against SARS-CoV-2 infections.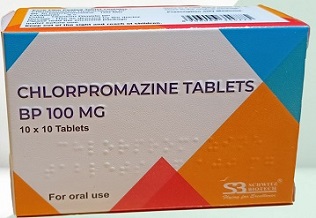 Chlorpromazine, marketed under the brand names Thorazine and Largactil among others, is an antipsychotic oral medication. It is primarily used to treat psychotic disorders such as schizophrenia.
Prochlorperazine, formerly sold under the brand name Compazine among others, is a medication used to treat nausea, migraines, schizophrenia, psychosis and anxiety. It is a less preferred medication for anxiety. It may be taken by mouth, rectally, injection into a vein, or injection into a muscle.
The
COVID-19 Drugs
study team comprised of researchers from:
-CSIR-Institute of Genomics & Integrative Biology, New Delhi, India
-Academy of Scientific & Innovative Research (AcSIR), Ghaziabad, India
-Translational Health Science and Technology Institute, Faridabad, India
-CSIR-National Chemical Laboratory, Pune, India
-Molecular Genetics Laboratory, National Institute of Mental Health and Neurosciences (NIMHANS), Bengaluru, India
The ongoing COVID-19 pandemic caused by SARS-CoV-2 has caused millions of infections and deaths globally. Limited treatment options and the threat from drug and vaccine resistant emerging variants underline the need for novel and widely accessible therapeutics.
G-quadruplexes (G4s) are nucleic acid secondary structures known to affect many cellular processes including viral replication and transcription.
The study team identified heretofore not reported G4s with remarkably low mutation frequency across >5 million SARS-CoV-2 genomes.
The G4 structure was targeted using FDA-approved drugs that can bind to G4s such as Chlorpromazine (CPZ) and Prochlorperazine (PCZ).
The study findings showed significant inhibition in lung pathology and lung viral load of SARS-CoV-2 challenged hamsters when treated with Chlorpromazine (CPZ) or Prochlorperazine (PCZ).
In support, in vitro G4 binding, inhibition of reverse transcription from RNA isolated from COVID-infected humans, and attenuated viral replication and infectivity in Vero cell cultures were clear in case of both Chlorpromazine (CPZ) and Prochlorperazine (PCZ).
The study team said that apart from the wide accessibility of CPZ/PCZ, targeting relatively invariant nucleic acid structures poses an attractive strategy against viruses like SARS-CoV-2, which spread fast and accumulate mutations quickly.
The study findings were published in the peer reviewed journal:
https://www.frontiersin.org/articles/10.3389/fmolb.2023.1133123/full
Numerous past research studies have found that sequences within viral genomes adopt secondary structures that can be targeted using ligands as potential antiviral drugs.
uot;https://pubmed.ncbi.nlm.nih.gov/34681641/">https://pubmed.ncbi.nlm.nih.gov/34681641/
https://pubmed.ncbi.nlm.nih.gov/34045305/
DNA or RNA sequence motifs with four or more runs of guanine repeats interspersed with short runs of other bases form non-canonical secondary structures called G-quadruplexes (G4s).
https://pubmed.ncbi.nlm.nih.gov/32313204/
https://pubmed.ncbi.nlm.nih.gov/33347280/
G4s were shown to be predominant in gene regulatory regions across organisms through specific G4-binding transcription factors and, RNA G4s within mRNA were shown to inhibit translation by stalling or dissociation of ribosomes.
https://pubmed.ncbi.nlm.nih.gov/27185890/
https://pubmed.ncbi.nlm.nih.gov/33264409/
https://pubmed.ncbi.nlm.nih.gov/33772593/
Importantly, recent studies identified potential G4s (pG4) in the SARS-Cov2 genome
https://www.frontiersin.org/articles/10.3389/fgene.2020.587829/full
https://pubmed.ncbi.nlm.nih.gov/33807682/
https://pubmed.ncbi.nlm.nih.gov/34681641/
Interestingly, these identified pG4 sequences were observed to be able to form G4 structures and interact with both viral and human proteins.
https://pubmed.ncbi.nlm.nih.gov/32484220/
https://pubmed.ncbi.nlm.nih.gov/33807682/
This indicates the importance of these secondary viral RNA structures in the biology of the virus and poses them as viable drug targets. Interestingly, all these pG4s identified so far only have 2 G-quartets.
To target SARS-CoV-2 the study team sought to test FDA-approved drugs reported to bind to G4s.
https://pubmed.ncbi.nlm.nih.gov/23016840/
The study findings showed that two such drugs chlorpromazine (CPZ) and prochlorperazine (PCZ) decrease infectivity, viral load, and pathology of SARS-CoV-2 infection in the hamster model.
This was further supported with intracellular results using the Vero cell infection model. Both CPZ and PCZ bound to a novel SARS-CoV-2 RNA G4 and inhibited reverse transcription suggesting attenuated viral replication and transcription within the Vero cells in presence of CPZ/PCZ. Together these support the function of CPZ and PCZ as molecules with anti-COVID-19 activity with potential for repurposing as affordable drugs against SARS-CoV-2.
The research team focused on canonical G4 structures in the SARS-CoV-2 genome, initially observing less stable pG4s with two G-tetrads. They then discovered two new, more stable pG4s with three G-tetrads and bulges. Analyzing over five million SARS-CoV-2 genomes, the team found these G4s to be significantly resistant to mutations.
They chose the more conserved G4, which could form a stable structure and remained a viable target for mutant strains. The FDA-approved drugs chlorpromazine (CPZ) and prochlorperazine (PCZ) were found to bind to the G4 and inhibit reverse transcription, suggesting potential anti-COVID activity.
In vitro studies on G4-1 showed that chlorpromazine (CPZ) and prochlorperazine (PCZ) inhibited SARS-CoV-2 infection and reduced viral replication and transcription in Vero cells. However, binding to other G4s cannot be ruled out. In a hamster animal model, both drugs decreased disease severity, comparable to the standard antiviral Remdesivir. Despite some cytotoxicity in Vero cells, the drugs effectively lowered viral levels without significant toxicity in hamsters. The team concluded that the antiviral benefits outweigh the cytotoxic effects of these drugs.
Golden Syrian hamsters are a suitable model for SARS-CoV-2 infection, as they mimic viral entry, replication, and pathological manifestations observed in humans, including lung pneumonitis, inflammation, and alveolar epithelial injury. Consequently, hamsters have been widely used in antiviral drug and vaccine studies. The research team utilized young adult hamsters, representing the majority of the SARS-CoV-2 infected population.
Prior research highlights the significance of RNA G4s in infectious human viruses, including SARS-CoV-2. Viral proteins Nsp13 and Nsp3 have been reported to bind G4s, while human cell protein CNBP binds and unfolds G4s from the SARS-CoV-2 genome in vitro. G4 structures in both viral and host RNA have been shown to play crucial roles in SARS-CoV-2 replication, transcription, and assembly.
Chlorpromazine (CPZ) and prochlorperazine (PCZ) have been found to inhibit infection by hepatitis C, dengue, and some coronaviruses by blocking clathrin-mediated endocytosis. Additionally, intracellular calcium is essential for viral entry and replication, with CPZ inhibiting store-operated calcium entry in cells.
It is important to note that CPZ and PCZ are also used as antipsychotic and antidepressant drugs due to their effects on dopamine D2 and alpha-2 adrenergic receptors.
https://www.frontiersin.org/articles/10.3389/fphar.2021.755600/full
https://pubmed.ncbi.nlm.nih.gov/33387629/
https://pubmed.ncbi.nlm.nih.gov/35522282/
One recent study further suggested antipsychotic drugs might be inhibiting viral replication. Another recent study observed inhibition of the replication of SARS-CoV-2 in cell lines by CPZ, however the mechanism behind this inhibition was not investigated. A clinical trial found that second-generation antipsychotics was associated with decreased risk of COVID-19 infection in patients in the New York State-wide psychiatric hospital system.
Although the decrease in infection risk with chlorpromazine (CPZ) was not statistically significant, none of the 47 COVID-19 patients taking CPZ died from the virus. This, along with improved inhibitory effects in prophylactic treatment in hamsters, suggests that CPZ and prochlorperazine (PCZ) may also inhibit SARS-CoV-2 viral entry. The drugs' effects against the virus likely involve multiple mechanisms targeting both the host and the virus, as supported by the prophylactic and therapeutic activity observed in hamsters.
In summary, this study is the first to show that FDA-approved drugs CPZ and PCZ may be effective treatment options for COVID-19 due to their wide availability and affordability. By targeting RNA G4 structures in the viral genome, the findings suggest that relatively invariant secondary nucleic acid structures could be effective targets against the rapidly emerging SARS-CoV-2 sub-lineages and recombinant variants.
For the latest on
COVID-19 Drugs
, keep on logging to Thailand Medical News.