COVID-19 News: Taiwan Reports 8,419 New COVID-19 Cases, 43 Deaths In Last 24 Hours; Easing of Restrictions Expected in April
COVID-19 News
: Taiwan's Central Epidemic Command Center (CECC) announced on Sunday 8,419 new COVID-19 cases and 43 COVID-19 deaths, marking a 7.4 percent decrease in local infections from the previous week. With this update, the total number of COVID-19 infections in Taiwan since the start of the pandemic in early 2020 has reached 10,231,343, accompanied by 18,775 deaths.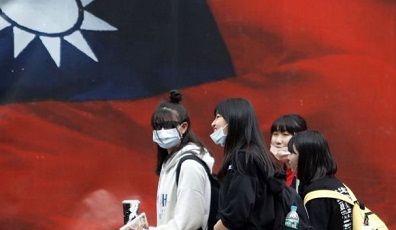 Pic Credit: Getty
The CECC revealed that 8,209 of the reported cases were locally transmitted, indicating a continued decline in the spread of the virus. The steady decrease has persisted for six consecutive weeks, with weekly local cases dropping from a peak of 183,486 during the week of January 29 to 64,541 in the week of March 5, and finally to 51,126 cases last week.
Starting Monday, the reporting of mild or asymptomatic COVID-19 infections and the current mandatory five-day quarantine for infected individuals will be gradually phased out. However, the CECC clarified that people who tested positive for COVID-19 before Monday must still complete the mandatory five-day quarantine.
Many local physicians are worried that the easing of restrictions are coming at the wrong time as the various new XBB sub-lineages has been detected in the country including XBB.1.9.1.
https://cov-spectrum.org/explore/Taiwan/AllSamples/Past6M
Past
COVID-19 News
coverages have already reported about the worrying issues of the SARS-CoV-2 XBB.1.9.1 sub-lineage.
https://www.thailandmedical.news/news/sars-cov-2-variants-updates-new-more-immune-evasive-and-transmissible-xbb-1-9-1-variant-spreads-in-indonesia,-south-east-asia-and-europe
Deputy Director-General of the Centers for Disease Control and CECC spokesperson Philip Lo announced that if the local COVID-19 situation remains under control following the traditional holiday ie…the five-day Tomb Sweeping Day long weekend, more regulations could be eased ahead of schedule, potentially as early as mid-April.
One regulation under consideration for relaxation is the regular COVID-19 testing requirement for hospitalized individuals and their caregivers, which could be discontinued on April 10.
Lo also indicated that the mask mandate on public transportation might be removed in mid-April if the COVID-19 situation does not worsen after the long weekend. However, the mask requirement for healthcare facilities will remain in place to protect vulnerable populations in hospitals.
Lo also pointed out that the World Health Organization (WHO) which had declared COVID-19 a public health emergency of international concern on January 30th 2020 has its International Health Regulations Emergency Committee scheduled to hold a meeting next month to discuss the pandemic, after which it could declare an end to the international public health emergency. Furthermore, the US gover nment announced plans to terminate its COVID-19 public health emergency declarations on May 11. In line with these international developments, Taiwan is preparing to accelerate the easing of COVID-19-related restrictions.
Most countries around the world are now adopting a policy of not reporting about daily COVID-19 infections, hospitalizations and deaths anymore and in many cases are either downplaying these statistics or concealing real data along with excess deaths rates. All safety precautions and regulations, health screenings and border controls are also being dismantled as its finally dawning to many governments that they would be unable to contain the SARS-CoV-2 outbreak and its ever-continuing spawning or more immune evasive and transmissible sub-lineages and variants and the economic costs is simply overwhelming. Even Long COVID is being ignored by many governments as acknowledging it would lead to healthcare subsidies and more financial burden. COVID-19 and Long COVID will now instead become the 'silent killer' of the new few decades!
For the latest
COVID-19 News
, keep on logging to Thailand Medical News.