COVID-19 News: Iran Witnessing A Surge In SARS-CoV-2 Infections While Genomic Surveillance Is Literally Non-Existent In the Country!
COVID-19 News
: As the world continues to grapple with the persistent threat of the COVID-19 pandemic, Iran has not been immune to its challenges. In September 2023, the country faced an alarming resurgence in COVID-19 cases, raising concerns among health officials and the public. The Ministry of Health's latest data reveals a concerning situation, highlighting the need for ongoing vigilance and vaccination efforts.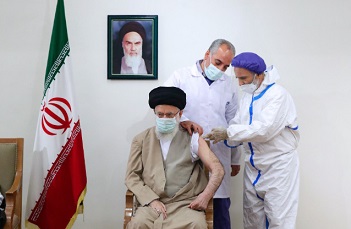 Worrisome Statistics
According to the Ministry of Health's recent announcement, Iran recorded 1,093 new cases of COVID-19 during the week from Sunday, September 19th, to Saturday, September 25th, 2023. Out of these, 521 patients required hospitalization, bringing the total number of COVID-19 patients in the country to a staggering 7,615,822. This uptick in cases has raised alarm bells, prompting a closer examination of the situation.
https://www.imna.ir/news/687943/%D8%A2%D8%AE%D8%B1%DB%8C%D9%86-%D9%88%D8%B6%D8%B9%DB%8C%D8%AA-%DA%A9%D8%B1%D9%88%D9%86%D8%A7-%DA%A9%D8%B4%D9%88%D8%B1-%D8%AF%D8%B1-%D9%87%D9%81%D8%AA%D9%87-%D9%87%D8%A7%DB%8C-%D9%BE%D8%A7%DB%8C%D8%A7%D9%86%DB%8C-%D8%B4%D9%87%D8%B1%DB%8C%D9%88%D8%B1-%DB%B1%DB%B4%DB%B0%DB%B2
Fatal Toll
Tragically, the same week saw the loss of eight lives to COVID-19, pushing the total death toll in Iran to 146,364. These numbers serve as a stark reminder of the persistent threat posed by the virus, and they underscore the importance of continued efforts to protect public health.
Vaccination Progress
According to local
COVID-19 News
reports, while the surge in COVID-19 cases is concerning, Iran has made substantial progress in its vaccination campaign. As of September 25th, 2023, a significant portion of the population has received at least one dose of the COVID-19 vaccine. The Ministry of Health reports that 65,240,821 people have received their first dose, with 58,634,321 people fully vaccinated with the second dose. Furthermore, 31,734,192 individuals have received a third dose or more. In total, Iran has administered a remarkable 155,609,334 vaccine doses.
This achievement is a testament to the nation's dedication to combating the virus and achieving herd immunity. However, challenges remain in reaching every corner of the country and ensuring that all eligible individuals are vaccinated.
Hospitalization and ICU Care
With 521 COVID-19 patients requiring hospitalization during the week in question, hospitals and healthcare facilities across Iran have been stretched to their limits. Currently, 42 patients with COVID-19 are receiving critical care in intensive care units (ICUs). This highlights the importance of bolstering the healthcare infrastructure and ensuring that adequate resources are available to provide necessary care for those in need.
Testing and Surveillance
Iran has also significantly ramped up its testing and surveillance efforts. To date, the country has conducted an impressive 57,320,267 COVID-19 tests. This extensive testing network plays a crucial role in identifying and isolating cases, thereby preventing the further spread of the virus.
However, in terms of genomic surveillance, there is very sequencing being done in the country and hence what current SARS-CoV-2 variants or sub-lineages could be at play is not known!
Conclusion
The rising number of COVID-19 cases in Iran in September 2023 serves as a stark reminder that the battle against the pandemic is far from over. While vaccination efforts have made substantial progress, continued vigilance, testing, and surveillance are paramount to controlling the spread of the virus. Additionally, strengthening the healthcare system to handle an increased influx of patients is crucial.
It is vital for the government, healthcare professionals, and the public to work together in this challenging time. Adherence to safety protocols, vaccination campaigns, and ongoing research into new variants of the virus are essential components of a comprehensive strategy to overcome the COVID-19 pandemic. Only through collective effort and unwavering commitment can Iran hope to navigate these turbulent waters and protect the health and well-being of its citizens.
For the latest
COVID-19 News
, keep on logging to Thailand Medical News.