BREAKING! Were B.1.640 and B.1.640.2 Outbreaks In France Covered Up Because Of Strong ADE Manifestations? B.1.640 Now Finally Declared A VOI!
Its emerging that there was a possible major cover up by various entities including the French health authorities, pharma companies involved in the COVID-19 vaccines, possibly the WHO and also the U.S. CDC and ECDC with regards to the B.1.640 and B.1640.2 variants outbreak in France.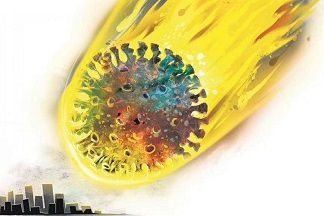 On 30
th
December 2021, Thailand Medical News broke a story about the emergence of the B.1.640.2 subvariant from the B.1.640 lineage and subsequently we also covered a second story about the rise in detected cases of the B.1.640.2 subvariant in France based on published figures the French authorities themselves that were published as downloadable pdf files from their
www.sante.fr
site.
https://www.thailandmedical.news/news/breaking-southern-france-reports-spread-of-new-sars-cov-2-variant-b-1-640-2-with-46-mutations-and-37-deletions-originating-from-cameroon
https://www.thailandmedical.news/news/breaking-updates-on-new-b-1-640-2-variant-spreading-in-southern-france-number-of-cases-growing-and-variant-now-detected-in-united-kingdom-as-well
When the story was picked up by various mainstream media in the West, the French health authorities and the WHO immediately responded by saying that both the B.1.640 and B.1.640.2 (IHU) variants were of no concern as they were not spreading and claims were also made that they were only 12 discovered cases in France despite initial reports saying otherwise!
In fact, all cases for both variants were discovered in hospitalized patients who were showing severe conditions of the COVID-19 disease with many requiring ICU care and ventilators.
According to local doctors in Southern France, many who contracted these variants were fully vaccinated but yet displayed disease severity. The observations also made researchers from IHU Méditerranée Infection-France and the Aix-Marseille University-France to suspect that perhaps ADE or antibody-dependent enhancement was at play.
https://www.thailandmedical.news/news/a-guide-to-understanding-antibodies-and-ade-antibody-dependent-enhancement
It was perhaps due to this that the cover-up about the emergence of both variants were conducted as it would reflect very badly on the vaccination programs being pushed at extreme lengths by the French, US, UK and other Western governments and the WHO.
However as usual, things can never be covered for long as more cases of the both variants are popping up all over.
In the last two weeks, the French authorities and WHO not only reclassified and upgraded the B.1.640 as a VOI or variant of interest but have also placed alerts on the B.1.640.2 variant as both variants were also found to be also spreading to other countries.
It was reported that for the B.1.640 variant, more than 500 new cases has been on the French mai nland with cases also discovered in the UK and Germany. Other countries in Europe, from Africa, Asia and North America, have also detected this variant, which could suggest an onset of diffusion.
According to documents from French health authorities (Attached in this article as a pdf file above), the variant 20A/C - B.1.640 is now classified as a VOI from 05/01/2022, and continues to circulate in Metropolitan France: it represented 0.5% of interpretable sequences for Flash Surveys S48 and 49, and 0.6% for Flash S50.
The B.1.640 variant was detected in 12 of the 13 regions of Metropolitan France since the beginning of October 2021. The regions with the most cases have identified are Hauts-de-France (n=189, in particular the Nord department), Île-de-France (n=185) and Normandy (n=152).
The B.1.640 variant is now classified VOI since the risk analysis of 05/01/2022, on the basis of the continuation of its circulation in France and preliminary in vitro data, indicating a decrease in the effectiveness of neutralization by vaccine or post-infection antibodies, and therefore a possible escape from the immune response. The circulation of B.1.640 continues at low levels in mainland France: 0.1% for the Flash S51 survey and 0.2% for the Flash survey S52.
To date a total of 437 sequences of VOI B.1.640 have been deposited in the international GISAID database in 05/01/2022, of which 72% come from France (315). The other countries that have identified this virus are the Republic Congo (N=40), United Kingdom (N=21) and Germany (N=19). However, other countries in Europe, from Africa, Asia and North America, some of which have limited sequencing capabilities, have detected this variant, which could suggest an onset of diffusion.
Local French doctors and researchers are warning that both variants could be far more in circulation as in many locations in the country, genomic sequencing is not carried out.
The identified B.1.640 sequences match mostly to the B.1.640.1 sub-lineage but a number are also the B.640.2 subvariant.
Worryingly among these 437 sequences, 21 carry the E484K mutation, characteristic of sub-line B.1.640.2 (i.e. 4.8%, according to GISAID data). If the E484K mutation has an impact on immune response escape, too few cases have currently been detected to draw conclusions about the characteristics of B.1.640.2 compared to B.1.640.1. In this analysis of risk, The French authorities and WHO said that no distinction will be made between these two sub-lineages!
The circulation of the 20A/C variant (B.1.640) continues in France, despite the emergence of Omicron. From preliminary in vitro data produced by the National Reference Center for Respiratory Infection Viruses indicate a decrease in the effectiveness of neutralizing antibodies post-infection or post-vaccination, and therefore a possible escape from the immune response.
However, there is suspicion that these new variants amplify the effect of ADE caused by the usage of the current vaccines that were actually made to only target the wild type SARS-CoV-2 virus that first debuted in Wuhan-China and not the newer variants.

We hope that some French researchers will provide us with more insights as to what is really happenning with regards to these two variants and as to whether ADE is really being seen in vaccinated individuals who are contracting these variants.
Thailand Medical News will provide more updates on both these variants.
For more on the B.1.640 and B.1.640.2 variants, keep on logging to Thailand Medical News.
Read Also: https://www.thailandmedical.news/news/are-all-sars-cov-2-genomic-data-being-manipulated-and-controlled-u-s-cdc-and-south-korea-finally-admit-b-1-619-and-b-1-620-variants-predominant-in-sou