COVID-19 News: More Brits Dying In Ongoing Silent UK COVID-19 Crisis, Mortuaries Now Overflowing With Carcasses While Hospitals Are Collapsing!
COVID-19 News

:
While British health analytical firm Airfinity is busy making projections about death rates in China, the company along with members of the dodgy BBC media and unethical members of Trusted News Initiative that includes Reuters and Associated Press helping to disseminate such news, none of them of covered about the catastrophic COVID-19 crisis that has been unfolding in the United Kingdom for weeks now nor have they covered about the collapse of the NHS in UK.
https://www.reuters.com/world/china/china-covid-deaths-accelerate-9000-day-uk-research-firm-airfinity-2022-12-29/
https://finance.yahoo.com/news/alternative-healthcare-activists-file-antitrust-162100012.html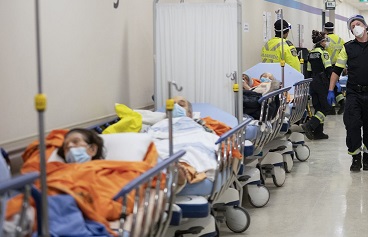 (Kindly note that the dubious Trusted News network also has an Asia Pacific chapter and more than 23,000 independent media platforms are now also going to be united together to sue the BBC and its Trusted New Initiative and also its members over discriminatory practices etc. The public should avoid all media members of this Trusted News Initiative especially the BBC while its senior directors, senior staff and their families should be targeted)
https://www.publicmediaalliance.org/the-trusted-news-initiative-creates-asia-pacific-network/
https://www.youtube.com/watch?v=BFWhpjw9QAg
https://www.rollingstone.com/culture/culture-news/robert-f-kennedy-jr-anti-vaxxers-sue-media-outlets-over-covid-conspiracy-boycott-1234660028/
Meanwhile, independent news media platforms in the UK are reporting on how serious the current COVID-19 crisis is in the United Kingdom in some of their
COVID-19 News
coverages.
The Sun reported that certain hospital mortuaries are now literally overflowing with bodies and that there is an urgent need to set up makeshift mortuaries to accommodate the ever-increasing daily deaths in the United Kingdom.
https://www.thesun.co.uk/health/21014603/dead-bodies-make-shift-morgues/
https://www.walesonline.co.uk/news/uk-news/temporary-morgues-being-opened-across-25962140
https://www.mirror.co.uk/news/uk-news/bodies-being-stored-makeshift-morgues-28939174
There is literally no news coverage by members of the Trusted News Initiative that is a lso partially financed by Google about the current dire healthcare situation or about the COVID-19 crisis in the United Kingdom but there are daily stories by their members such as Reuters and AP about the situation in China.
Strangely, we are also not getting much medical experts or researchers commenting about the COVID-19 situation in the United Kingdom nor are there much coverages on updates about what SARS-CoV-2 variants or sub-lineages are in circulation in the United Kingdom or what could be driving COVID-19 severity. Some of the British virologists and variant trackers on twitter that have been very critical of Thailand Medical News strangely have not commented about the situation in their own backyard neither could the company Airfinity give a projection about daily deaths in in its own country!
The WHO has yet to intervene in the way that COVID-19 statistical data is being suppressed in the United Kingdom and the total lack of transparency. With very little testing and even genomic sequencing volumes dropping from that in the first two years of the pandemic, no one is really getting a clear picture of what is really happening in the United Kingdom except that it is obvious that more Brits are dying and excess deaths are increasing rapidly and that more Brits are getting sick!
https://www.thailandmedical.news/news/covid-19-news-excess-deaths-rising-exponentially-in-the-united-kingdom-with-covid-19-being-a-major-contributing-factor
It will be interesting how the situation unfolds in the United Kingdom in the next few weeks as more interesting SARS-CoV-2 variants and sub-lineages have just been detected in the country including the XBB.1.5, XBL XBM, BF.7.14 BF.7.15, BF.5.1, BF.5.2, BR.2.1, BN.1.4, CH.1.1 etc
Interestingly, no countries have imposed any travel restrictions or stringent health screenings on these filthy human vectors from the United Kingdom!
For the latest
COVID-19 News
, keep on logging to Thailand Medic